Celebrating the life of 'a giant of a man'
A celebration of the life of the late John Chaney, legendary coach of Temple men's basketball for 24 years, was held at the Liacouras Center.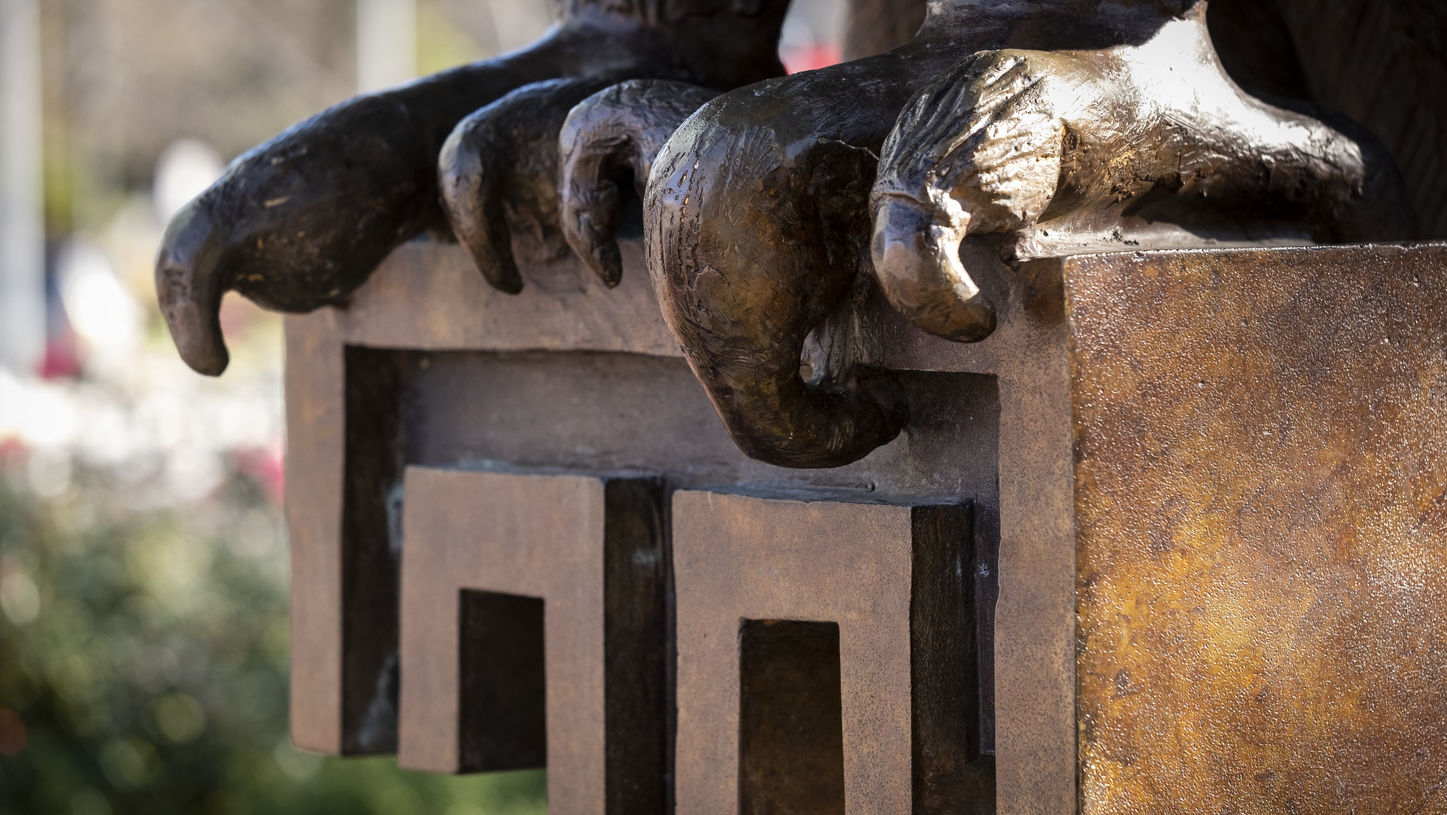 In an emotional service that was broadcast live across the nation, the life of the late John Chaney—the former men's basketball coach at Temple University who shaped the lives of countless students and became one of the most revered figures in intercollegiate athletics—was celebrated on the hardwood floor that bears his name at Temple's Liacouras Center on Feb. 8, 2021. 
A member of the Naismith Memorial Basketball Hall of Fame and the College Basketball Hall of Fame, Chaney died on Jan. 29 after a short illness at the age of 89. Chaney led Temple's men's basketball program for 24 years until his retirement in 2006. He was twice named the national NCAA Division I coach of the year, and his 1987–1988 team ended the season ranked No. 1 in the country—a first for the Temple program.
At the Celebration of Life service, family, friends, former players, Temple leaders, elected officials and fellow coaches remembered Chaney as much for his commitment to mentorship, his humor and his seemingly endless capacity for love as they did for his coaching.
"John Chaney was not satisfied with just teaching basketball; he taught life," said Temple President Richard M. Englert. "He taught young men how to stand up for themselves, how to find their voice and use it when they see a need for social justice. He taught them to have faith in themselves, to take the challenges they face and find power even in their frustrations. He is famous for these big lessons, but I know he also taught them—and he taught us—how to be kind."
The list of speakers following President Englert included Pennsylvania Gov. Tom Wolf, Pennsylvania State Sen. Sharif Street, Temple Acting Director of Athletics Fran Dunphy (Chaney's successor as men's basketball coach at Temple), former School District of Philadelphia basketball coach Ron Cohen, Philadelphia Mayor James Kenney, Cheyney University alumnus Arthur Stone (representing Chaney's successful Cheyney teams prior to his move to Temple), Rutgers University Head Women's Basketball Coach Vivian Stringer, University of South Carolina Head Women's Basketball Coach (and former Temple women's basketball coach) Dawn Staley—as well as University of Kentucky Head Men's Basketball Coach John Calipari, who shared a surprise video statement.
Tears of joyful remembrance began flowing freely when four Temple alumni representing Chaney's successful Owls teams—Aaron McKie, SSW '02, Marc Jackson, FOX '97, Lynard Stewart, FOX '04 and Mike Vreeswyk, FOX '89—walked in succession to the podium at center court to address the gathered mourners. 
"Temple and Coach Chaney took a chance on me, stressing the importance of education, humility and leadership," said McKie, who enjoyed a long career in the NBA before joining Temple's men's basketball's coaching staff and eventually taking over as head men's basketball coach in 2019. "Coach, you gave me that opportunity in life—the one I always wanted, no more, no less. Everything I am today is because of you."
Jackson, a former NBA star who now works as an analyst at NBC Sports Philadelphia, described how Chaney played the role of a father in his life, inspiring him to offer the same to dozens of young men in Tampa and Philadelphia.
"The word 'coach' means 'dad' for me," Jackson said. "I wasn't raised with a dad, never taught how to cope with certain emotions. To me, that's what good fathers do: They teach. They don't tell you what you want to hear; they teach you right from wrong."
"[John Chaney] has touched thousands [of lives] because what he instilled in us, we give back [to others]," he continued. "I tell my three biological children and all 90 of the kids who call me their 'dad-slash-coach' every single thing that Coach taught me and everyone who's ever been part of this program. We know life is bigger than bouncing a ball."
Stewart, an assistant recreation leader for the City of Philadelphia and head boys basketball coach at Simon Gratz High School Mastery Charter, changed the mood from tears to laughter, sharing stories of Chaney's spirit of mischief, including Stewart's memories of his recruitment, when Chaney charmed his mother over a bag of warm peanuts.
One of Chaney's last interactions with his former players took place only three days before his passing, when he joined Vreeswyk—now a senior client executive with Verizon Enterprise Solutions—and a few of his teammates for a video call.
"After some laughs and some stories, he said some things that I don't think any of us will ever forget," Vreeswyk told listeners in the Liacouras Center and online. "He said, 'Guys, remember what I taught you: Always stay together. No matter what happens, stay together.'"
"He never thought about himself," Vreeswyk said. "It was always about others."
Watch the full Celebration of Life ceremony.
 —Hillel Hoffmann