Textbook Task Force takes on the high costs of learning materials
A group of faculty and administrators from across the university are confronting the challenge of textbook affordability from a number of angles.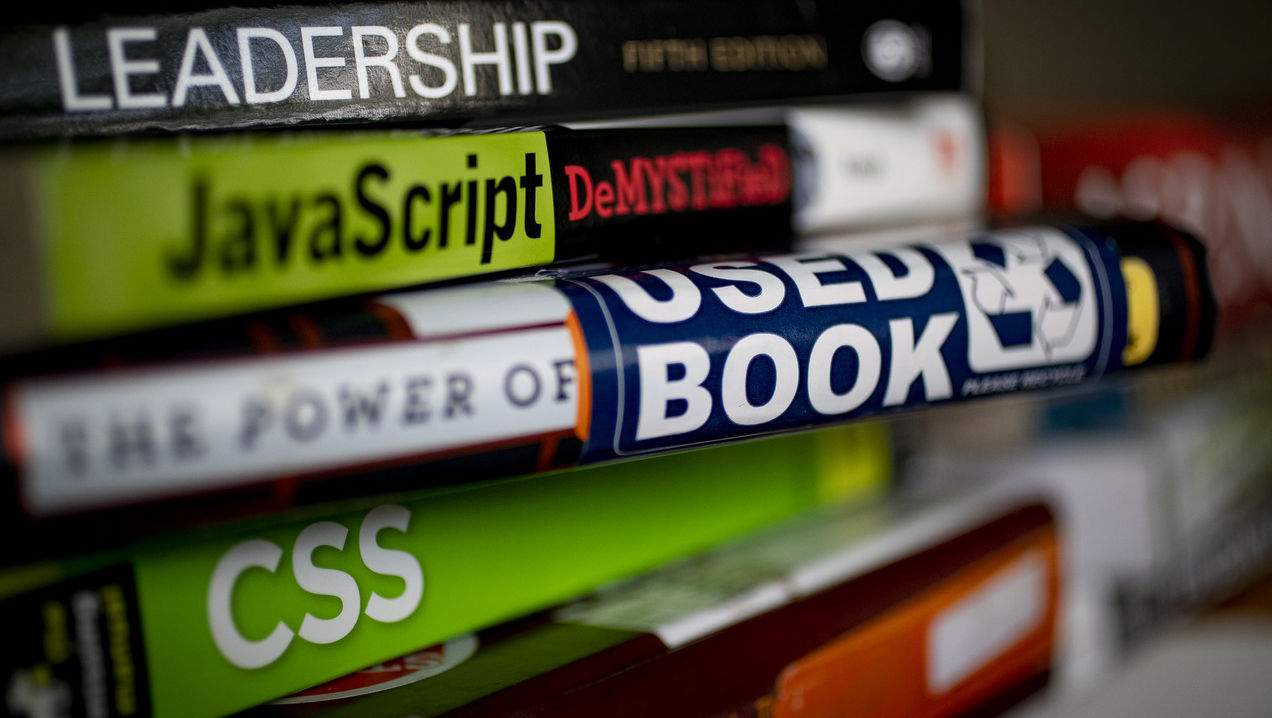 At the beginning of each semester, college students across the country face the same question—should they buy, rent, borrow or do without their textbooks. Some search social media for contacts who might have a copy of the book they need. Others ask their professors if they may have an old edition they can use. And the costs associated with digital access codes that are required for some classes pose an even greater challenge—the codes can't be shared or borrowed.
"Purchasing textbooks and even access codes is a burden at the start of every semester. It's so high that students are reluctant to buy them, potentially sacrificing their high grades to save money," Will McDonnell, Class of 2021. "And some say it's not worth buying the whole book, because there will only be a few chapters used for class."
That sentiment echoes what Temple Student Government (TSG) found in a survey it conducted last fall on textbook affordability. In response to the prompt: "Indicate how course materials have affected you this [fall 2020] semester," 41% of the respondents replied that they worked extra hours at their job to afford course materials, 24% said they chose classes and sections based on the cost of the learning materials and 28% had to prioritize the purchase of access code content over other learning materials. In their comments, students reported skipping meals and not paying bills in order to pay for course materials, while others admitted to dropping a class because they could not afford the textbook.
With students facing financial challenges compounded by the pandemic, including lower family earnings or lost part-time job wages, etc., the high cost of textbooks is more prohibitive than ever. That's why a group of faculty and administrators, known as the Textbook Task Force , have doubled down on their efforts to ease that financial strain. 
The task force was organized by Executive Vice President and Provost JoAnne A. Epps in 2019 and is charged with developing strategies for creating more awareness among faculty about textbook affordability challenges students face and how faculty can seek out and adopt open and zero-cost learning materials. 
It's co-chaired by Stephanie Laggini Fiore, assistant vice provost of the Center for the Advancement of Teaching, and Steven Bell, associate university librarian, and includes four faculty members as well as representatives from Temple Student Government, the Center for the Advancement of Teaching, the Office of the Registrar, campus store, Temple University Libraries, Temple University Press and Information Technology Services. 
In fall 2020, the task force also conducted a survey. They contacted all full- and part-time faculty to find out how many had adopted Open Education Resources (OER) and other affordability options in their teaching. Of the total 335 responses they received, 90 faculty responded "yes," 225 faculty responded "no" and 21 responded "does not apply to me." More than 150 faculty members requested more information on OER. The survey additionally revealed that certain departments—including the departments of chemistry, political science, earth and environmental sciences and psychology—were actively using open textbooks in their introductory classes.
But the survey also showed that while those faculty who use OER are happy with it, many still don't fully understand what it is and what the benefits are.  
"Instructors tend to conflate free learning materials with open learning materials, and while both are free to faculty and their students, OER content provides unique permissions that allow faculty to not only use it freely, but to edit, modify or repurpose the content," explained Bell. "When faculty responded that they were using OER but identified traditionally copyrighted contents such as e-books licensed by the library or a freely available web-based video, they were confusing free content with open content."
"This points to the need for more faculty awareness about what OER is and what its benefits are," he added.
Increasing that awareness and reducing the need for students to purchase costly learning materials is the main goal of the Textbook Task Force.
In support of that goal, the Textbook Affordability Project, launched in 2011, provides grants ranging from $500 to $1,500 to faculty who either adopt an existing OER for use in their courses, adapt their syllabi to include learning materials that are freely available through the Temple University Libraries system, or create a new OER for use by students at Temple and elsewhere. 
To date, the program has worked with 90 Temple faculty members across multiple disciplines and saved students more than $1 million in textbook costs. That's an average savings of $135 per student per class.
And often what faculty members find is that they're not just saving students money, they're improving their courses along the way. 
Professor of Sport, Tourism and Hospitality Management Wes Roehl took advantage of a grant from the Textbook Affordability Project to pull together materials under Creative Commons copyright for his introductory level classes that allowed him to compile what he called the ideal mix of sources. 
"If I was making students buy a textbook, I would feel guilty just using a few chapters," said Roehl. "This way I am able to tailor the materials to my course and not cover what someone else thinks the 16 chapters in a book should be."
It worked so well for him and was so well received by the students that now Roehl uses OER for his graduate level classes as well.
Natalie Flynn, assistant professor in the department of earth and environmental sciences, used a grant from North Broad Press to author a lab manual for use in Introduction to Physical Geology. A grant from the Textbook Affordability project enabled her to find a free online textbook for the lecture portion of the course. As a result, students in all sections of that course no longer have to pay for course materials.
North Broad Press is a joint publishing project between Temple University Press and Temple University Libraries. It publishes works of scholarship, both new and reissued, from the Temple University community. All press titles are peer reviewed and freely available online. So far, it has published two textbooks, with more than a dozen in various stages of development, and is currently accepting proposals for faculty-authored open textbooks. Faculty selected will receive a $5,000 stipend.
"Years ago I started to discover that more and more of my students did not have a textbook for classes I was teaching—mostly in earth and environmental sciences classes but also in GenEd classes," said Flynn. "I was constantly trying to provide them with older copies of books or lending books or connecting students with each other to share, and each year the dance got bigger and fancier."
"One day I realized it was getting ridiculous because I was actually considering trying to remove some of the required assignments because a large portion of my class couldn't afford the textbooks," Flynn added.
North Broad Press was able to help Flynn with a lot of the copyright issues she ran into as she created the textbook and manual.
"It was a big task for sure," she said. "But the effort was worth it because the prohibitive costs of textbooks create an unlevel playing field that I am not comfortable with." 
Next up on the Textbook Task Force's agenda: Working to make it even easier for faculty to incorporate the use of OER into their teaching by developing a shareable inventory Temple faculty can use to connect with colleagues who are using zero-cost materials in their courses.
"As Temple University looks ahead to its 150th anniversary in 2034, now is the time to imagine a future institution that excels at educating its students and is recognized globally for its use of course content that is transformative while adding little or nothing to the cost of that education," said Bell.
For more information about achieving textbook affordability and adopting OER at Temple, contact Steven Bell, co-chair of the Textbook Task Force.