Two Temple Owls receive $5K fellowships for their startups
Amanda Morrison and Caitlin Luong each received a Blackstone LaunchPad & Techstars Fellowship to help develop their early-stage businesses.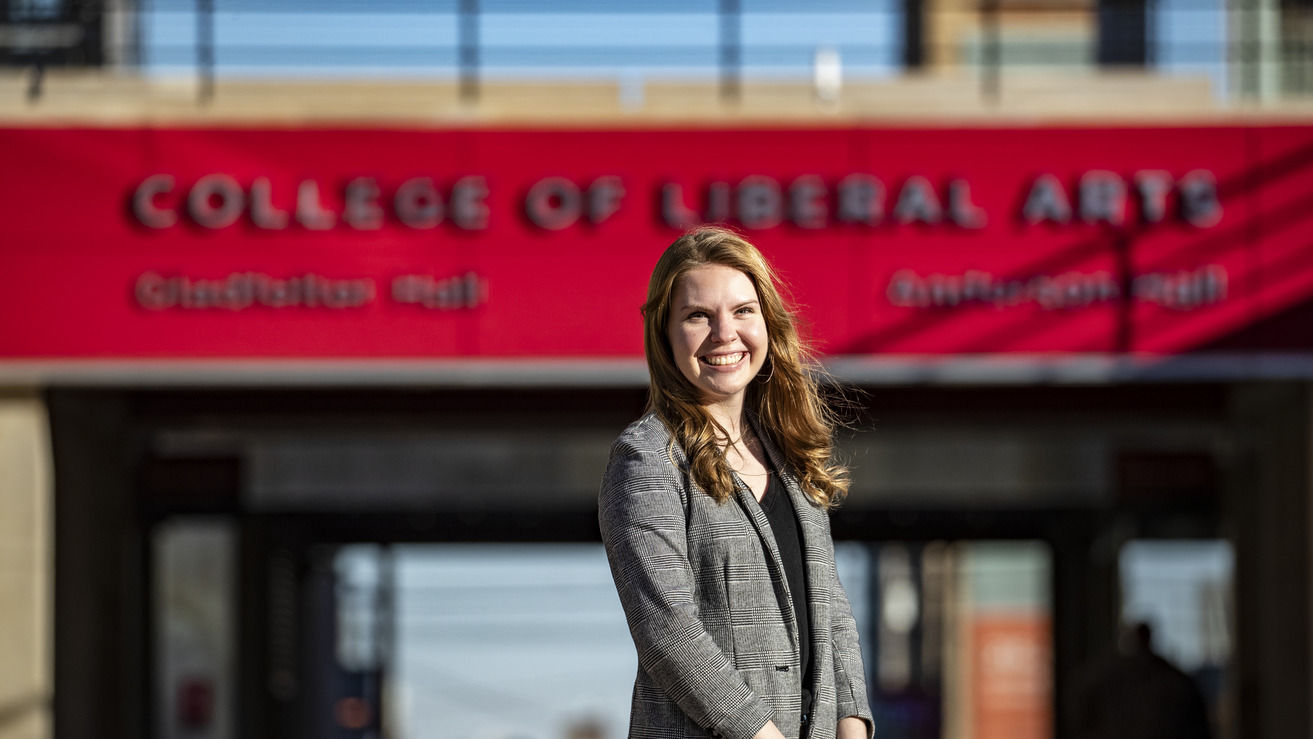 Two Temple Owls with fledgling startups took a big step toward achieving their do-gooder goals this past semester.
Amanda Morrison, CLA '20, and Caitlin Luong, Class of 2021, each received a Blackstone Launchpad & Techstars Fellowship in the fall to help them build their businesses. 
Since 2008, Blackstone LaunchPad & Techstars has helped entrepreneurial students develop their ventures and succeed in their post-graduate careers primarily through one-on-one coaching and events housed within Temple's Blackstone LaunchPad on campus. 
The fall 2020 fellowship was awarded to 40 ventures across the country and provided eight weeks of mentorship, coaching and networking opportunities, along with a $5,000 award to each recipient at the national level.
"Caitlin and Amanda participated in the second iteration of the Blackstone LaunchPad Fellowship, which focused on social impact startups," said Kate Cassidy, program manager of Temple's arm of Blackstone Launchpad & Techstars, which is housed in the Office of the Vice President for Research. "The program is an incredible opportunity that accelerates student businesses, giving our students access to mentors, resources and investment."
Morrison and Luong's startups—called Missouri M.A.D.E. and My TeleHeal, respectively—are both designed to bring positive change to the world, giving voice and agency to underrepresented or under-resourced populations. Through the LaunchPad Fellowship's training programs, each founder expanded her professional skill set and developed business strategies. 
"The training sessions were on various subjects, from organizational finance, marketing and public relationships, to building your brand and recruiting customers or supporters from the community," Morrison said of the eight-week program. "It was really beneficial to me."
Creating change in Missouri
Amanda Morrison conceived of Missouri M.A.D.E. (Mobilizing and Diversifying Elections) in 2018, when she was a sophomore pursuing a double major in Global Studies and Strategic Communication. It started as a newsletter about women lawmakers in Missouri, but it soon grew into a nonprofit organization that identifies, recruits and trains women to run for public office. 
According to the organization's website, Missouri M.A.D.E. "envisions a state and nation where women—especially Black, LGBTQ+, poor, rural and other marginalized women—are equally represented in elected office in local, state and federal levels of government."
"I would say for maybe the first year of the organization, the newsletter was the main mode of outreach," said Morrison, who grew up in Springfield, Missouri. "Then, we started doing a few in-person events and fundraisers, usually on breaks when I was home from school."
When the coronavirus pandemic started, the organization pivoted to online events. "We host events on Zoom or Facebook Live quite often. In July 2020, we hosted our first leadership summit, and in the fall, as we were gearing up for the November general elections, we did a virtual series where women seeking public office talked about what it's like to run a campaign," Morrison said.
Morrison noted that, as a 501(c)(3), Missouri M.A.D.E. "can't endorse candidates or get involved in campaigns directly. Rather, our focus is more on the training aspect, or preparation side before people launch campaigns."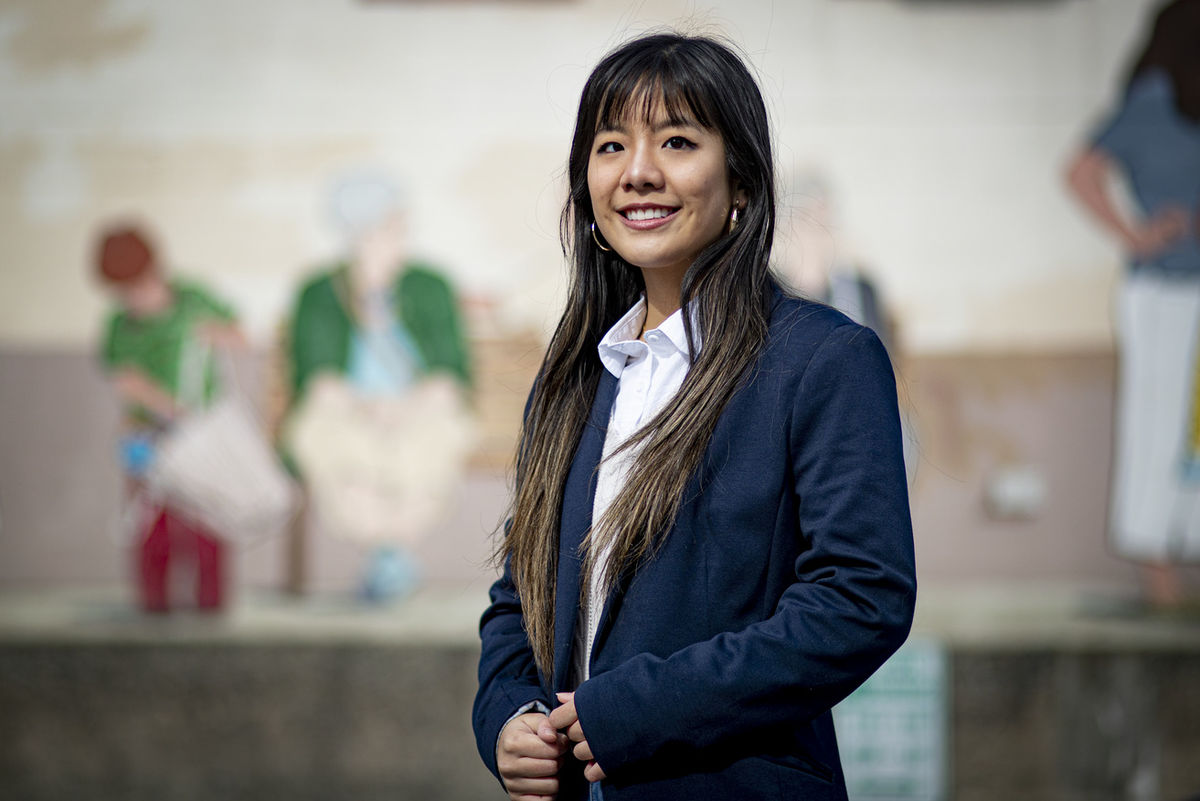 Caitlin Luong co-created a business to help non-English speakers get mental health assistantance in their native language. (Photo by Ryan S. Brandenberg)
Making mental healthcare accessible
Caitlin Luong and her business partner, Mohammad Rouf, dreamed up My TeleHeal in August 2020, when Rouf's grandmother was diagnosed with depression and anxiety following a surgical procedure. A native Bengali speaker, Rouf's grandmother "doesn't speak English too well, and couldn't find any accommodating mental health services in Bengali," Luong explained.
"Millions of Americans are unable to get effective mental health services because of a language barrier, or cultural stigma or high costs," said Luong, who is studying marketing at the Fox School of Business and will graduate in May. 
My TeleHeal plans to address this issue by "providing an affordable, accessible online service to non-English speakers who are seeking mental health assistance in their native language and dialect. This is an effective and efficient alternative to having interpreters present during counseling sessions," said Luong.
Though the business is still in its early days—Luong and Rouf are currently courting investors and entering competitions to raise funds—the co-founders have assembled a small team to begin recruiting mental health professionals and develop an app to host their service.
"First, we're catering to the Bengali community," a decision inspired by Rouf's grandmother, Luong said. "Our therapists and counselors come from Bangladesh, but they also speak English so that they can converse with us, too." Next, the pair plans to expand to the Cantonese community, she added.
In addition to other monetary prizes and investments Luong and Rouf have earned, the $5,000 grant from the Blackstone Launchpad & Techstars Fellowship will "help us to hire an app developer or web developer," Luong said. 
"The mentorship from the [Blackstone] fellowship has also broadened our horizons," she added. "We've learned much more about the business aspect from that opportunity."
Learn more about Temple's Blackstone LaunchPad and the Office of the Vice President For Research.
-Dutch Godshalk