College of Public Health student volunteers as first-time poll worker
When the coronavirus pandemic led to a shortage of poll workers, Georgia Hight-Schickel stepped up to help.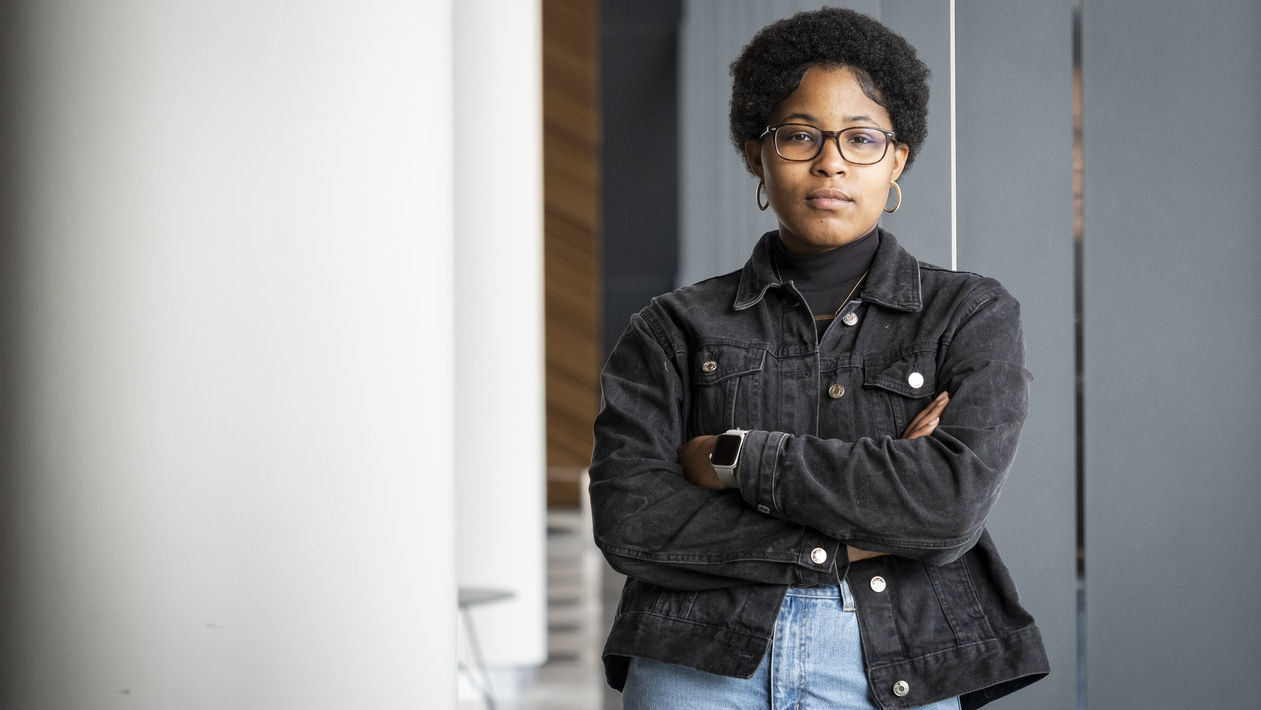 For Georgia Hight-Schickel, Class of 2022, 2020 was always going to be a landmark year: the first time she would be old enough to vote in a U.S. presidential election. Then came the coronavirus pandemic. 
Suddenly, simply casting her ballot didn't seem like enough. "I really just wanted to make sure that I did whatever I could. I didn't want to look back and think, 'Well, I could have done more,'" she said. So, she volunteered as a first-time poll worker and encouraged more people to vote.
Hight-Schickel, who is majoring in speech, language and hearing science, trained to be a machine inspector, one of six roles a poll worker can take on a Philadelphia election board. Because of safety restrictions imposed by the pandemic, all her training was conducted online: She watched a video explaining what to expect on Election Day, how to set up a voting machine and how to ensure each vote was printed out.
She also signed up with a voting organization to reach out to infrequent voters, helping prepare address lists for canvassers and accompanying them as they went door to door. "It's great to see how people interact with voters and hear what the voters have to say," Hight-Schickel said.
While some people were immediately receptive, others were more reluctant. "Not all of them said, 'Oh yeah, I'm going to go vote now that you've come to my door.' Some people said, 'No, I don't want to vote and this is why.' It's really interesting to see where people fall on that spectrum," she said.
Everyone Hight-Schickel worked with put safety first. "When we would meet in the mornings everybody had to stay six feet from each other," she said. "People would meet in little pods, but even within those pods, there'd still be distance because we wanted to make sure we were keeping ourselves safe." And when canvassers knocked on someone's door, they would have a face mask ready for whoever answered.
On Election Day, she arrived at her polling place, Tacony Academy Charter School, at around 6 a.m. and found voters already in line outside. Almost all of the poll workers were volunteering for the first time and despite their training, they were nervous. But everything went smoothly, she said.
When she was younger, Hight-Schickel had visited polling places with her parents, but working at one during a pandemic was a very different experience. She and her fellow volunteers were provided with face masks, gloves and hand sanitizer and no one was admitted into the building unless they were wearing a mask. "It was good to feel, 'OK, I can get this done without having to worry about whether I'm safe,'" she said.
After a busy morning, voters flowed in in a slow but steady stream for the rest of the day. "It didn't feel too overwhelming," Hight-Schickel said. "There was a line, but everybody was so nice. They said, 'Oh, no. Take your time.'" Poll workers answered voters' questions, helped those who had received mail-in ballots but wanted to vote using the machines instead, and ensured that the process of casting ballots went smoothly. 
"It was really nice to see people from all over, people who had immigrated in the past, and all of them being so excited to vote," she said. 
Hight-Schickel is proud of her contribution to the election process. "I feel like a lot of people have said, 'Oh, well, Philly, that's not a great place.' But it is a great place. And we have so many people who are working for change," she said. 
The coronavirus pandemic created an unusually high demand for poll workers and many people stepped up to meet it. Hight-Schickel hopes they will stay involved in the future, because every election is important. 
"There are so many polling places that did have to shut down," she said. "But the more poll workers we have, the more polling places we can keep open, and the more people that will be able to go out and vote."
—Edirin Oputu