On June 9, members of the Temple community gathered to pay tribute to the late Lewis Katz School of Medicine dean.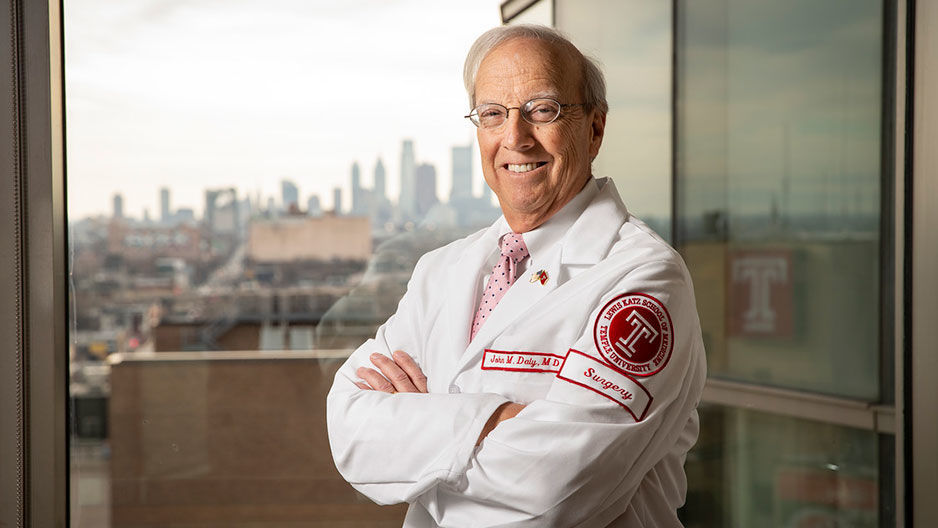 During the past few weeks, gatherings both somber and sweet took place at Temple to mourn and celebrate John M. Daly, MED '73, the masterful, much-loved, two-time Lewis Katz School of Medicine dean who died March 26. Some of the events were small, some were large, and all were moving. 
Three tree-planting ceremonies were held in Daly's honor: one at Temple University Hospital, one at Fox Chase Cancer Center, and one in the garden of the Medical Education and Research Building. The impromptu stories relayed at each by Daly's associates and students paid tribute to a man with an uncanny ability to elevate everything and everyone he touched. This theme rang true on June 9, too, when the university community—and the Daly family—assembled at the Temple Performing Arts Center for a Celebration of Life.   
"In offering this tribute, our goal is not only to recall John's life and achievements, but to hold up his life as a model for all of us," said President Richard M. Englert. 
President Englert—and speaker after speaker—regaled Daly as the consummate surgeon, professor, mentor and dean. They praised his achievements on behalf of Temple. They praised his contributions to society at large through positions of influence at leading institutions, through research and publishing. They praised John Daly, the master surgeon and educator; John Daly, the learner and listener; John Daly, the colleague, counselor and loyal friend; John Daly, the family man and father; and John Daly, the passionate Temple advocate and proud alumnus. "Temple is in my blood," he often said.
The June 9 roster of speakers included Patrick J. O'Connor, emeritus chair of the Temple University Board of Trustees; Amy J. Goldberg, the medical school's interim dean; Michael A. Young, president and CEO of Temple University Health System and Temple University Hospital; Stephanie Fagbemi, a fourth-year medical student and president of the Katz School's Student Government Association; Scott Levin, chair of the Board of Regents of the American College of Surgeons; Steven R. Houser, MED '78, senior associate dean for research at the medical school; and four of Daly's six children—John Jr., Patrick, Timothy, Brian, William and Maureen.
"Dr. Daly was a tremendous leader," said Goldberg on June 9. "Intense, focused, clear, bold, yet supportive and warm—everything you needed him to be. He didn't just teach or supervise. He led by example. By passion, by compassion, by heights of heart and technique. His flames burn brightly in thousands of us—and that's quite a legacy."