Accessibility before and after the pandemic
Andrea Vassar, director of Disability Resources and Services, talks about how the pandemic has affected accessibility features for the disabled community, the process for establishing accommodations, and what tools will still exist after the pandemic.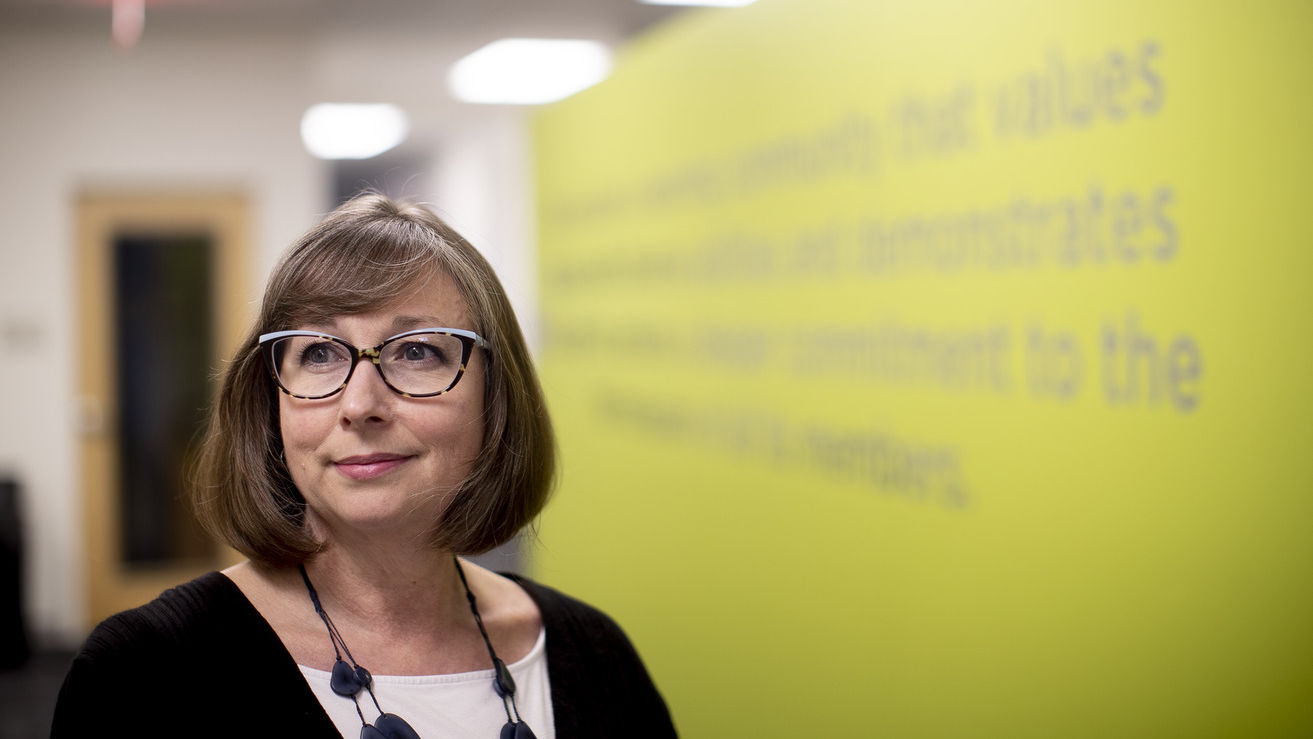 As director of Disability Resources and Services (DRS) at Temple University, Andrea Vassar is responsible for all operations regarding student accommodations due to disability. She also is in charge of resources, programming and support services that students with disabilities may need while pursuing their degrees.
The primary function of DRS is to arrange reasonable accommodations for educational programs, housing and events. We spoke with Vassar about disability accommodations and how the pandemic has changed views on accessibility features.
Temple Now: What is an accommodation and how does the process work?
Andrea Vassar: An accommodation is a modification or adjustment that enables an otherwise qualified individual with a disability equal access to participation in university-sponsored programs or housing. This can include extended test time, note-takers, tape recorders, etc.
It's fairly straightforward. First a student with a disability reaches out to our office, then registers via an online form. They are assigned a student services coordinator who handles their intake appointment. The student then provides documentation of their disability. People have the misconception that this is where the process ends—that providing the paperwork leads to a transactional result of an accommodation plan. The actual function of the documentation is to begin the conversation.
The student services coordinator speaks with the student to find out their lived experiences and what unique challenges and barriers they need assistance in overcoming. The coordinator helps determine which accommodations are appropriate for which classes. Then the students have control over communicating these accommodations to their professors.
My philosophy is to always focus on the challenges that someone is having, rather than the diagnosis or specific disability, because that is where we can find solutions and the best ways to help. It is the mission of DRS to figure out how to provide access and to advocate on behalf of the student by asking the right questions.
TN: What causes a student to be denied accommodations?
AV: Most of the time, denial of accommodations is based on what is considered "reasonable," as opposed to whether or not someone can "prove" that they have a disability. This is a result of the 2008 change in the Americans with Disabilities Act, which amended the definition of disability to "any mental or physical impairment that substantially limits a major life activity or impacts the ability to function in the world." For Temple's purposes, that's learning, living, and participating in programs or services.
A denial usually happens under the following conditions.
When the accommodation fundamentally alters the nature of the course, program, or service. 
When the accommodation impacts the health or safety of others or the community at large.
If the accommodation requires a personal service such as a care assistant.
When the accommodation creates undue financial or administrative burden.
It's rare for there to be a denial of an accommodation request without an opportunity for further conversation. Often, we consult other professors to see what they have done to assist students in the past.
TN: What are some accommodations that arose from the pandemic?
AV: During the course of this pandemic, we've had some requests for all-remote learning, due to the higher risk factor of some disabilities. Other accommodations included modified attendance policies, access to certain technology and extended time on testing and assignments. In some cases, note-taking accommodations have recently been replaced by the automatically generated transcripts on Zoom. Faculty just need to make sure that the auto-transcription feature is enabled. 
Then, on accessibility.temple.edu, there is a variety of different digital resources for professors and students alike. DRS staff are also available for faculty consultations if requested.
"Some students with disabilities found it difficult to concentrate because the camera is always on them and they can see themselves reflected back at all times, so we've had a few requests to modify course policies requiring mandatory camera use during remote class meetings," said Vassar. (Photo by Ryan S. Brandenberg)
TN: How will these accommodations be met after the pandemic?
AV: There isn't an all-encompassing policy because everyone's needs are different, so we handle these requests on a case-by-case basis. We aren't likely going back to the way things were before the pandemic because how we examine what is reasonable has shifted.
Remote learning has changed so much of what we do in our courses and how student access services. What may have seemed unreasonable pre-pandemic may be more feasible now. Temple has put resources into technologies that give us the ability to provide virtual, remote, and hybrid learning environments, and expect that we will continue using these resources post-pandemic.
So many people have experienced chronic illness and mental health issues during the course of this pandemic, and the way we utilize technology has completely changed how we interact with each other. With the evolving attitudes toward remote learning and the technological advancements, we hope to see this momentum carry this conversation on accessibility forward.
TN: What lessons have been learned regarding technological progress and software? What has been done about any major issues that have cropped up as a result?
AV: Some technology has improved the lives of students with disabilities. Zoom's newer features, like automatically generated transcripts, have improved interactions for people with communication disabilities, who are hard of hearing, or who have chronic health conditions that make them unable to attend lectures consistently. Canvas, our learning management software, comes with a variety of accessibility options, allowing professors to control how much time students have on exams and offering a variety of ways to upload course materials, readings and so on.
We still need work on getting faculty to adopt the regular use of the recording feature, and sharing these videos with their students. Working with students and faculty one-on-one is very effective, but it doesn't change the overall academic culture. So we partner with the Center for Advancement of Teaching and Learning to provide support for faculty. They've been providing professors with opportunities to learn how to best use programs like Zoom and Canvas, which ultimately has broader reach than one-on-one work. 
Some students had significant challenges with remote exam proctoring software. These programs record each student while they are taking their tests. If you are a student who moves frequently or looks away because you can't focus on the screen, it could register as a possible academic integrity issue.
There are settings that change the sensitivity of the remote exam proctoring programs, which helps some students, but in some cases the software simply is not appropriate. On a case-by-case basis, staff in the DRS office found creative ways to proctor exams via Zoom during the pandemic.
TN: What does Temple do to make students with disabilities feel more empowered?
AV: We have student-led groups within DRS that have supported students through the pandemic. SHOUT is a peer-to-peer mentoring and support group that meets weekly to share experiences, hang out and support each other. There is another group called Social Xchanges for students with social or communication challenges. This group not only provides support and an outlet to share personal experiences, it also allows students to participate in social activities such as playing games together or going on field trips as a group.
We also have Delta Alpha Pi, an honor society for individuals with disabilities, with an active chapter on campus. Oftentimes, the Temple Student Government representatives reach out to DRS to collaborate on topics such as accessibility as part of their platform. In addition, DRS offers need-based scholarships for individuals with disabilities.
We're looking forward to having more in-person programming in our new office on the fourth floor of the Howard Gittis Center South. This expanded space includes wider hallways, accessible/single stall bathrooms for all genders, a breakout area, conference rooms and a testing center for exam accommodations. Rooms are fully equipped with remote conferencing, assisted-listening devices, accessible furniture, all new technology, and so on. When we return to campus, we will have some in-person meetings, but will continue to offer phone and Zoom options.
—Rayna Lewis