Temple celebrates LGBTQ+ Pride in NYC
A class gives undergraduates experience organizing and assisting in New York City's Pride events while providing insight into the meaning of Pride.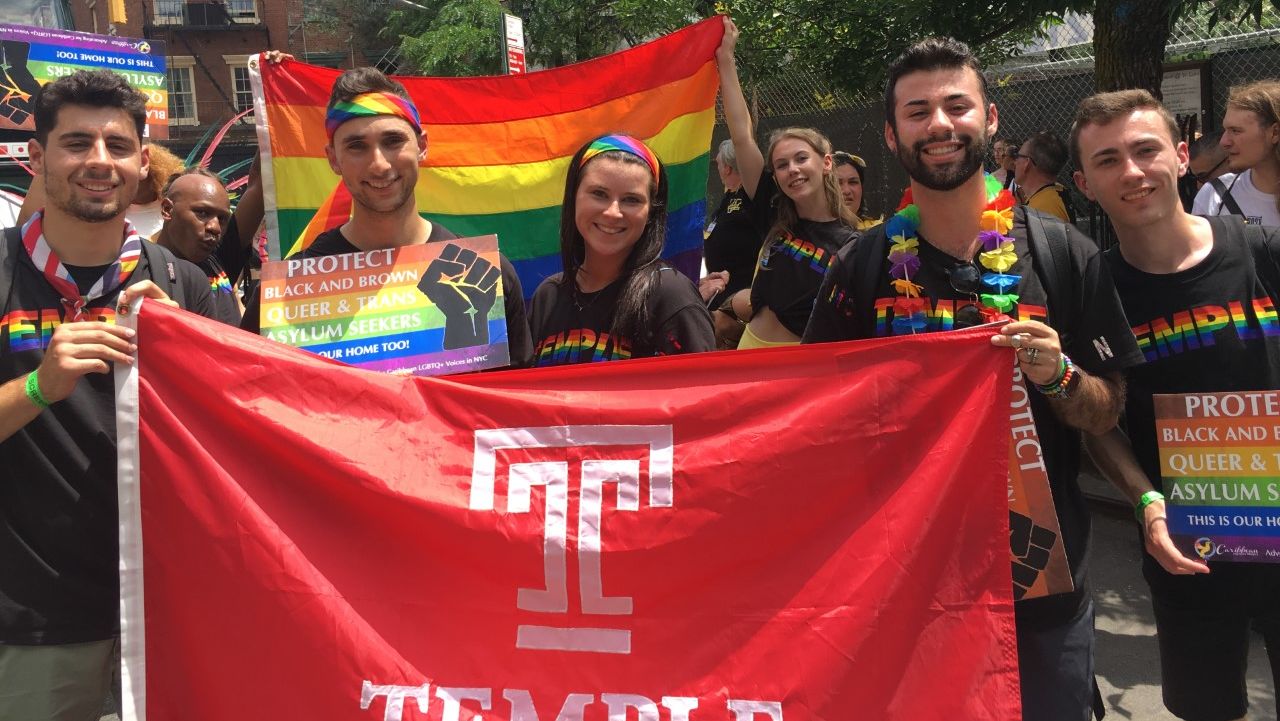 Banners displaying the words "The fight continues" swung through the air as hundreds of physically distanced marchers made their way down Fifth Avenue in Manhattan. 
The Empire State Building stood out among dozens of other skyscrapers, lit up in a colorful array of rainbows in celebration of New York City's annual Pride event. Scott Gratson led alumni and students of Temple University's Pride class down the same path he traveled in 2019 alongside the Buddhists Creating a Better World for LGBTQ+ People and the five hosts of Queer Eye.
Gratson, the director of communication studies, a professor of instruction in communication and social influence, and the director of undergraduate studies at Klein College of Media and Communication, coordinated with his students to wear t-shirts that each depicted the name of a transgender woman of color who was killed in this past year—a reminder of those for whom they were marching.
As they made their way down multicolored streets, a familiar sound reached their ears—"T for Temple U," the Temple fight song. When the marchers neared the singing onlookers, a feeling like electricity ran through them. Gratson watched smiles of joy and wonder slip across the faces of his students, both current and former.
Temple's participation at NYC's Pride event was the culmination of weeks of study, research, meetings and more within Gratson's Pride class. What began three years ago as student-led interest in participating in the NYC Pride March turned into Temple's first Pride class in 2019, complete with an internship worth up to three credit hours.
"There is such a sense of euphoria when the students come together at New York City's Pride event, and also a sense of arrival," he said. "The feeling is, 'Wow, Temple is learning its history, the students are proud of it and now we're all marching.'"
When Gratson first got approval for the course, which focuses on elements of LGBTQ+ history, activism and advocacy, he didn't expect the minimum 13 people would sign up. He wound up with 65 in attendance, and the class had to be moved to the largest lecture hall in Annenberg Hall. Then, when the time came to march, even more people requested to be part of it. The first year this course ran, more than 100 people represented Temple at the march.
"Many students admit they know nothing about LGBTQ+ history, so this class is a chance for them to learn about their own hidden history while also learning to administer and operate one of the biggest LGBTQ+ events in the world," said Gratson.
In the class, which runs seven weeks in the spring from March to June, students learn that Pride is not simply a celebration. That's why it's considered a march, and not a parade, because the LGBTQ+ community has still not met its goal of equality. 
"Marching represents the continuation of our struggle and fight for equality," he said. "We are creating a legacy that is even better for those who come after us, that can move us toward a true celebration. I love marching, but I want a parade someday."
Gratson said that perhaps the most important lesson imparted in his class was that of adapting to chaos, which he said has been an integral part of LGBTQ+ history. There was no word on whether New York City was having its Pride March in-person this year until days before the event. With less than a week's notice to prepare, organize and volunteer at the march, this flowed into that historic narrative.
"There's no instruction manual or syllabus for life," said Gratson. "So this chaos we were all feeling where everything changed one moment to the next is part of the process of learning an important life lesson."
2019 offered a more traditional internship experience with occasional travel to the city and opportunities to help out with the organization of the march. However, when 2020 came along, the NYC Pride event went virtual and drew a massive, worldwide audience that was able to participate without having to travel.
This year's Pride event was the best of both, combining digital events throughout the week with a socially distanced, 500-person march (250,000 marchers participate in a typical year. Students in the Pride class provided social media representation and hosted watch parties for the Human Rights Conference panels, assisted with The Rally, and some acted as COVID-19 check-in operators for the march, if they weren't actively participating in it. 
"This year was at least partially a celebration that we are on our way to an era beyond COVID, and that marches are going to continue," said Gratson. "But COVID also had us reaching people who could never take part in NYC's Pride March and events before, either because of location, youth, or not being in a supportive environment."
Gratson confirmed the virtual portion of Pride will continue in the future. 
"We never had that opportunity for connection before COVID," said Gratson. "There are 12-year-olds in the closet who are experiencing Pride for the first time thanks to this virtual format, and this gives people who are disenfranchised a chance to take part in the event, while knowing they're supported."
This feeling of support translates into the classroom of the Pride course, where the atmosphere is "open, engaging, hysterical and the opposite of heteronormative," described Gratson. 
"The motto of my classroom is: be real, be true, be proud," said Gratson. 
—Rayna Lewis