Campus might look a little different than you last remembered
Several new developments and construction projects have been completed and still underway since the start of the COVID-19 pandemic in March 2020.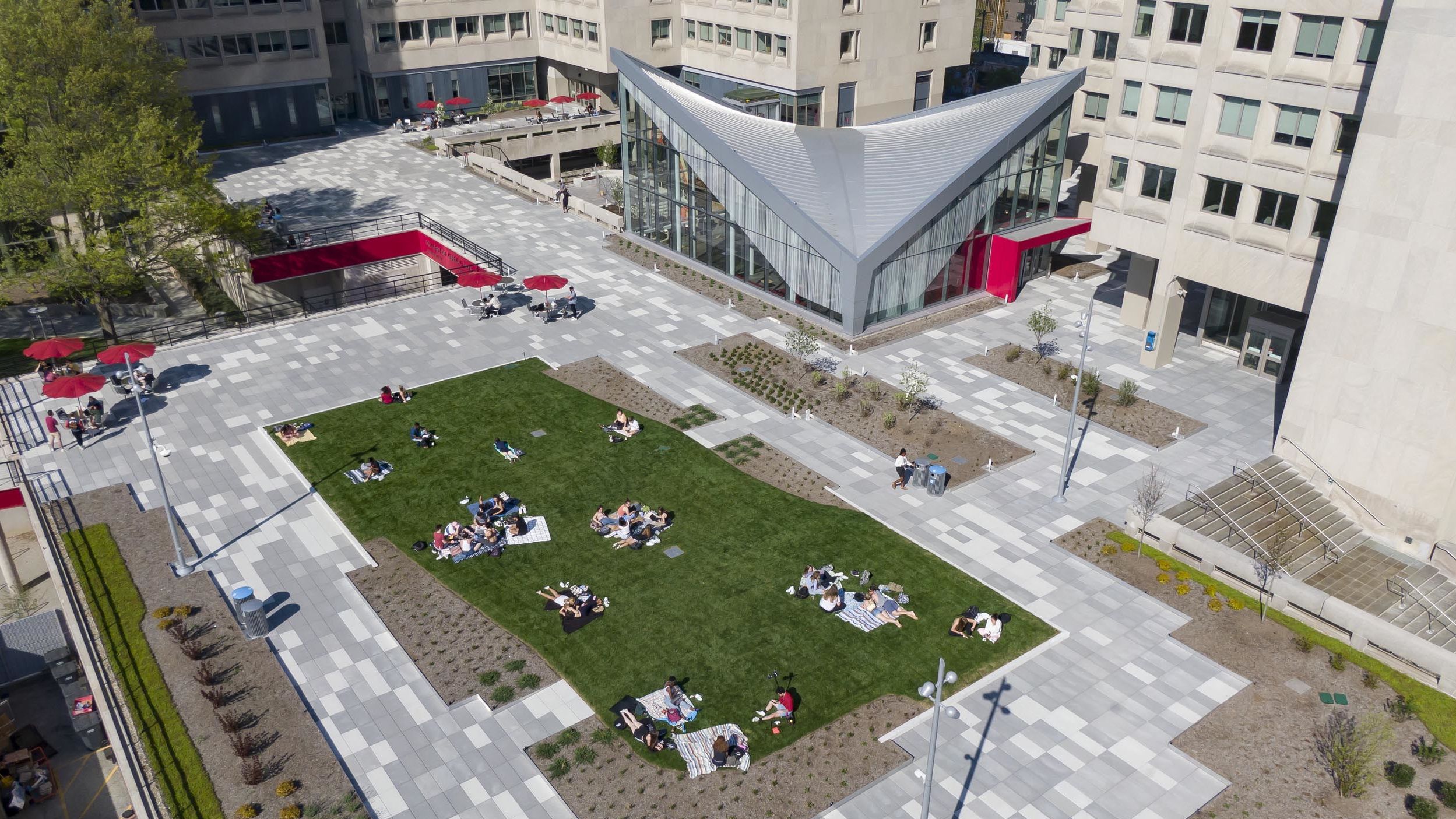 Last week, Temple University welcomed students back to campus for the start of the fall 2021 semester. In normal circumstances, students are away from campus for a three-month summer break, but because of the COVID-19 pandemic, many returning students have not visited Temple for a year and a half.
Campus probably looks a little different from what they remember.
While many of us have been at home, either studying or working remotely, Temple's Project Delivery Group—which manages the design and construction of new capital projects and renovations—has been hard at work.
Most notably, Anderson and Gladfelter halls and the spaces that surround them have been transformed to include new meeting space, a rooftop garden and a new campus entrance. The newly renovated spaces have already become hallmarks of Temple's vibrant and beautiful campus.
Here is a brief synopsis of that project and others that are reshaping Temple's campus.
Anderson Hall/Gladfelter Hall renovations and East Gateway
If you travel to campus via SEPTA Regional Rail, one of the first things you will notice is the newly repaved and landscaped Pollett Walk and the East Gateway to the university at 11th Street. It's both bright and inviting, and welcomes the large number of folks who use the train to commute to campus.
"That whole project is a redefining, transformative project, not just for that complex but for the entire university," said James Templeton, director of architecture for the Project Delivery Group. "It created an East Gateway for campus, which really did not exist before this. It's a way for us to welcome the thousands of students, faculty and staff who come off the train each day."
The project goes beyond just the East Gateway. Inside Anderson Hall is a newly renovated lobby that will serve as an event space and centerpiece for the College of Liberal Arts. Outside, the Anderson and Gladfelter Terrace was also reimagined to create an upper level "university quad," which features lawn space and outdoor seating with new monumental stairs that have direct access from Polett Walk and the outdoor food area along 12th Street. 
"The project has created an outdoor space out of a rooftop that really did not have any activity. Now, it is a garden in the sky with a university lawn and lots of seating and activity. This was a tremendous opportunity to reimagine a rooftop. Now, post-pandemic, it's even more important that we can be together in beautiful outdoor spaces like this," Templeton said.
Center for Anti-Racism Research
The evolution of Anderson and Gladfelter Hall will continue this fall when construction officially begins on the Center for Anti-Racism, which will reside in an enclosed exterior space on the deck that connects the two buildings. Construction on the new center is expected to be completed in the spring of 2022. The center will serve as a hub for discussion about policies and behaviors concerning race and racism in the U.S. and also offer workshops and host guest speakers.
Lactation suite relocates
Temple's Mamava lactation suite recently relocated to a new spot within the Howard Gittis Student Center. It will now reside in a much more accessible spot, across from the bookstore in the lower atrium. In 2016, when the suite opened, Temple became the first college or university in Pennsylvania—and the sixth nationally—to offer this type of private space to breastfeed or pump milk.
Ritter Hall renovations
Renovations to the Ritter Hall Office Wing and the lower floors and main lobby of Ritter Annex are underway and set to be completed later this fall. These renovations will consolidate the College of Education and Human Development's administration and faculty offices, allowing them to more efficiently and cohesively work together.
Tuttleman Hall renovations
In the summer of 2020, the College of Science and Technology's advising offices were moved from Paley Hall to the first floor of Tuttleman Hall. The new space in Tuttleman includes fully renovated offices, an advising waiting area, conference room, a classroom and support spaces.
Speakman Hall renovations 
Speakman Hall is in the process of a major facelift. All office suites, classrooms, labs, hallways, restrooms and stairwells are set to be renovated, with the work ranging from cosmetic upgrades all the way to full suite renovations. Phase two of the project was completed this summer, which included full renovations to the ground and first floors and cosmetic upgrades to the second and third floor hallways. 
 
Diamond Club
Temple University's gourmet dining club has a new home. This summer, the Diamond Club was relocated from Mitten Hall to the south side of the Johnson and Hardwick halls' dining facility. It now also has its own entrance off of Norris Street. The new space is modern and sophisticated, and offers seating for up to 64 people.
Mitten Hall ground floor renovations
With the Diamond Club relocating, Mitten Hall has been able to add space for members of Temple's Human Resources Department. The new renovations include the expansion of the HR suite to Mitten Hall along with hallway and restroom renovations.
Tyler School of Art and Architecture renovations
This project involved interior renovations on three floors of the Tyler School of Art and Architecture building, totaling approximately 23,400 square feet. The work includes new faculty office suites for the Art History, Art Education and Community Arts, and Advising departments, and new classrooms, a new central Digital Services space, and improvements to the Stella Elkins student gallery. Construction was completed spring 2021.
 
Shusterman Hall renovations 
Cosmetic upgrades, along with the installation of a new fire protection system, are set to be completed in Shusterman Hall later this fall. The work includes new flooring, painting of walls, refinishing of wood base/trim and new furniture.
1300 Residence Hall renovations
Students living within the 1300 Residence Hall moved into a much brighter living space this fall. All areas of the building, everything from apartments and suites to lounges, hallways, and stairwells, received full cosmetic upgrades. As part of this project, all floors and ceilings were replaced and new lobby lounge seating was provided, too.
Carnell Hall renovations
Located inside Carnell Hall, the Bursar's Office has received a considerable makeover. The 6,900-square-foot renovation project included an overhaul of enclosed and open work offices, meeting spaces, reception space, kitchenettes and support spaces. Work was completed in August 2021.
Liacouras Walk South landscape improvements
Due for completion in winter 2022, Liacouras Walk South, located between Montgomery Avenue and Cecil B. Moore Avenue along the west side of the Ritter Complex, is being renovated. The project involves the replacement of pavement as well as regrading. A central water feature, plaza and a campus green space will also be installed to help ensure the area is better utilized.