Highlights from a conversation with President Wingard
In this excerpt from his conversation with Klein student Niccolas Uff, President Wingard talks about his plans for Temple.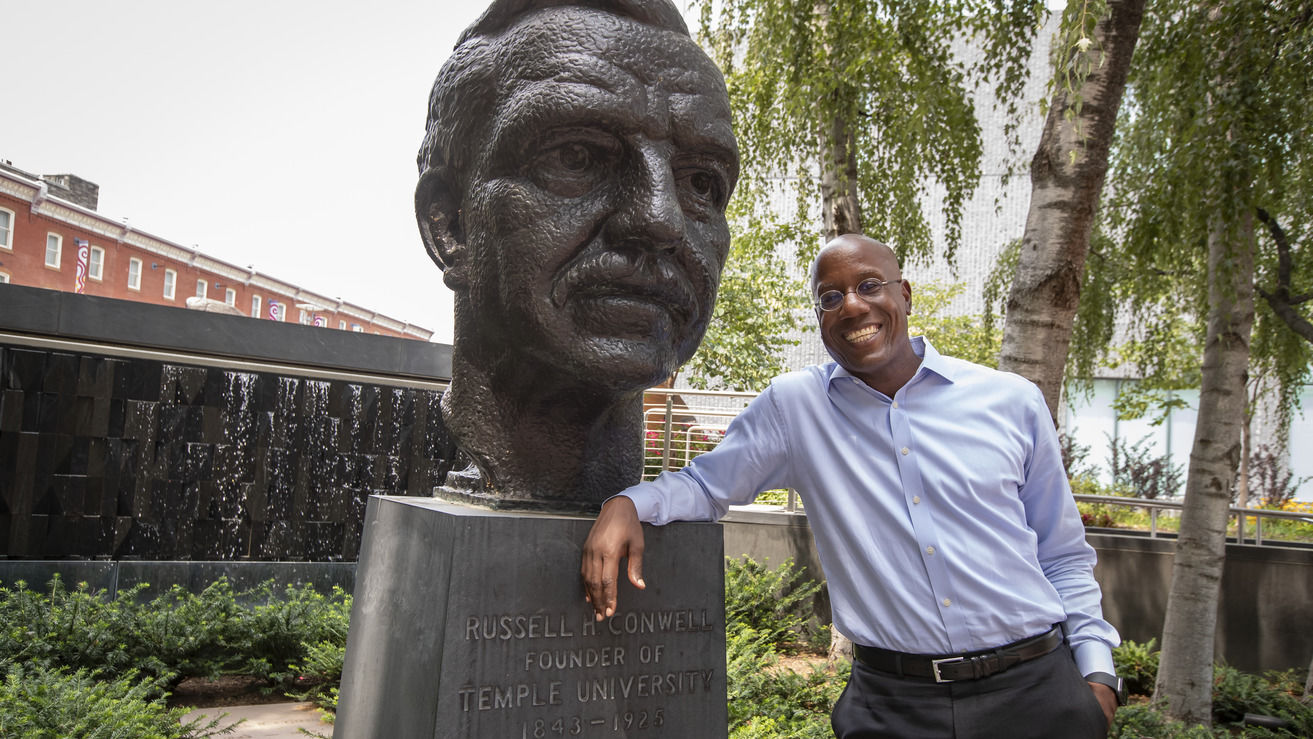 President Jason Wingard recently sat down with Klein College student Niccolas Uff, Class of 2022, to talk about all things Temple. 
In this Q&A—the first in a series of highlights from their conversation—he discusses his plans for the university and the challenges posed by the COVID-19 pandemic. 
Niccolas Uff: What are your top three priorities as Temple's new president?
Jason Wingard: Well, I just got here 30 days [ago], so we're working on that. But what I can definitively say is number one: raise the reputation and profile of Temple University. This is an excellent place to study, to teach, to play sports, to do extracurricular activities. I want the world to know that this is the best school in the best city in the country. 
Number two is to reevaluate our curriculum to make sure that the future of learning, which is where we are excellent, is meeting the future of work. What does that mean? That means we want all of our students, including you, to be able to get the best job, whatever job you want, and be a leader in industry and be a leader in whatever function that you want to be in. We have to make sure our curriculum matches that. So reviewing that and making sure that we adjust and adapt to the future of work is going to be priority number two.
And then number three is going to be engaging with our community in a more definitive way. This is a dynamic university. We are in the best city, as I said. And North Philadelphia as a community and a larger metropolitan region is something that we can take advantage of, whether it's corporate partnerships, whether it's the residential community, whether it's local politicians or leaders. We want to be able to engage in that network because then it's valuable to students.
NU: It's a big position being president of such a big university. Are you anticipating any challenges and how are you expecting to face them?
JW: I think the most important challenge that we have before us right now is COVID. All of the students, the whole school community, we've been gone for [about] a year and a half. [We're] reintegrating into the residences, reintegrating into the offices [and] the classrooms. We have a vaccine debate. Some people want to get a vaccine, some don't. Some want to wear masks, some don't. But we're a unified community and we have to come together and we have to decide: How can we keep everybody safe, do what's most important for us, which is to teach and learn, and then move forward? And that's a challenge for us because not everybody is on the same page.
It is my job and our administration's job to message what the rules are and the policies. It's the community's job to do the best they can to be able to adhere to those. Some of those are set by the state. Some of those are set by the city. Some of those are set by the university. If we can get past that challenge, I think we'll be in good shape.
Secondly, we have to find an athletic director. If I get 50 messages, I get 100 a day that say, "Who's going to be the next athletic director?" Temple has a long, rich, strong history [of being] dominant in athletics, football, basketball, all across the board. And it's important, particularly now, because there's a conference realignment. We're in a good conference—the American Athletic Conference—but there are a lot of schools changing in the other Division I athletic conferences, so there's some nervousness about where Temple is going to land with respect to this. We want to identify who that next leader for Athletics is going to be. That's an immediate challenge that I'm focused on.
—Edirin Oputu