Posted
September 24, 2021
After a year hiatus, Homecoming is set to return to universities this fall. Why did we miss it so much?
Temple faculty members discuss why Homecoming remains a tried-and-true tradition at universities and colleges across the country.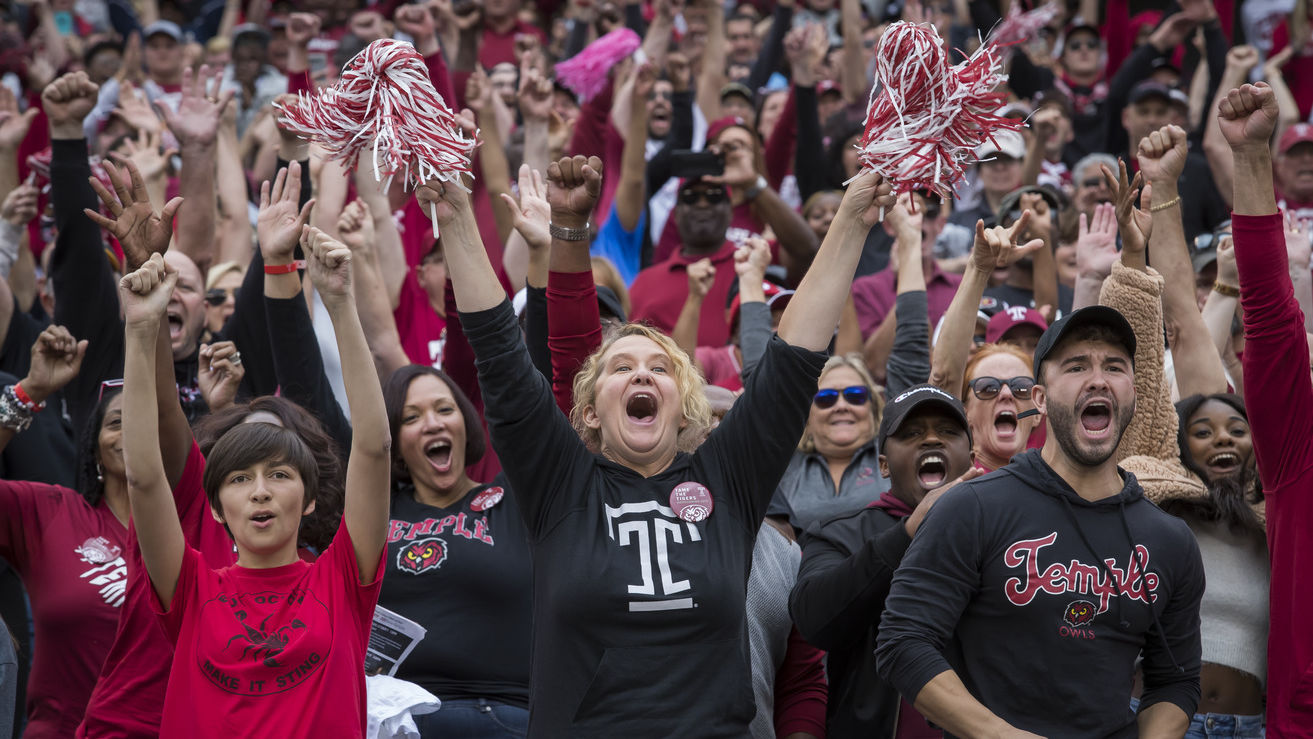 This fall, after a yearlong hiatus due to the COVID-19 pandemic, Homecoming and the many traditions that come with it are set to return to colleges and universities across the country. The pep rallies, the tailgates and the football games—they'll all be back.
The marching bands, the bright colors and the parades, they'll be back, too.
But what brought about these traditions in the first place? And why is a segment of the population so excited for them to return?
"People yearn for connection. This is historically true, and it's psychologically true," said Bryant Simon, a professor of history in the College of Liberal Arts at Temple University. "Go to the Jersey Shore, and ride through Stone Harbor, you will see that people have their university flags flying outside their homes. Homecoming is a way to affirm that."
According to Simon, Homecoming's roots go all the way back to the late-19th century with it beginning as an upper-class tradition. Since then, it's grown considerably. Homecoming king and queen traditions were adopted after World War I, while parades were added to the regular festivities around the time of World War II. Shortly after that, high schools began to introduce their own homecoming traditions.
The formula behind Homecoming has proven to be tried and true, which Simon credits to the ritual nature of the event.
"Homecoming works on several iterations. From the university standpoint, it's a chance to make some money and it's a chance to build alumni relationships. For alumni, it's the chance to re-energize your connection to a place and a time in your life through a ritual. That ritual connects the past to the present, and it connects people to this moment," Simon said.
Depending on the school and its location, the financial aspect of the event is considerable. 
Jeremy Jordan is the senior associate dean of Temple's School of Sport, Tourism and Hospitality Management. (Photo by Ryan S. Brandenberg)
"Think of a town like State College, Pennsylvania. I would imagine that in a small town like that, the money that some of these businesses make on a football Saturday is a huge part of their annual revenue, and all of that is further magnified on Homecoming. Local hotels, restaurants and retail stores depend on that," said Jeremy Jordan, senior associate dean of Temple's School of Sport, Tourism and Hospitality Management. "Big football schools like Penn State also depend on engaging with alumni during Homecoming. It's a huge tool for cultivating relationships and encouraging donations."
This year, Temple will be one of the many universities welcoming back Homecoming festivities after canceling them last year. Alumni and Constituent Engagement has planned Homecoming and Family Weekend, complete with a Homecoming tailgate, concerts, an art market and Temple's football game against Memphis.
"We're excited to have Homecoming back in person, and we feel like it will be bigger and better than ever," said Eliza Stasi, executive director of Constituent Engagement. "We've worked really closely with Student Affairs and New Student and Family Programs to make it a Templewide initiative, bringing in students, alumni, parents and families and being conscious that we have activities for all groups."
Homecoming is a date that alumni from institutions across the country often circle on their calendars. This year, the event may take on even further significance.
"Part of getting back to normal is going to Homecoming," Simon said. "For some people, I do think Homecoming will take on even bigger meaning this year because it means that life is back to normal."