Temple remembers the lives of five Owls with a candlelight vigil
Students, faculty and staff gathered in remembrance of Samuel Collington, Katherine Keleman, Matthew Melendez, James Peterman and April Rochester.
James Peterman was an eager sports fan. Katherine Keleman loved nature and animals. Matthew Melendez excelled at lacrosse. April Rochester was free-spirited and magnetic. And Samuel Collington was a history buff who planned to help others by becoming a lawyer and politician.
On Tuesday evening, the Temple community gathered for a candlelight vigil in memory of these five Owls, each of whom passed away suddenly this semester.
Several dozen students, faculty members and staff came together around the Bell Tower in the heart of Main Campus for the vigil—organized by Temple Student Government (TSG)—and paused to both celebrate the Owls' lives and mourn with those who knew and loved them.
"As we see tonight, when faced with tragedy our community stands united," said Student Body President Bradley Smutek, Class of 2022, at the beginning of the ceremony. "This is a moment of tremendous sorrow, but please know that you are not alone."
Kyle Osborne, Class of 2023, TSG's director of university pride and traditions, led the vigil and invited the Rev. Shaun Mahoney to offer a prayer in memory of Peterman, Keleman, Melendez, Rochester and Collington. 
"We too often take for granted the lives of those who accompany us, until they are snatched from us," Mahoney said. In the coming days and especially during the holiday season, the students' families and friends would carry the full weight of loss, he said, and the absence where there should be presence would become much harder to bear. 
It's important that Temple's community reaches out to help lighten the burden. "It is in loss that we truly discover gain," Mahoney said. "In death we come to appreciate the value of a life. In death we take stock."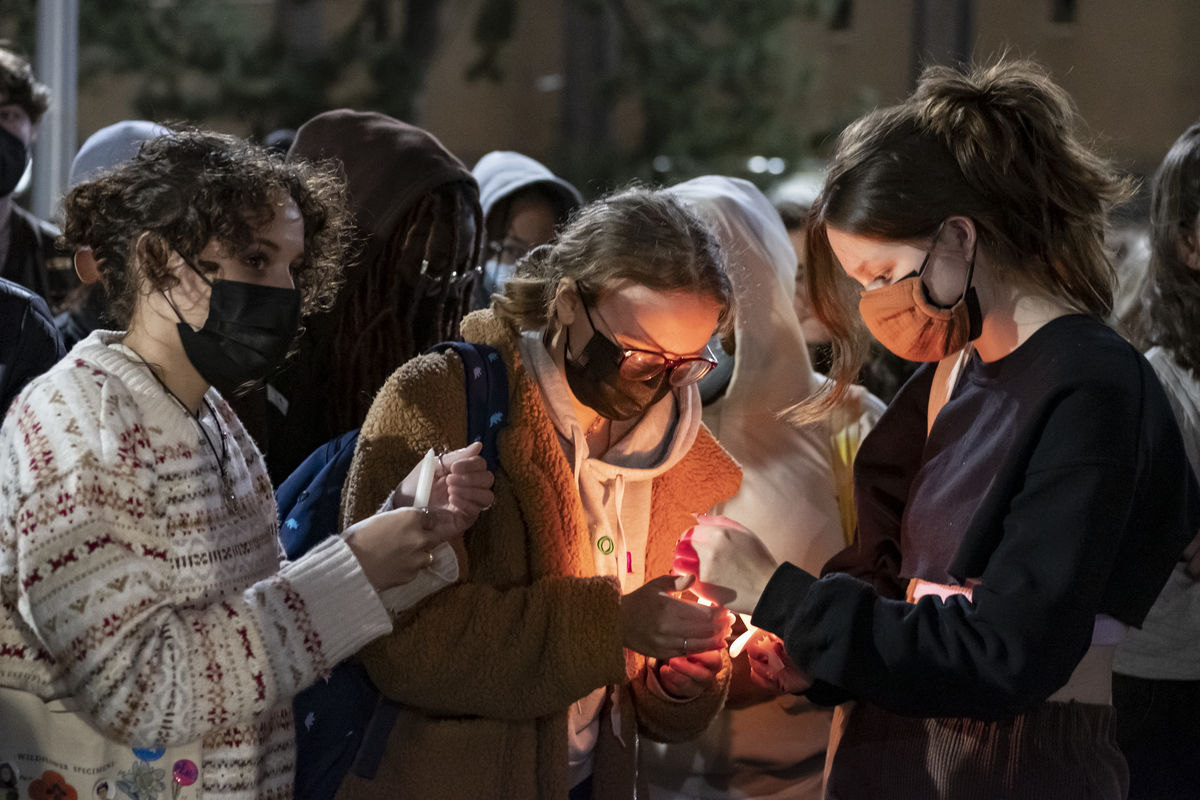 Students lit candles during the ceremony. (Photo by Joseph V. Labolito)
Kimmika Williams-Witherspoon, a poet and associate professor of theater studies and playwriting at the School of Theater, Film and Media Arts, performed "For the Time Being," a spoken word piece she wrote specifically for the ceremony. "Time is short, fleeting, impatient," she said. We take it for granted, but it catches up with us when we least expect it. "Time, my constant companion, ever present, ever reminding and pressing to live each day to the fullest, runs alongside, challenging [me] to make the journey worth it," she said.
Students lit candles as they listened, passing flames from one candle to the next and cradling them against the wind. Others lit up their cell phones and held them outstretched.
Osborne read tributes to each of the five Owls, pausing for a moment's silence after each memorial.
A tourism major, James Peterman, Class of 2022, was from Oxford, Pennsylvania. He died in October. "Jimmy was an avid Philadelphia sports fan, loved his family and looked forward to traveling all over," Osborne said.
Katherine Keleman, Class of 2023, lived in South Jersey and was majoring in anthropology. She was killed in November in a domestic violence incident that also gravely injured her mother, Sherri Keleman, a member of staff at the Lewis Katz School of Medicine. Osborne thanked Katherine's roommates for writing a brief tribute to her. "Katherine was a kind, caring, beautiful soul that did not deserve the injustice she was served," Osborne said. "We will miss her every day and send prayers and love to everyone afflicted by all of these terrible tragedies."
Matthew Melendez, Class of 2024, was a business and management major from Buckingham, Pennsylvania. He died in November. "Matthew loved lacrosse and his family very much and had a special place in his heart for his friends and his fraternity," Osborne said.
A kinesiology major, April Rochester, Class of 2025, was from New York state. She died in October. "She was described as the most energetic, free-spirited [person], a magnetic energy," Osborne said.
Samuel Collington, Class of 2022, was from Prospect Park, Pennsylvania, and majored in political science. He was killed in a shooting in November. "Sam was a tremendous advocate for the political science department and all those he cared very, very much for," Osborne said.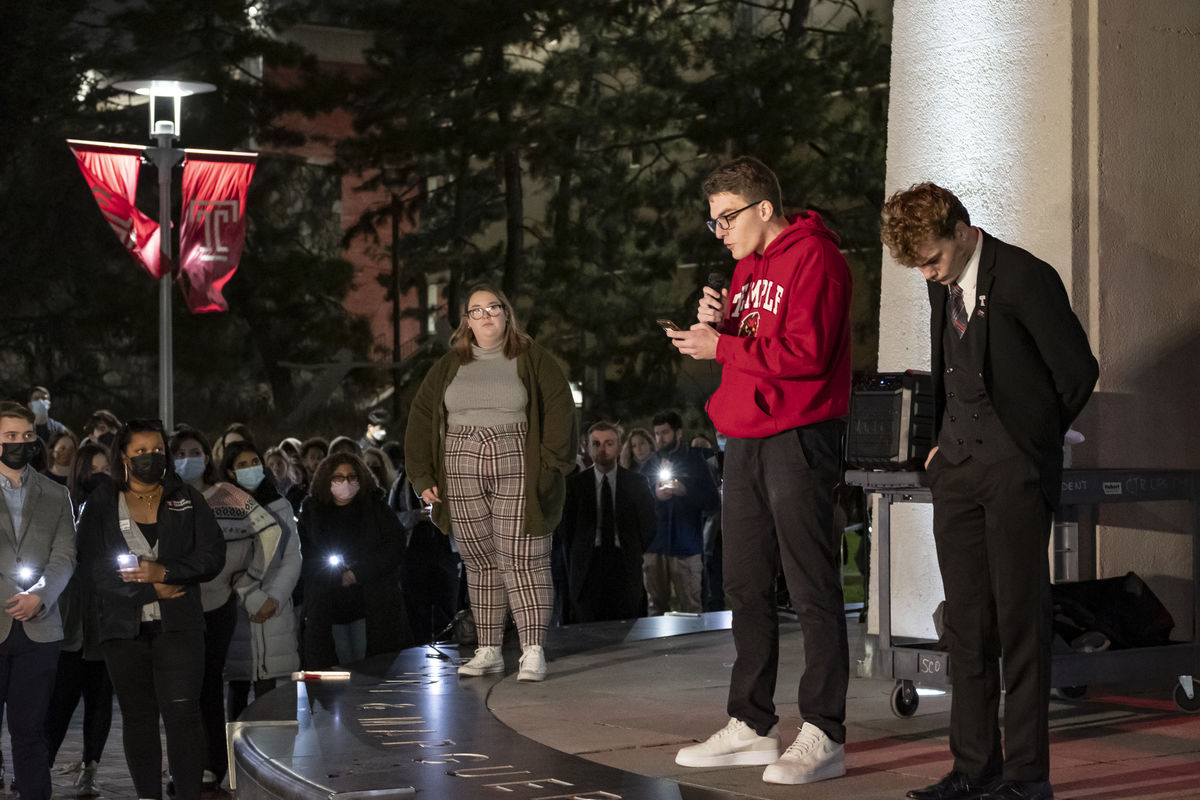 Shane Collington (center right) spoke about his cousin Samuel during the ceremony. (Photo by Joseph V. Labolito)
Shane Collington, Class of 2022, spoke of his cousin Samuel's drive and work ethic, as well as his generosity of spirit. "Samuel Collington achieved more in his 21 years than most people achieve in their whole lives," he said. "[He] took pride in what he studied and stood for." 
Samuel spent all of his spare time raising awareness about the causes that mattered most to him, Shane said, and his humor and intelligence made everyone feel comfortable in his company. "No matter what context you knew Sam in, I think this is a fraction of the amazing qualities he displayed," he said.
The ceremony also included a performance by Haweh Kwaidah, Class of 2022, who sang John Lennon's "Imagine," and a reading by Kameryn Moore, Class of 2023, TSG's director of outreach and engagement, who read the poem "When Tomorrow Starts Without Me."
Near the end of the vigil, Quaiser Abdullah and Chris Owen of Interfaith Philadelphia spoke about grief, loss and faith. "May the memories of the ones we have lost remind us of the importance of valuing the lives and the moments we have with each other," said Abdullah, who is an assistant professor of instruction at the Lew Klein College of Media and Communication. Owens encouraged people not to grieve alone. "Grief and loss don't disappear but they do feel differently when we carry them together," he said.
Closing the ceremony, Osborne thanked the Temple community for gathering to remember their fellow Owls. "Tonight we made sure their names will not be forgotten," he said. "Thank you for showing up and making these students and their legacies be heard, seen and remembered, for it means so much."
—Edirin Oputu