Klein on the GO excursions: shining a light on the Neon Museum
The Klein on the GO excursions series offers students the opportunity to explore Philadelphia while following COVID-19 protocols like masking and social distancing.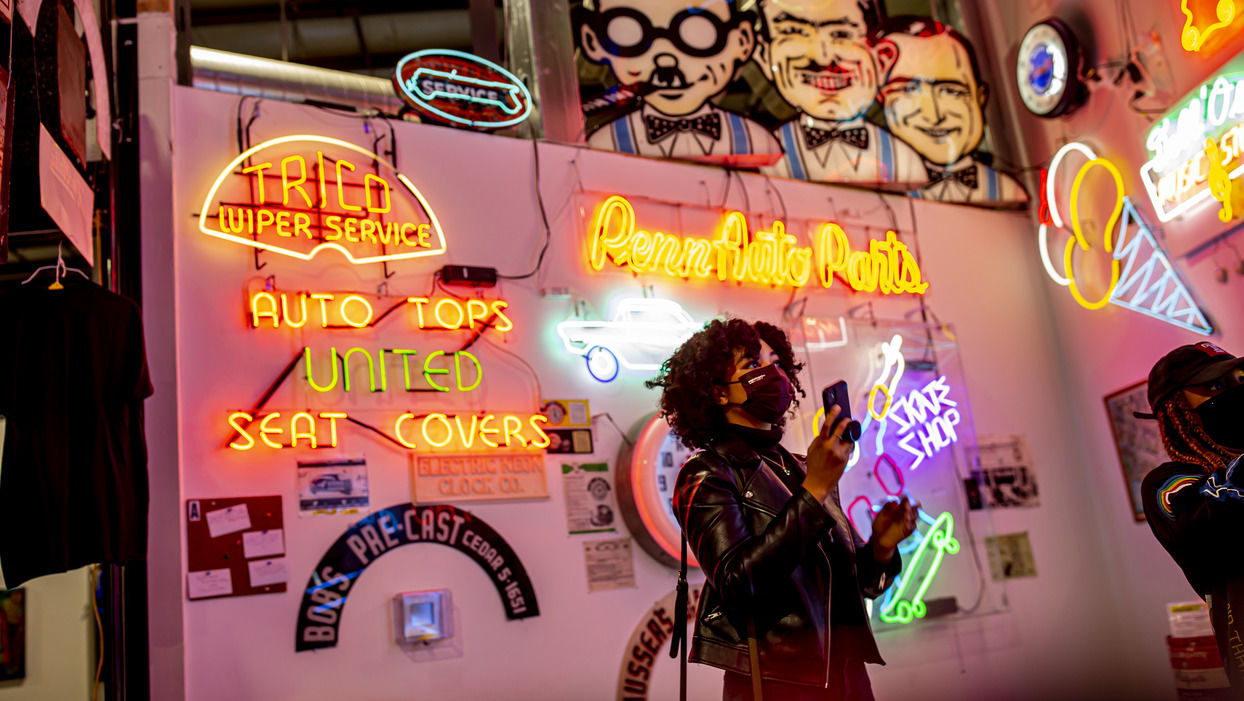 Launched during the spring 2021 semester, the Klein on the GO excursions series has been giving students the chance to explore the city of Philadelphia.
Faculty members have been encouraged to pitch ideas for trips they wanted to lead. Kathy Mueller, an associate professor in the department of advertising and public relations at the Klein College of Media and Communication, pitched the idea to visit the Neon Museum of Philadelphia, on North American Street.
"When the call for proposals was announced, I saw my chance to share my first visit to this exciting new museum with Klein students. It was a pleasure to have this experience together," she said.
Mueller led the tour alongside museum founder Len Davidson, as students explored the museum and learned about the history of some of the neon signs. The museum houses a variety of signs from iconic Philadelphia businesses including Pat's King of Steaks, Old Original Bookbinders, Pep Boys, McGillin's Olde Ale House and Levis Hot Dogs.
Mueller believes the trip to the Neon Museum coincides with what her students are learning about in advertising.
"Looking into the past is a powerful tool for shaping your view of the present and the future," Mueller said. "Neon is one of the many intersections between art and branding. It was beneficial to the students to think about how visual brand identity has evolved over time, and how it's been expressed through different technologies."
Will Meade, KLN '21, is a peer advisor for Klein GO and also attended the trip to the museum. He was joined by about 30 students from different majors and age groups.
Meade enjoyed the excursion and learned more about the city he's lived in for the past four years.
"I really felt like I learned a lot of history about Philadelphia and not just neon signs, but also the different phases that the city went through from a very industrial era to a lot of these industries leaving. And how these businesses reacted to all of the change," he said.
Meade thinks the Klein GO program is a great experience for students who would like a change of scenery to go out for an hour or two and explore the city.
"If you have that time in your day, you might as well do it. I feel it really enhances learning on Temple's campus," Meade said.
    
—Matthew Aquino