Thriving alumni businesses succeeded after finding support at Temple
Bucha Bio and Simply Good Jars, two businesses started by Temple alumni, have enjoyed recent growth thanks to their innovative products.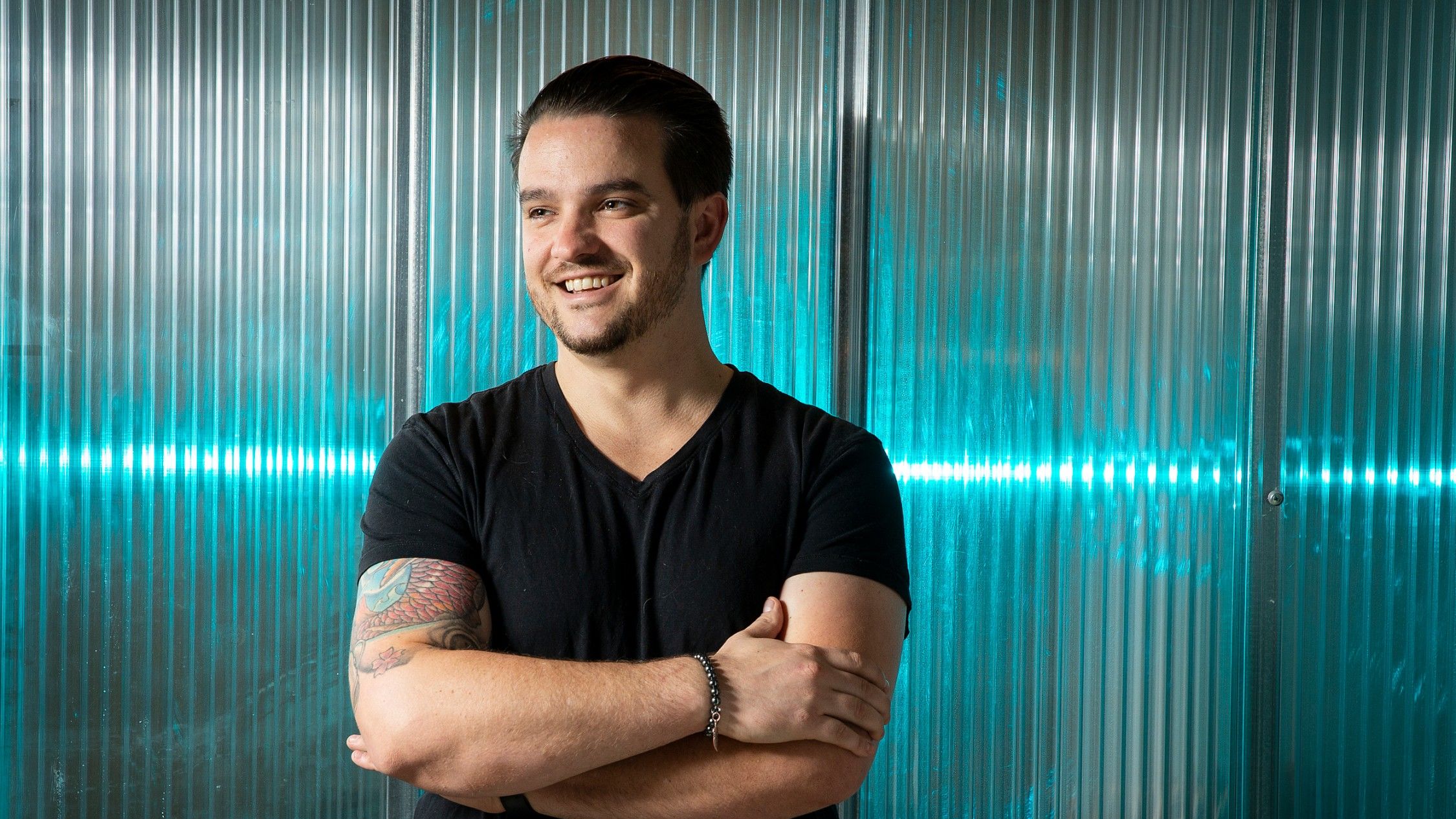 Bucha Bio and Simply Good Jars want to change the way we dress, design, manufacture and eat. The two companies are pushing the boundaries of biotech and culinary technologies, and they aim to not only improve the lives they touch but to also reduce environmental impacts associated with their industries.
The companies have another thing in common: They were started in North Philadelphia by Temple students.
Both Zimri T. Hinshaw, CLA '20, of Bucha Bio and Jared Cannon, FOX '16, of Simply Good Jars got their business ideas off the ground with help from the Blackstone LaunchPad, a program housed in the Office of the Vice President for Research designed to support students and alumni wishing to develop innovative ideas.
"I was trying to start companies at Temple since my junior year, and I had lots of ideas," said Hinshaw, who majored in economics and grew up in Okinawa, Japan. "The Blackstone LaunchPad really helped me vet and think about a lot of different ideas."
Hinshaw's original concept for Bucha Bio was radical. He wanted to use environmentally friendly materials to grow clothing, such as jackets, in molds. The key component to make this possible, Hinshaw said, is the bacterial nanocellulose that makes up scoby, an ingredient used to make the beverage kombucha.
With the help of a few students from Thomas Jefferson University, Hinshaw and his team further developed the concept of growing an entire jacket out of the material, which they then entered into the Innovative Idea Competition, a yearly entrepreneurial contest hosted by the Fox School of Business.
In the time since, Hinshaw has expanded the scope of use for this material far beyond just jackets and clothing. He's also further developed the material itself.
"We don't use kombucha nanocellulose anymore. We use another kind of cellulose, but the gist is the same: Bacteria are making a cellulose, and we are taking it, combining it with other plant-based biopolymers and plant-based additives and effects, and mixing everything together to either extrude or cast into sheets of material," Hinshaw said. "At our core we are now, really, a materials solutions company that unlocks this creative design potential and creates materials specifically for either fashion, or automotive, or interior design, or a plethora of industries that want these materials."
Bucha Bio recently relocated its operations to Houston, a city Hinshaw meticulously researched and selected to grow his business in. Since moving, they've hired two PhDs, expanding the team to five, and they have plans to grow the team to 10 by the end of the year.
"Houston is an excellent place to grow a company like this, and it's where we're going to be for a long time, indefinitely," said Hinshaw.
Zimri T. Hinshaw developed the idea for Bucha Bio as a student at the College of Liberal Arts in 2019. (Courtesy of Zimri T. Hinshaw)
Jared Cannon still remembers the day he first brought his business idea into the world.
"I walked into the Blackstone LaunchPad with a jar, and I put it on the desk and said, I have a pretty crazy idea," said Cannon, who grew up in Newark, Delaware and earned his masters in innovation management and entrepreneurship from Temple.
The jar was an early prototype of what would become the primary signifier of his company, Simply Good Jars, which sells a variety of ready-to-eat salads in a jar that utilizes patent-pending preservation technology.
After spending a lifetime in the culinary industry in every role from butcher to executive chef, Cannon was acutely aware of a nagging problem in his field. Fast food is convenient but unhealthy, and healthier options often create packaging waste and can be "uninspiring and never really delicious," Cannon said.
"[With healthier options] you know you're sacrificing flavor, taste and integrity of ingredients," he continued. "I felt like I could try to change that."
Cannon spent years developing a jar that would allow fresher, healthier ingredients to last longer without the use of additives or preservatives. 
"Our jar is designed to perfectly enable the respiration and perspiration of the ingredients that we put inside of them, which means it doesn't suffocate them," he said. "It allows them to breathe."
To reduce food packaging waste, the jars are also reusable and recyclable. Simply Good Jars encourages customers to repurpose their jars, and each time someone makes that pledge by scanning a QR code on the packaging, the company makes a donation to a local food organization.
Simply Good Jars are now available in retailers spanning the east coast and Texas, as well as GoPuff, airports and university campuses. It was recently announced that the gas station chain Wawa will begin carrying Simply Good Jars in 30 of its locations throughout Pennsylvania, New Jersey, Delaware, Maryland and Virginia.
And just this month the product returned to the place where it put down its roots, Temple University. Cannon said Simply Good Jars are currently being sold at the following locations on Main Campus: Saxby's in Alter Hall, Java City in the TECH Center, Stella's Cafe in the Charles Library and Diamond General in Klein Hall.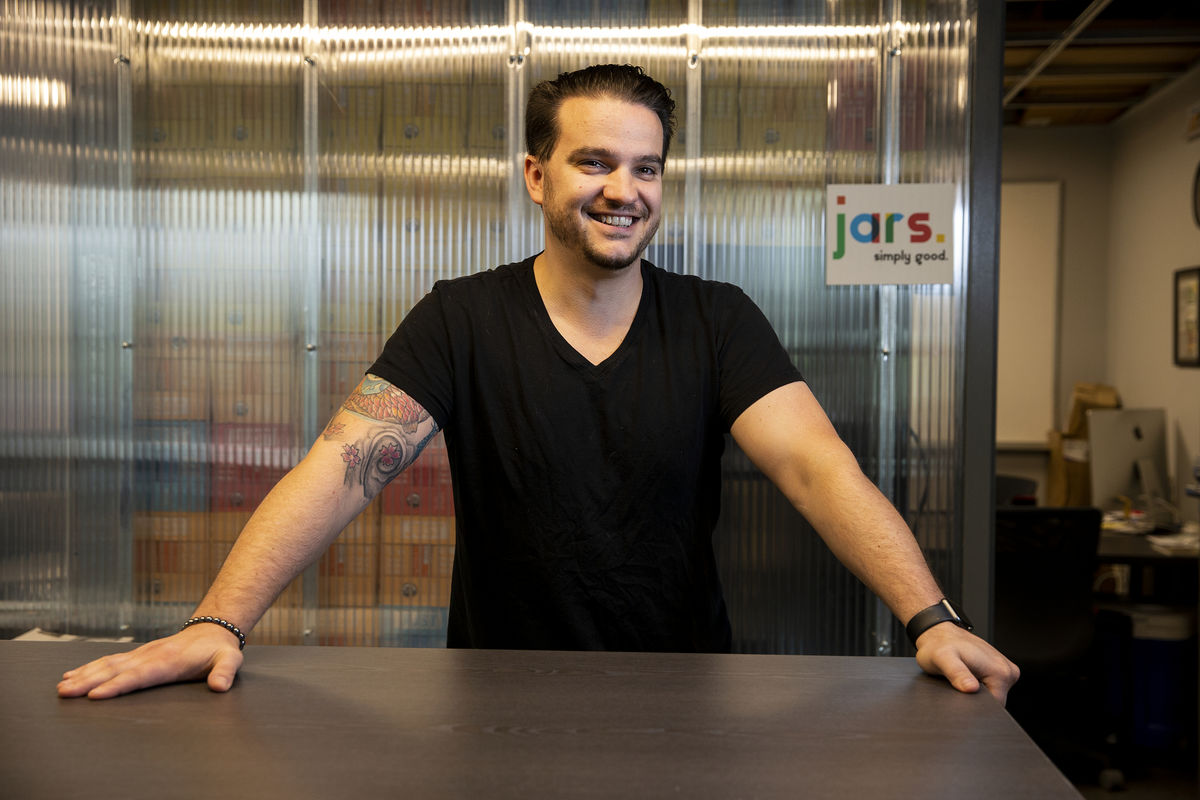 Jared Cannon returned to North Philadelphia in March for the launch of Simply Good Jars on Temple's campus. (Photography by Joseph V. Labolito)