Temple alumna competes on 'Jeopardy!'
Caitlin McHale, KLN '15, will make her TV debut as a contestant on an episode of the national game show Jeopardy! airing March 4 at 7 p.m. on 6abc.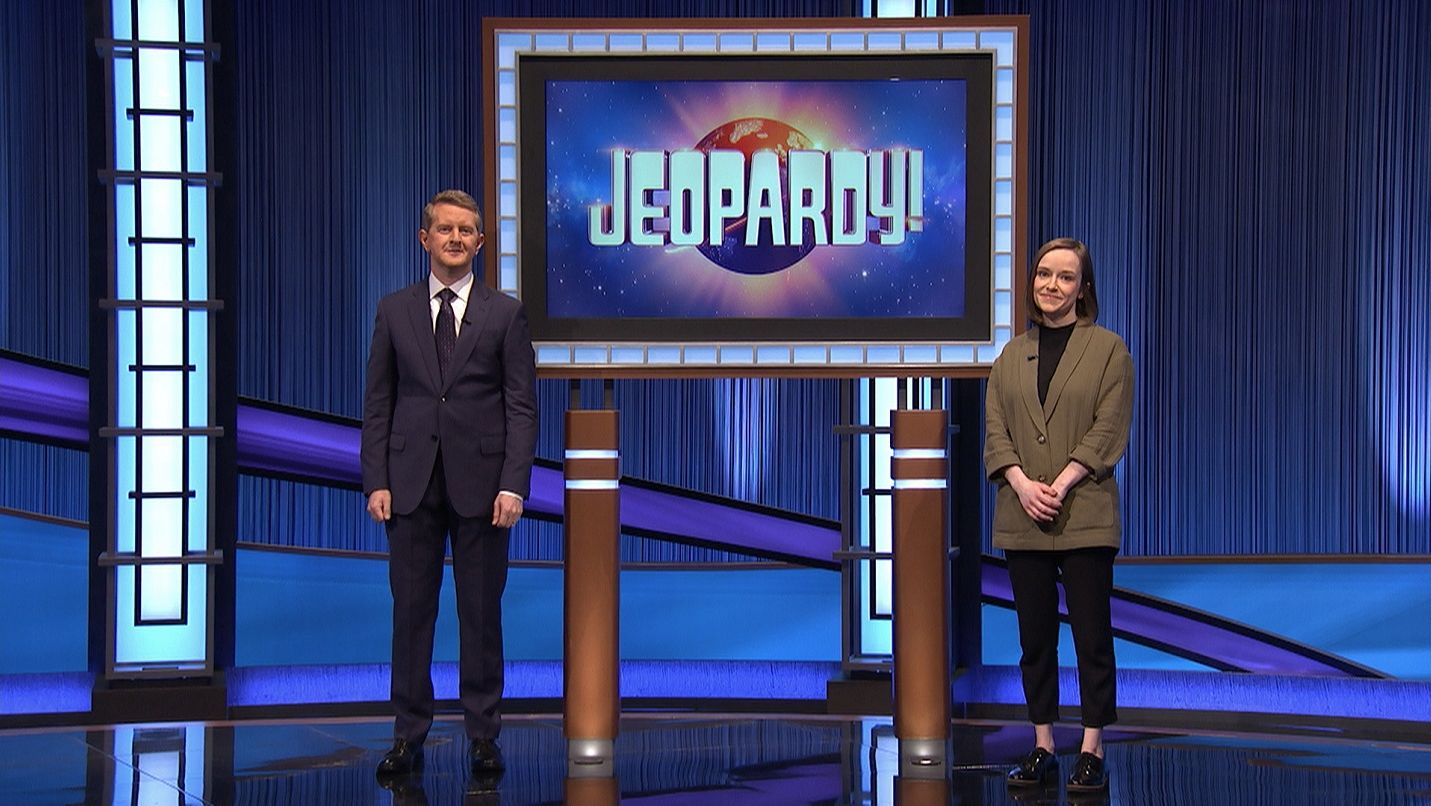 In 2020, Caitlin McHale, KLN '15, participated in a virtual audition for the chance to appear on Jeopardy! The nationally televised quiz show seeks contestants well-versed in trivia on a range of topics, everything from U.S. presidents and sports to current events and Shakespeare.  
A full year after that audition, in the middle of a Zoom meeting at work, she received a phone call originating with a California area code. She initially thought it was a spam call, so she ignored it. However, five minutes later, she discovered it had come from Jeopardy!'s Sony Pictures Studios in Culver City, California, with the news that she had been selected to compete on an episode in the show's 38th season. 
"Once I looked down to see the transcript of the voicemail and saw Jeopardy!, I was freaking out because I couldn't believe it, this is crazy," she laughed.
The East Falls, Philadelphia, native is an assistant director of communications and marketing at Temple's College of Public Health and has been an avid fan of the popular game show since her childhood. 
"Growing up I just remember my parents watching the news and right after I would watch Jeopardy! … for as long as I can remember," she said. "I'm competitive and I love the quiz aspect of the show, so it was cool to see something on TV that celebrated learning." 
McHale started training seriously to be a contestant on Jeopardy! during her second year as a student at Temple in 2012. 
While watching episodes of the show with a group of friends in her dorm room, she would play friendly but competitive games with them to see who could correctly answer the show's questions the fastest. Then in 2014, an appearance on the college edition of Jeopardy! by fellow Owl James Fulwiler, TYL '15, motivated McHale to audition for the show herself. 
During the rigorous application process she had to participate in a gauntlet of tests, including a 50-question online test, a written test, a mock game and an personality interview that was conducted via Zoom because of the pandemic.  
In preparation for the show, she would binge watch past episodes of Jeopardy!, read show questions for two hours a night and respond to questions during mock game scenarios. In addition, she practiced buzzer speed and betting strategies to help get into a rhythm with the fast-paced nature of the game.
She explained it was especially critical for her to practice betting strategies so that she would be prepared for points during the game like Daily Doubles and Final Jeopardy, when contestants must decide how much money they are going to wager on their answer to a question. If the response is correct, the contestant is awarded the amount wagered, and if not, they lose that amount. 
"Wagering is just as important as knowing the answers to the questions. When you watch episodes on TV, there are people who have lost because they calculated the wrong wager," she said. "So, I studied how to calculate an optimal wager depending on the specific scenario."
After accepting an invitation to be a contestant, she flew from Philadelphia to Culver City, California, for the show's taping in January of this year.
"It's surreal to walk onto that set for the first time, I looked around and thought, I'm not watching Jeopardy! at home, I'm on the actual show," she laughed. 
"I remember stepping up to the podium and hearing the show's theme music. I was in such a game mode that, thinking back, I can't remember more than two or three of the questions I answered. So I'm excited to watch my episode this week to remember what happened alongside everyone else who is seeing it for the first time." 
During her appearance, McHale also had the opportunity to meet former contestant Ken Jennings, who has been serving as one of the Jeopardy! hosts since longtime host Alex Trebek passed away in 2020. 
"Ken was great and very professional. As a contestant it was a good feeling to know he had the same experience as a contestant before he became a host," McHale said. "He knows the game inside out, so it was great to have him running the game while you are playing."
When asked what she would do with the Jeopardy! prize money if she wins, she would buy tickets to see a Formula 1 auto race in person.
Philadelphia-area viewers can tune into 6abc this Friday, March 4, at 7 p.m. EST to watch Caitlin McHale's appearance on an episode of Jeopardy!'s 38th season.