New book 'Temple Made: Profiles in Grit' profiles 30 Temple University alumni
Temple University alumna Ronnyjane Goldsmith has written a new book, Temple Made: Profiles in Grit, which tells the stories of 30 Temple alumni who began life at the bottom and found success through luck, unwavering determination and grit.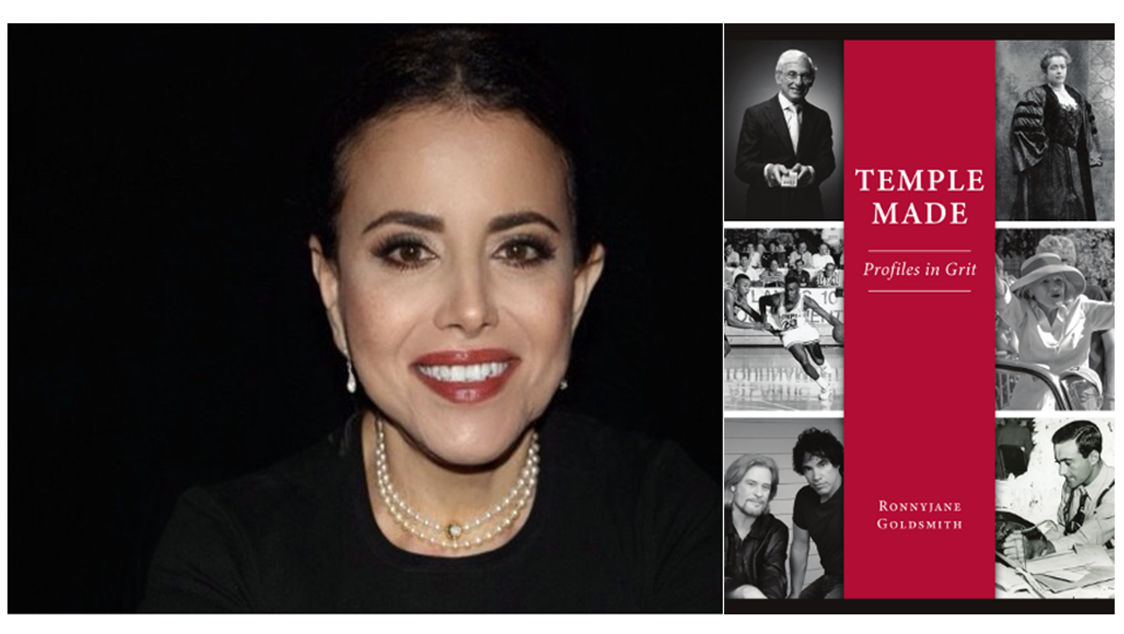 For author, public servant, entrepreneur and philanthropist Ronnyjane Goldsmith, CLA '68, '70, '82, one of her proudest accomplishments in life is being one of the first women to be awarded a PhD from Temple University's College of Liberal Arts in 1981. The other is teaching herself how to drive a stick shift car.
Goldsmith, a New York City native, was motivated to buy a 1975 Volkswagen Beetle to teach herself how to drive a stick shift years after her then-boyfriend went to a meeting and left her sitting in a manual transmission car that she did not know how to drive.
"I felt isolated and I never wanted to have that feeling again," explained Goldsmith. 
After spending approximately four hours pressing her foot down on the clutch and manually shifting her Beetle's gear stick into first gear at a school parking lot; through luck, determination and grit she was able to drive from Baltimore, Maryland, to New York City. 
"I remember being on the George Washington Bridge in New Jersey when I had to stop, not knowing if I could get started again," said Goldsmith. "The trick was just getting into first gear and it was a huge accomplishment because I did it myself." 
Goldsmith has since added to her list of accomplishments by writing her debut book, Temple Made: Profiles in Grit. She presents inspiring profiles of 30 Temple alumni who began life at the bottom and found success through luck, unwavering determination and grit.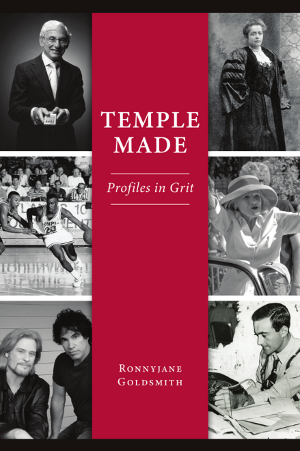 Temple Made: Profiles in Grit by Ronnyjane Goldsmith. Temple alumni pictured: Daniel Aaron, CLA '50, Laura Carnell, CLA '89; Aaron McKie, CPH '94; Edith Windsor, CLA '50; former Owls (Daryl) Hall and (John) Oates, KLN '70, and David Goodis, KLN '38. 
One day, Goldsmith made a phone call to the Arcadia Publishing Company to buy books about the City College of New York and in conversation she asked why they did not have a book about Temple University. For a while she had wanted to write a book about how people overcome obstacles and was inspired to write about the journeys of Temple alumni that the public might know little about. 
"With many of the alumni I felt like they were a part of me because I knew them not from Temple, but from their achievements," said Goldsmith. "I didn't know how they got there, I only knew the end product."
"I have been thinking about the topics of grit and how people overcome obstacles for a long time," she said. "My desire is to make Temple alumni well-known to the Temple community, so that people, especially people in my generation, learn that Temple University has provided a way out for so many important people in this world [and helped them] to contribute so much in this world."
"Temple wasn't just the only choice we had but was the right choice," she added.   
Temple alumni who have overcome hardship to achieve success and whose profiles are featured in Temple Made include: Daniel Aaron, CLA '50, a refugee from Nazi Germany who grew up in foster care and went on to co-found Comcast Cable, the largest cable television provider in the United States; Theo-Ben Gurirab, CLA '69, who was born in apartheid-era Namibia and became president of the United Nations General Assembly; and Edith Windsor, CLA '50, a daughter of immigrants who at the age of 77 brought a case before the Supreme Court to ensure that all gay people in the U.S. receive equal protections under the law. 
Like the alumni profiled, Goldsmith overcame obstacles similar to those she describes in Temple Made. She attended 11 public schools in 12 years, including four high schools in three years, graduating with no transcript, having a full year of grades and no permanent address. She then parlayed a $500 loan into a scholarship; a Ford Foundation fellowship; and a BA, MA and PhD from Temple. 
While holding high-level appointed positions as a public servant in Pennsylvania, Maryland and California she challenged norms and confronted power brokers. Then, as an entrepreneur, she built a private investment management business with close to $100 million under management. And, as a philanthropist, she endowed the SIG Scholarship and the 57 Cent Fund that supports College of Liberal Arts students who have financial need at Temple.
Just like her, Goldsmith explained, the alumni profiled in the book exemplify what it means to be Temple Made and how perseverance conquers.
"They survived and never gave up. They learned things along the way because no one gave them anything," she said. "For several alumni stories, getting into their professions was derived by chance because they didn't let professional setbacks derail them." 
The New York City native said a key step that led to the possibility of this book was consistent support from Patrick Daley, assistant dean of development and alumni relations at the College of Liberal Arts, who suggested having two Temple graduate students, Vanessa Ioannidi, CLA '19, '20, and Abigail Swoboda, CLA '20, '21, help with the research and writing for Temple Made. 
"It was a terrific experience. We had a standing call every week to talk about the research and it brought these alumni in this book alive," said Goldsmith. "I started to realize the overlap between a lot of people's histories and see how similar their stories are."
During the research process, Goldsmith decided to write the alumni profiles in order of decade because she realized doing so would tell a story about the history of the U.S., alongside that of Temple University.
She added that Temple Made is composed of pictures from Temple University Libraries, Special Collections Research Center and other sources, so identifying pictures and getting the copyright for photographs was an equally important part of bringing the book to life.
"I go back and read some of the profiles, and these people become alive and a part of you," she said. 
Goldsmith now divides her time between her homes in San Francisco, Washington, D.C., and Palm Beach, with no plans to retire, and continues to write her obituary every year, something she has done for the past 40 years, determined to make it to Sunday New York Times worthy.
Temple Made: Profiles of Grit was published on Oct. 18. All author proceeds from the book will go to the Alumni Scholarship Fund at Temple, which Goldsmith is personally backing with $10,000 to assist future alumni.  
Now available on Amazon, Arcadia Publishing Company, Barnes & Noble, and more.