Former Owl takes his talents to Los Angeles for music video directorial debut
Avery Sadowski, a former Temple student, made his music video directorial debut on XO/Roc Nation rapper and Grammy-nominated songwriter Belly's new single "Flowers."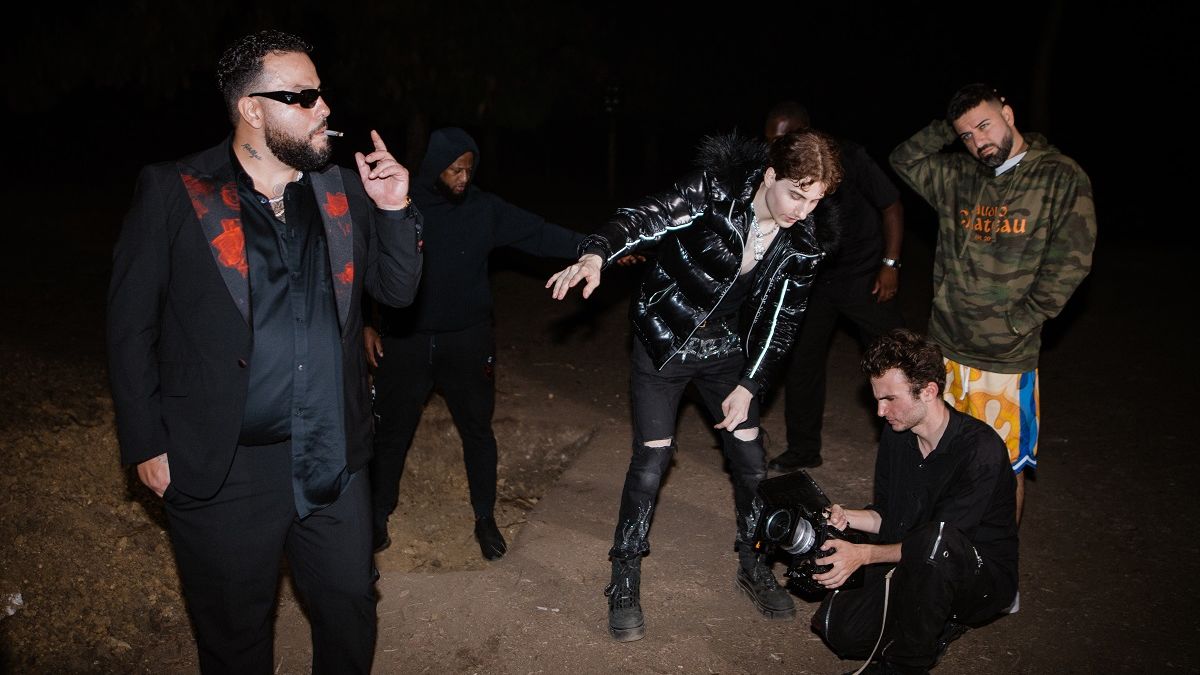 It was lights, camera action at the Euphoria Botanical Creative Space in South Pasadena, Los Angeles, this fall as Avery Sadowski, a former Temple student, made his music video directorial debut with the video for rapper and Grammy-nominated songwriter Belly's new single "Flowers."
And Sadowski's journey there is worthy of a video of its own.
 
When the pandemic began, he was two semesters away from graduating with a bachelor of arts degree from Temple's School of Theater, Film and Media Arts. Amid widespread uncertainty during lockdown, he took a break from university and entered a music video editing contest organized by hip-hop videographer and musician Jak Bannon, placing second. 
Music video director Edgar Esteves heard about his entry and they got to know each other in the summer of 2020. Eventually, he flew Sadowski out to Los Angeles to meet his production team and test his ability to direct videos and work on projects. Then, in the spring of 2021, Esteves signed Sadowski to his production company, Blank Square Productions.  
"Directing and editing music videos changed my life and it put me on the map in the industry," said Sadowski. "I wasn't sure how I was going to move to LA in the middle of a pandemic and get work because the industry was shut down. It was nerve-wracking.
"The main thing that really kept me going was the passion for film and music. I never expected it to happen this way," he added. 
Today Sadowski, known professionally as Avteur, lives in North Hollywood, Los Angeles. His pseudonym is derived from "auteur," the term for a film director or producer who controls a production and gives it its unique style. He said he randomly selected the name when he was thinking of usernames for Instagram that would be easy to remember.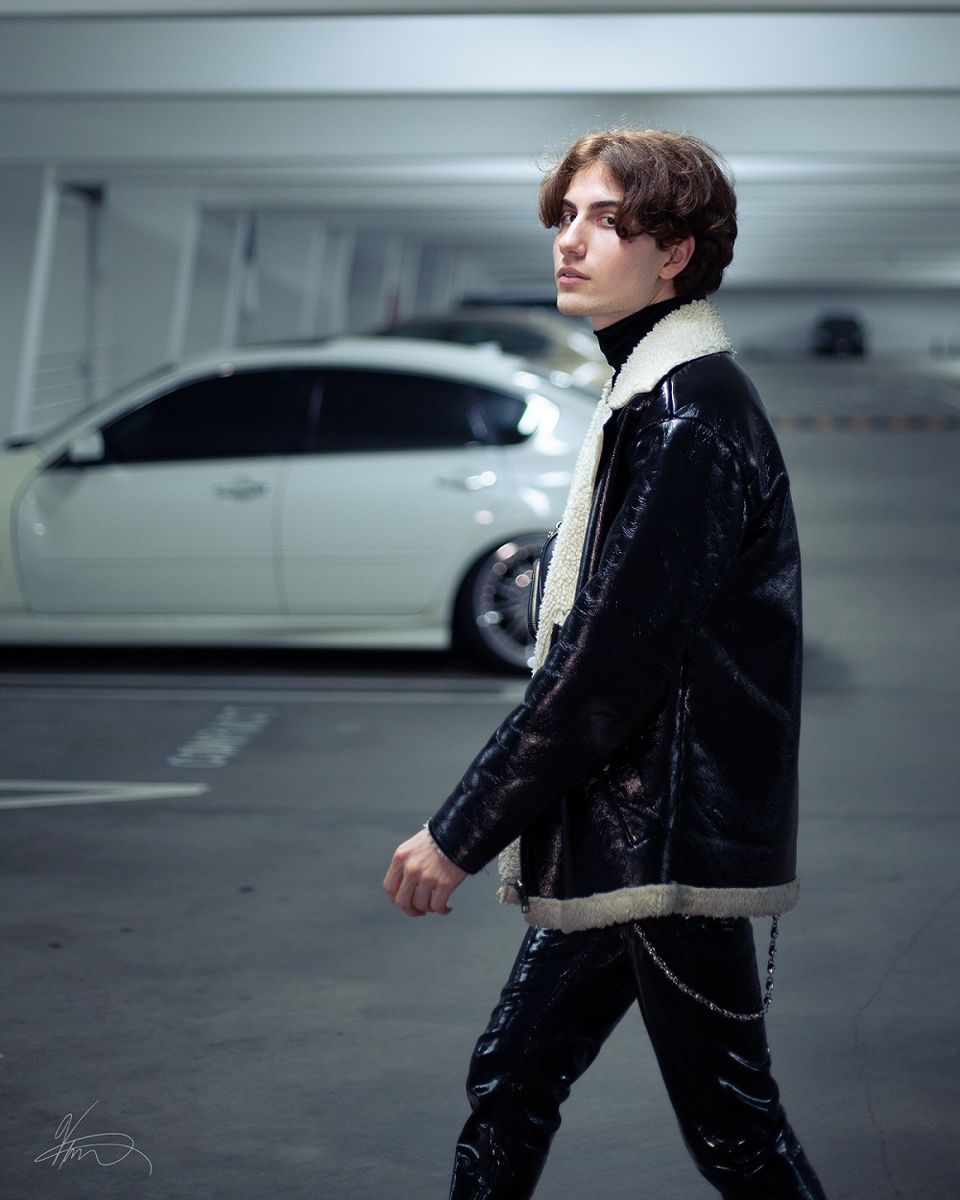 Avery Sadowski, known professionally as Avteur, made a cameo in the music video for Belly's new single "Flowers." (Photo courtesy of Avery Sadowski)
"Avteur was the first name I discovered. It was the shortest name I found that captures my essence as a director, my ambition, but was also elegant and easy to find," said Sadowski. 
A native of Honey Brook, Pennsylvania, during the fall 2019 semester he participated in Temple's Los Angeles Study Away Program, a semesterlong, residential program in Los Angeles that provides students with exposure to career resources, opportunities for networking, social activities, and the chance to take academic courses related to the entertainment industry and work at internships in their areas of professional interest. 
Sadowski said the program played a major role in preparing him to forge a successful career in Los Angeles, even during a pandemic. 
"Everything I learned about directing and acting through my professor Lou Pepe at Temple fundamentally changed how I approached directing and working with actors," he said. 
"In the program I also learned a lot about the industry. It is the foundation of my knowledge of navigating through LA, like talking to people and networking with others in the industry, and how to put myself in a position to succeed whether it is in person or over the internet."
"I am still working based on those principles I learned in LA to this day," he added.
Sadowski received his big music video break, directing the video for "Flowers," after he was put in touch with Belly's creative director Alan Zadeh, who is also vice president of creative and business development at talent management company SALXCO. He learned Belly was a fan of his previous independent projects, some of which were shot in Philadelphia. 
In "Flowers'" (the track is a single on Belly's latest album, See You Next Wednesday) Sadowski takes the viewer on a journey through a colorful, psychedelic landscape as Belly contemplates early death and asks to be given flowers, an acknowledgment of his accolades and legacy, before his demise. 
"I wanted to mystify the audience and induce a sense of dread with a relatively straightforward tale about Belly's encounter with two women whose malicious intentions are slowly revealed throughout the course of the video," explained Sadowski. 
"I love mystery, horror and sci-fi, so I often try to combine the three in a narrative through the lens of my psychedelic style that's defined by its lighting, sound design, transitions, editing and visual effects to foster the most immersive experience possible," he added. 
He said directing Belly's new music video was his proudest moment because many other projects had fallen through for him in the past year. However, he continued to believe that a career in Hollywood was possible even during a pandemic as long as he believed in himself and kept going. 
"Never stop evolving as a creative and an entrepreneur," he said. "The business and entrepreneurial aspects of being creative are just as essential to your success as your talent."  
"Manifest your success on a daily basis: Visualize where you are going to be, in however many years that you think it will take to get where you want to be, and things will work out," he added.
Learn more about Temple's LA Study Away Program, see the video for "Flowers" and follow Avery Sadowski aka Avteur on Instagram.