Former "Survivor" contestant changes lives on and off-screen
Alumnus Brice Izyah divides his time between serving underprivileged communities and challenging dated standards within the entertainment industry, all while hosting his weekly podcast.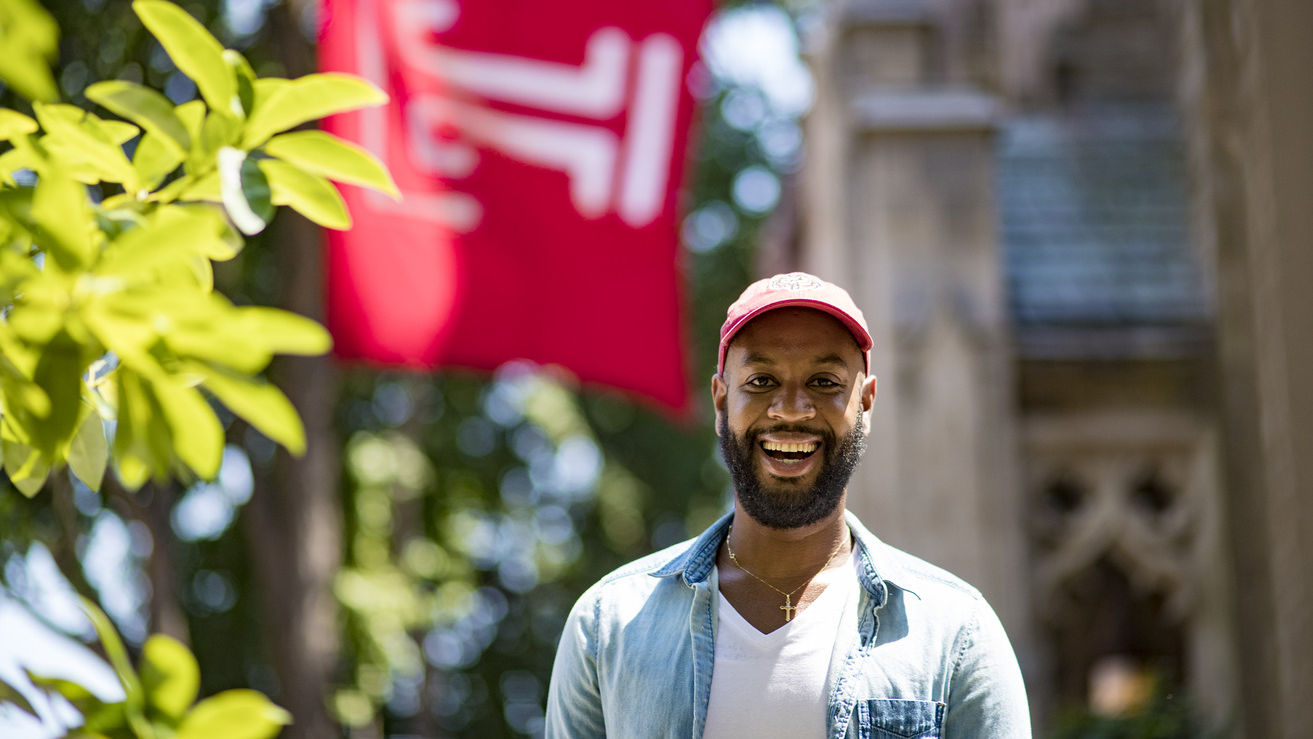 Social worker and reality TV star-turned-podcast host, Brice Izyah, EDU '09, has spent the last few years improving the lives of underprivileged families and championing more diversity in the entertainment industry along the way. 
Izyah began his career as a teacher at an urban charter school shortly after graduating from Temple. When he saw the unmet needs of his students, he responded by buying them shoes or meals. This led him to the realization that he could make a greater impact by being involved directly in his community.
He switched careers to social work and, as a queer Black man, has made sure to bring his true personality to every household with which he works. His approach is very personal and he prioritizes listening before speaking. Because of this, Izyah has closed cases that were previously considered impossible.
"I always go in with the model of 'the person I'm talking to is my family,'" he said. "When you lead with that connection, it resonates as a more genuine desire to help."
Izyah, whose legal name is Brice Johnston, credits Temple with helping him develop his authentic self. He said that in high school he was desperate to conform, to avoid being singled out or bullied. 
"I feel Temple is where Brice Johnston started, and Brice Izyah emerged," he said. "Temple was the foundation of me giving myself permission to live my truth."
Izyah is shocked by the amount of recognition and following he has received since his short stint on the TV series Survivor. After being the third person eliminated in the 28th season, he expected that no one would remember him at all. 
However, when he appeared in Rob Cesternino's Rob Has a Podcast four years ago, the audience loved Izyah so much that he became a regular contributor on the show. Two years later, Cesternino approached Izyah about making a podcast of his own. In his show, named the Purple Pants Podcast for the iconic ensemble he wore during his season on Survivor, Izyah discusses topics ranging from reality TV to urban life, to his experiences as a Black, queer individual. 
"I've built an empire off of being the third person eliminated in my season, which is literally unheard of in the reality TV community," Izyah said. "That's a testament to my personality, my charisma and my authenticity."
Last year, when the civil rights movement was garnering attention, Izyah and other former cast members came together to discuss how they could make a difference in the realm of reality TV. They met with CBS to discuss issues such as a lack of diversity in front of and behind the camera and the use of harmful tropes inserted by the editors into these programs. One example was when the word "lazy" appeared in an episode title, alongside the image of a Black man.
There was a sense of trepidation leading into this meeting and a sincere worry that if they spoke up, these former contestants might not be selected for future programs. However, the producers were open and grateful for all of the feedback. As a result of these meetings, CBS made a commitment that all of its unscripted shows will have at least 50% BIPOC representation.
"For shows like Big Brother that are on right now, you already see the representation because of a movement we started," said Izyah. "It's not just about calling an issue out: it's about working with people toward a solution."
Izyah's mother always told him to leave something better than he found it and he puts that idea into practice in his daily life. Izyah never imagined that being the third elimination from his season would lead him to a platform where he could speak from experience and change lives. 
Now he knows others will have opportunities that he never got to have, thanks to his honesty and willingness to put himself out there while proudly being himself. 
"This is part of my legacy, to not only play the game, but to change the landscape for other people that look and sound like me," Izyah said. "Had I not gone to a university like Temple, which is very inclusive and has so many people from so many walks of life, I don't know that I would be the person I am today." 
—Rayna Lewis