Temple Robotics team prepares for NASA Lunabotics competition
The team will head to the Kennedy Space Center later this month to compete against 47 other collegiate programs.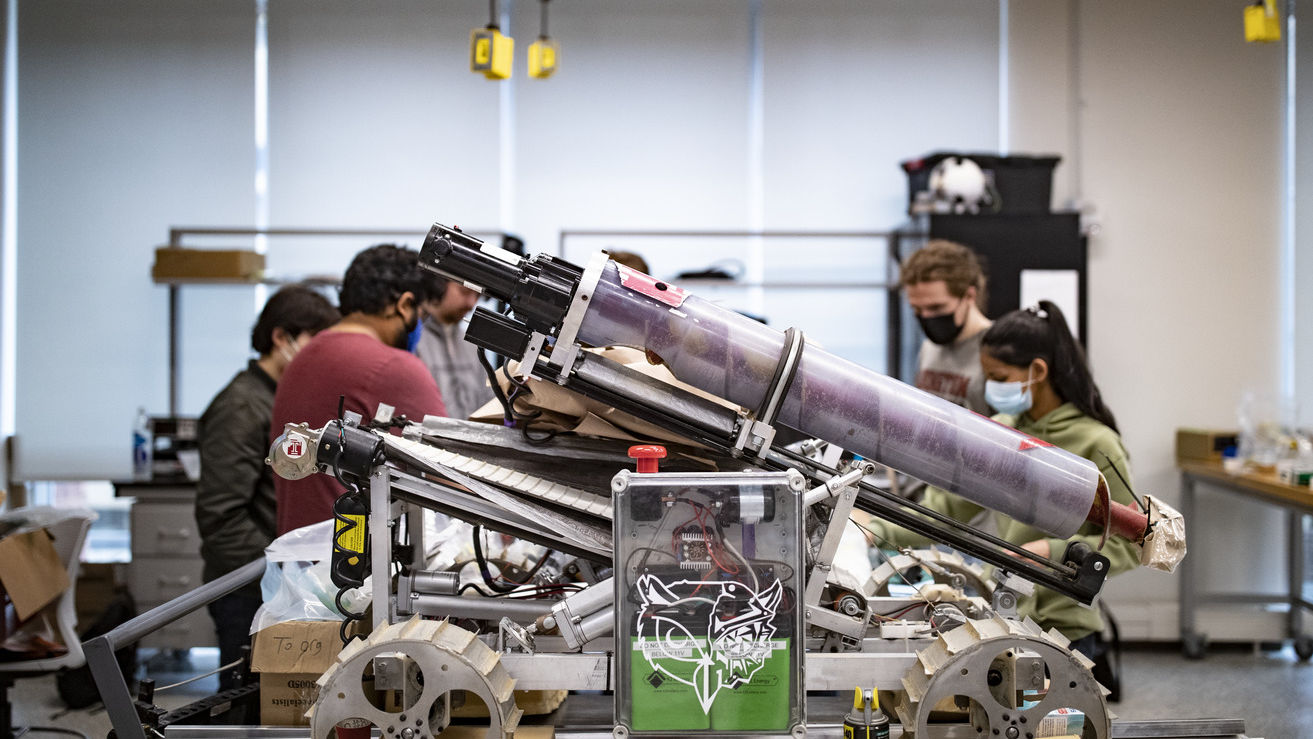 A team of Temple students is hoping to develop the winning robot in this year's NASA Lunabotics Artemis Student Challenge.
The competition, which has been hosted by NASA for more than 10 years, tasks collegiate robotics programs with designing and building a robot that can excavate on the surface of the moon. "The ultimate goal of the robot is to collect as much lunar regolith, which is basically the icy particulate matter under the top level of soil on the moon," said David Fiel, Class of 2023 and leader of Temple's Lunabotics team.
The Lunabotics team is made up of members from Temple Robotics. Students are free to join the team regardless of their major or college affiliation at Temple, said Fiel, who is an information, science and technology major.
The team is divided into smaller teams which handle programming, electrical engineering and mechanical engineering. There's also a social media team to promote Temple Lunabotics, as well as a business team responsible for handling sponsorships and purchase orders.
Fiel said the process of designing the robot typically begins over the summer and fall when his team scouts concepts that have had success in the competition.
"Our design process really starts with looking at other teams. NASA publishes videos of the competition runs from prior years, so we spent a lot of meetings just playing old competition footage," he said. "By observing what other teams were doing well we were able to come up with a design that we think will perform very well."
Once they've settled on a concept for the robot, the Lunabotics team builds the machine from scratch. "We start with computer models, and then we either use off-the-shelf parts or buy metal stock and use the machine shop here on the second floor of the engineering college to create actual functional parts," Fiel said.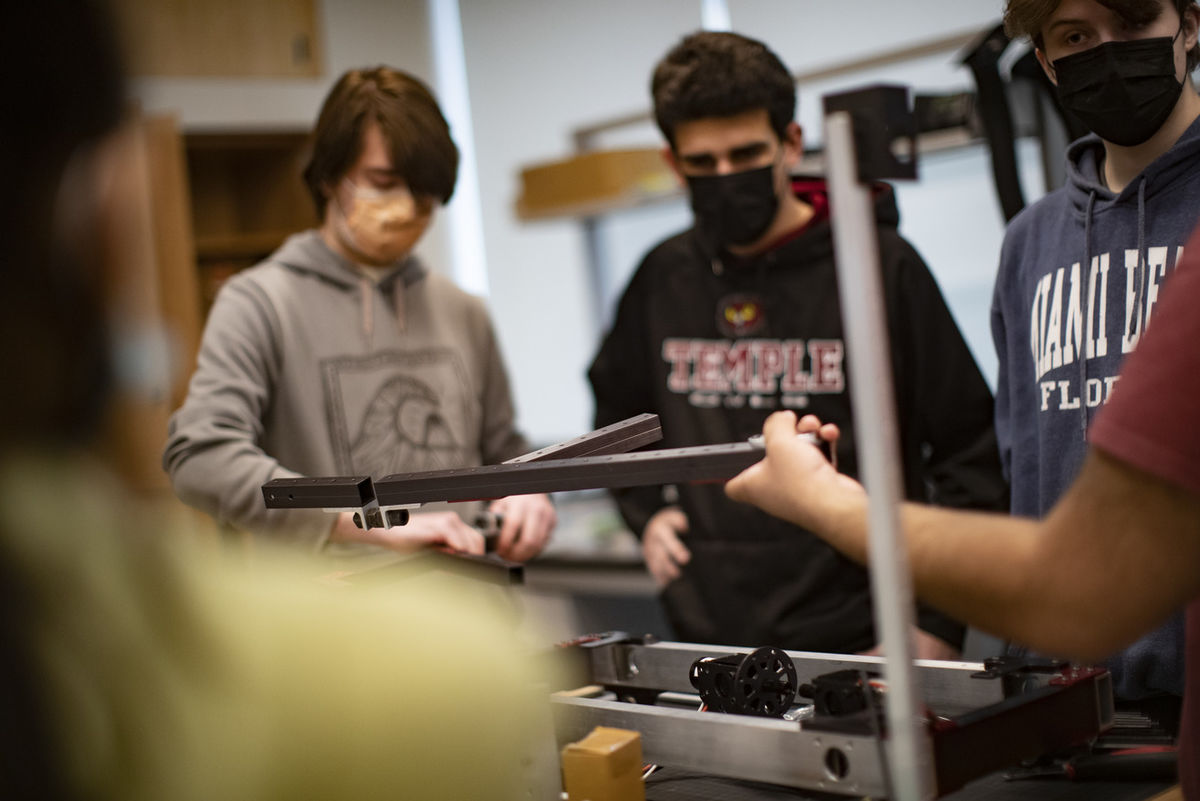 Fiel will be joined by four teammates at this year's NASA Lunabotics competition at Kennedy Space Center. The competition begins on May 22. (Photography by Ryan S. Brandenberg)
Temple's design this year utilizes a belt with buckets attached to it, which the robot will use to scoop up the simulated lunar material in competition. 
Teams are awarded points for every kilogram of regolith material collected. They can also earn or lose points based on factors like the weight of their robot, the amount of bandwidth it uses and how dust-tolerant it is. 
Perhaps most important is autonomous operation, which Fiel says is worth up to 500 points if fully achieved.
"Our goal is to be able to have fully autonomous operation," Fiel said. "We are very confident that we can at least reach partial automation. So the robot will be able to drive itself around and do the digging, but it may not be able to do that continuously for 15 minutes without human intervention."
The team assembled the robot at the College of Engineering's IDEAS Hub throughout the early part of the spring semester. "We handed it off to the electrical team to do the wiring. It then got handed off to the programming team, which I also lead, to debug the software that we'd written and start developing autonomous operation," Fiel said.
The team also took the robot to Ambler Campus in April to get some experience operating it before the competition kicks off at NASA's Kennedy Space Center in May.
The actual competition arena uses gravel to simulate lunar regolith, which is covered in a layer of crushed basalt rock, to simulate the top layer of dust on the moon's surface. Fiel said the team is working on developing their own test arena at Ambler to use in preparation for future competitions.
"We're exploring options to see what kind of simulated environment we can build," he said. "Maybe just a sand pit filled with concrete powder, or a small dumpster that we can fill with the material. Just something that's finer, so we can actually test out the interaction between our robot's digging mechanism and the soil."
Fiel and four of his teammates will head to Kennedy Space Center for the competition later this month, where they will compete against 47 other collegiate programs. You can follow the team's progress in this year's Lunabotics competition by following Temple Robotics on Twitter.