'We are committed to bridging the digital divide'
Temple University unveils new Digital Equity Center during first-ever Digital Equity Day as part of Technical.ly Philly's Philly Tech Week.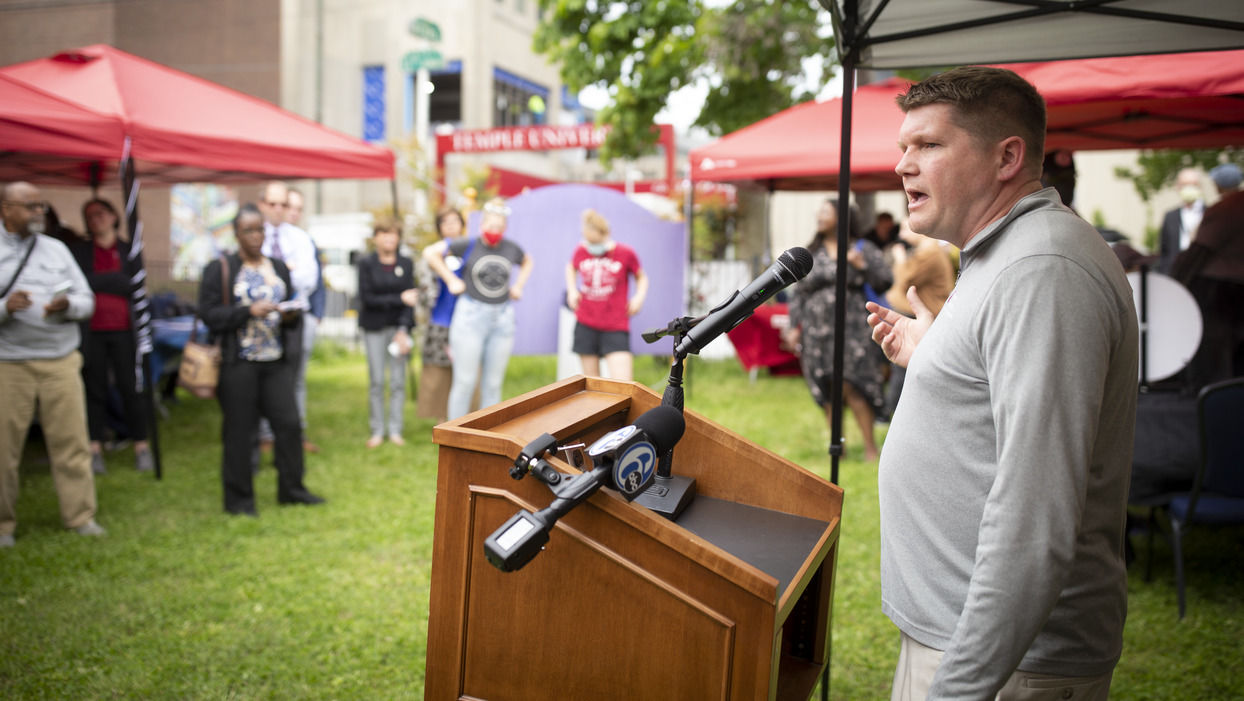 In 2003, then-applications analyst Jonathan Latko had just finished his MBA and was ready to accept a position outside of Temple University. Multiple offers were on the table but right before he was about to accept one, he was offered another opportunity at Temple in the form of the position of director of IT assets and recycling.
The goal for the role was straightforward: find a way to recycle the university's old computers and put them to good use. Accomplishing that goal is easier said than done, but the challenge piqued Latko's interest.
"(Temple founder) Russell Conwell and his message of Temple and the 'Acres of Diamonds' has always resonated with me, and this role seemed to align with that," Latko said. "After accepting the position, I jumped deep into that industry for a few years. I learned a lot about what was and what was not happening at the time, and I saw the trend both nationally and locally. Over the years, things really started to evolve, and we eventually started to hear a lot about the digital divide. I realized that this can be a way to make a real difference."
Last month, this project came full circle for Latko when Temple hosted Digital Equity Day on May 11 as part of Technical.ly Philly's Philly Tech Week. The event included the unveiling of the Digital Equity Center, which has been funded in part by Dell Technologies. 
The launch of the new center is the culmination of years of work by Latko and other key stakeholders at Temple University. Nineteen years earlier, Latko was merely trying to refurbish and recycle computers for the good of the environment. Today, the Digital Equity Center, Dell, and the center's many community and industry partners are working to drastically improve outcomes for North Philadelphia residents.
Located within the Opportunities for Workforce Leadership (OWL) Hub, 1915 N. 11th St., which is managed by the Lenfest Center for Community Workforce Partnerships in collaboration with the Philadelphia Housing Authority, the center will provide North Philadelphia residents with access to technology, help desk support, and provide free education in the areas of digital navigation and digital literacy. The project is hyperfocused on the eight zip codes that directly border Temple's campus.
"Dell Technologies is invested in bridging the divide in Philadelphia. Our partnership with Temple University and the work of the Digital Equity Center allows us to uncover the needs of the community at large, connect them with flexible solutions that meet those needs, while bringing together an ecosystem of local leaders and businesses such as the city of Philadelphia, Temple University, Comcast and others," said Maia Wagner, digital inclusion portfolio lead on Dell's environment, social and governance team.
"We are committed to bridging the digital divide in North Philadelphia," said Gregory Mandel, provost of the university, at the May 11 Digital Equity Day event. "Through this new center, we will be able to ensure that children can keep up with their schoolwork. We will be able to help their parents receive free continuing education. And, perhaps most importantly, we will be able to bring families together to enjoy cultural programs, workshops and concerts on their computers, tablets, and phones."
For Latko, the project dates back to when he founded Temple's Computer Recycling Center a few years after starting as director of IT assets and recycling. It was then that he started to partner with various nonprofit organizations and the School District of Philadelphia to set up computer labs across North Philadelphia. This model worked well for years, but then the COVID-19 pandemic hit, which only magnified the digital divide within the city.
"You couldn't go anywhere at that point, so the labs we had set up were no longer useful," Latko said. "We hear more and more about how the future of work is either remote or hybrid, but you need computers to do that. After the pandemic hit is when we started working to get computers refurbished and put right back into the community, and that is why this center is going to be so helpful moving forward."
Fast forward to now, the Digital Equity Center is open from 9 a.m. to 5 p.m. Monday through Friday. Job training and career readiness programs are offered at the center, and there is also a computer lab and teaching space that is open to the public as well as a multipurpose room. Sean Mitchell, team leader for the Digital Equity Center, runs the computer refurbishment program, and the Dell grant will be used to specifically help develop a community help desk and digital navigator office that will be available for North Philadelphia residents.
In this year alone, the center has distributed more than 200 computers and laptops to community members, and it hopes that number grows to more than 600 by the year's end.
While the project is focused on North Philadelphia, Latko sees this as a model that can be used by other universities, both here in Philadelphia and across the nation, to positively impact their neighboring communities. Dell Technologies, too, would like to scale this initiative to continue  supporting local communities with the resources needed to thrive. 
"The Digital Equity Center's approach to building a digital inclusion solution for an underserved and underrepresented area within Philadelphia aligns with all priority areas of our digital inclusion strategy," Wagner said. "Dell Technologies develops solutions with the community, not for them, and we are looking forward to iterating on this solution in partnership with Temple University."