Senator Casey and President Wingard address teens about gun violence
 During the visit, the senator met with middle and high school students and was joined by Temple President Jason Wingard.
U.S. Senator Bob Casey (D-Pennsylvania) joined a group of middle and high school students to discuss ways for tackling the gun violence crisis.
"The reason I'm inspired by your generation is because you're having an impact on us right now," Casey told the students during a roundtable discussion held Monday, June 6, at Temple University. "You're pushing us to pass measures to reduce gun violence."
Temple University President Jason Wingard was on hand to welcome the students.
"Today we are really pleased to have Senator Casey here hosting you all to talk about youth violence," he stated. "It's an epidemic that continues to plague our city and it's one where you all have a lot of feedback to help us make policy decisions in Harrisburg and policy decisions in Philadelphia."
Casey addressed the importance of the Senate voting on common sense legislation such as the background check and extreme risk protection bills.
Cayla Waddington, a 10th grader at the Mathematics, Civics and Sciences Charter School, questioned why extreme risk protection orders are often geared toward people who have mental health issues.
"I think that it would be more effective that emergency risk protection orders not have to be for just people with mental health issues but rather for people who are showing signs of someone who is about to do something bad," Waddington said, noting some of recent mass shooters posted what they were planning to do on online.
Casey agreed that the measure should go beyond addressing someone who has a documented mental health issue.
"It also should be intended to encompass people who have expressed a willingness to engage in violence, people who have made threats or people who have made that pretty clear," Casey stated.
Waddington is student advisor with the Enough is Enough Students Against Gun Violence campaign. Enough is Enough recently conducted a gun violence survey of 1,300 students in grades seven through 12. 
"We went out and talked to students about what our students think is the problem," Waddington explained. "What our students think would help the problem is better gun laws and more of a focus on mental health."
George Lane, who will be a sophomore at Freedom Academy Charter School, said that 95% of the students surveyed couldn't name a resource in their community where they could go to talk about gun violence.
In response, Casey highlighted a bill he is working on with U.S. Rep. Dwight Evans (D-Pennsylvania) that would help connect gun violence victims with resources.
"We often talk about those who have been killed and appropriately so, but we stop talking about people who are injured," Casey stated. "Often those people's lives are devastated."
He said gunshot injuries have left people unable to work or having to incur the expense of converting their homes because they are disabled.
"Our bill would set up an advisory council at the federal level to get that information out to people," Casey stated.
"I think that should happen at every level where people get information not only about where you would go if you're a victim of gun violence, but where if you are a member of the community, you'd go to have access to those anti-violence programs."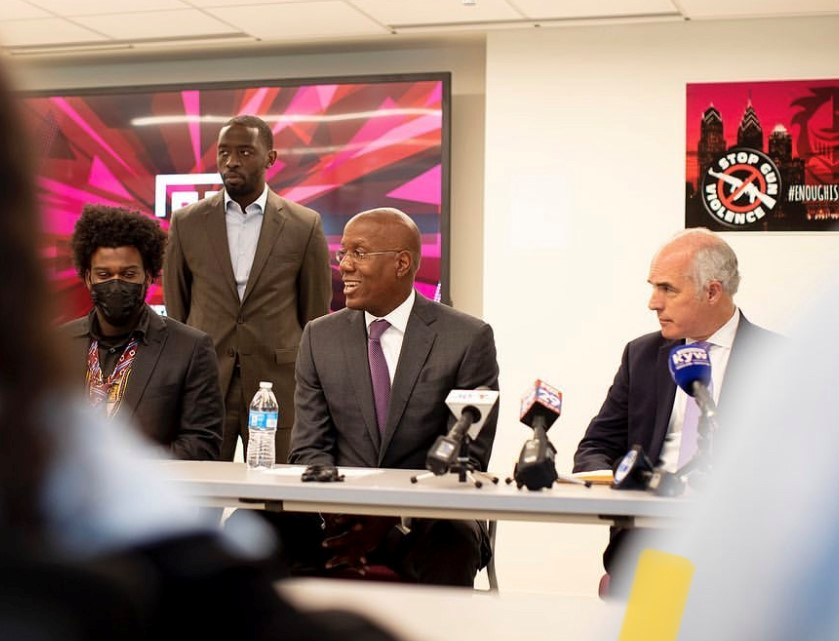 Dayvion Jackson, an 11th grader at the Imhotep Institute Charter High School, noted that 455 out of the 1,300 students surveyed said they had nothing to do in their neighborhoods. He asked Casey how he could assist in giving those 455 students something they can do. 
"I don't think there is anything right now that I say that would directly speak to the issue you raised in a federal perspective, unless the community comes together in a particular neighborhood and says we want to keep this facility open or that facility open and in order to do that we need extra money and we're going to go to the federal government to get that," Casey said in response.
Jackson called for more free neighborhood programs and resources to help keep youth engaged in positive activities.
 "As the shooters and victims of gun violence get younger and younger, I feel like that is something that would help them," Jackson said. "Having something to do would keep them off of their corner, their block and away from people that they look up to that aren't doing good."
As City Council debates this year's budget, Councilmember Isaiah Thomas said he will be advocating for more funding to expand the hours of the city's recreation centers.
"One of the things that I have been advocating for is for rec centers to be open on weekends and more free programming for young people across the city of Philadelphia," Thomas said.
"We will be asking our state and federal partners for more resources to address those issues."