Connecting the dots between gun violence and drug markets
A new study from Temple faculty member Caterina Roman and Nicole Johnson, a fifth-year criminal justice PhD student, assesses shooting dynamics in Philadelphia from Jan. 1, 2017, through June 30, 2021.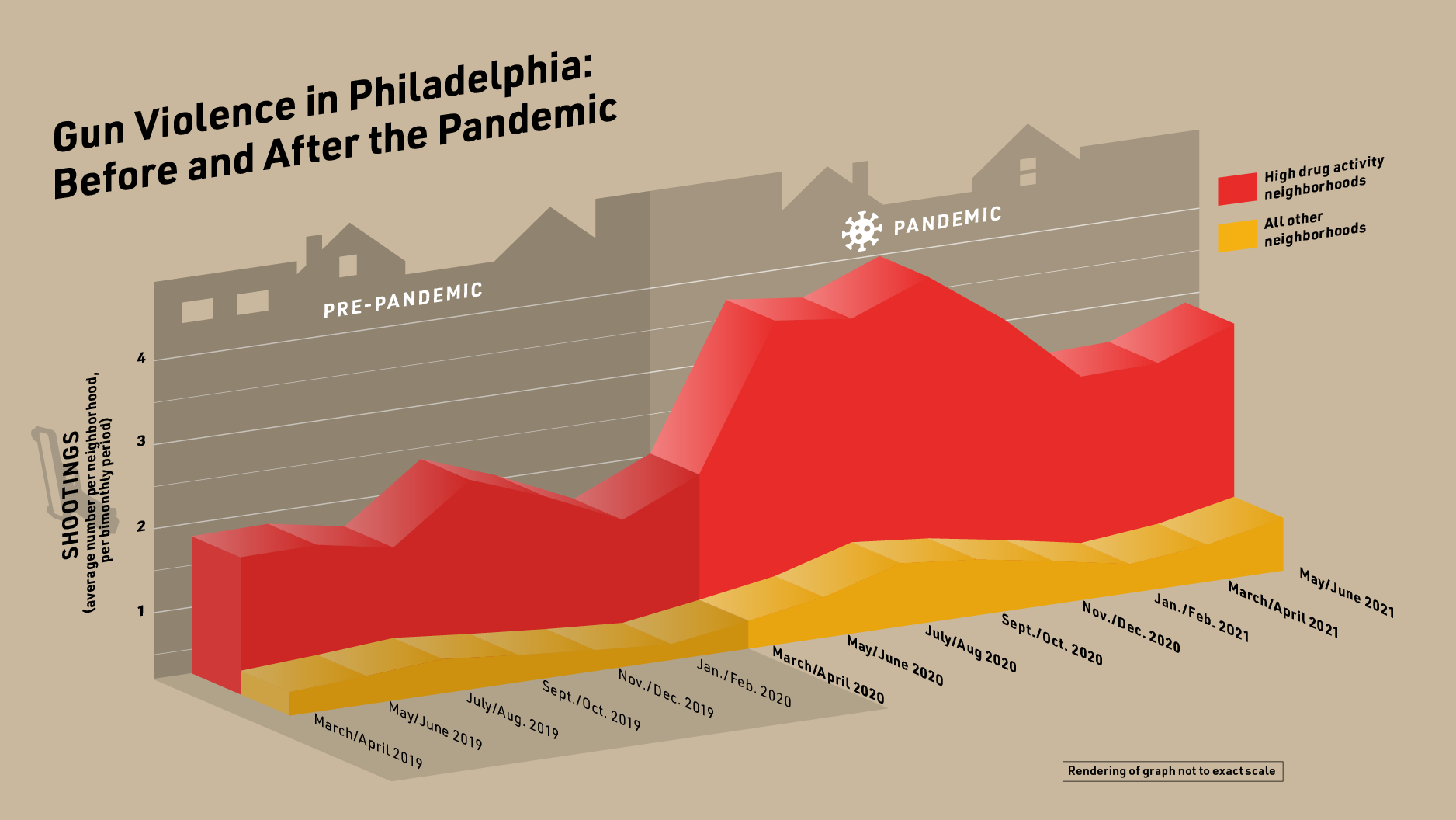 If you turn on the television, open a newspaper or visit a news site, it is hard to avoid the sobering statistics around gun violence. Take 2021 in Philadelphia, for example: 2,332 people shot, 562 homicides.
Gun violence is on the rise, and unfortunately, that has been the case both locally and across the country. What has not been as clear, however, is the root cause of the violence. 
Statistics only tell part of the story and without context, they can only be so helpful in solving a problem. A new paper by doctoral candidate Nicole Johnson and Professor Caterina Roman, both in the College of Liberal Arts' Criminal Justice Department at Temple University, seeks to offer some of the missing context behind Philadelphia's gun violence crisis.
Recently published in PLOS ONE, "Community correlates of change: A mixed-effects assessment of shooting dynamics during COVID-19" explores how Philadelphia neighborhoods may have differed in their experience of gun violence throughout the pandemic. 
"Despite many other types of crimes going down during the pandemic, we did see that one aspect of crime was often stable or going up, and that's gun violence," Johnson said. "So what we really wanted to look into is what is happening, and what is it that is leading to this spike in gun violence?"
To compile the study, Johnson and Roman took a close look at data available on Philadelphia's open data portal and from the Philadelphia District Attorney's Office data portal, specifically homing in on Philadelphia census tracts. 
"This was done entirely through the use of publicly available data, including data on shooting victims that get put up automatically by the Philadelphia Police Department to the portal. It's not typical for cities to have this type of data available and open, so that was immensely helpful in putting this together," Johnson said.
In total, they reviewed 8,122 shootings which occurred between Jan. 1, 2017, and June 30, 2021. A total of 96% of shootings were geocoded to a Philadelphia street block or intersection and joined with all Philadelphia census tracts.
Across the whole time frame, gun violence increased, but it was far more pronounced after the start of the pandemic. Looking through year-end 2020, the rate of increase was significantly higher than the rate of increase before the pandemic. And from March 2020 through June 2021, gun violence went up on average by 21.6% each two-month period, albeit slowing down considerably in 2021. The census tracts that saw increasingly more gun violence had something in common: they had high drug market activity.
"To me, that's the biggest takeaway from this paper," Roman said. "This is an opportunity to get policymakers together to take a closer look at these drug markets and then decide what are the best evidence-based strategies, which can be used to curb this increase."
Some other notable takeaways from the study include
nearly half of the high-disadvantaged neighborhoods used in the study were estimated to have below average increases in shooting rates after COVID-19 began.
the proportion of renters living in a community did not have any bearing on neighborhood differences in gun violence or changes in gun violence over the pandemic.
communities with higher rates of police activity (investigatory stops) also had increasingly more gun violence over the pandemic.
"When it comes to measuring police activity and its impact on curbing gun violence, it's really hard to know what came first, the chicken or the egg?" Roman said. "You cannot necessarily say that more police activity is causing the chaos because these neighborhoods typically have more police presence probably because there was always violent crime there and probably drug market activity, too."
While the recent paper is focused on Philadelphia, its applications could go beyond this region. Other major metropolitan cities like Chicago and Los Angeles have also experienced increases in gun violence since the onset of the pandemic. According to Roman and Johnson, the findings in this paper should at least implore leadership and legislators in those cities to take a closer look at whether gun violence is more pronounced in areas with drug markets.
"Research into the motivations of individual shooting incidents including the intersection with drug markets, will prove invaluable for not only understanding the relevant features of neighborhoods that play into rates of different types of gun violence, but also for developing more effective policies," write Johnson and Roman within the piece.