Discussing safety solutions
Temple President Jason Wingard hosted a listening session with students, parents, landlords and Temple Police to discuss solutions for campus safety.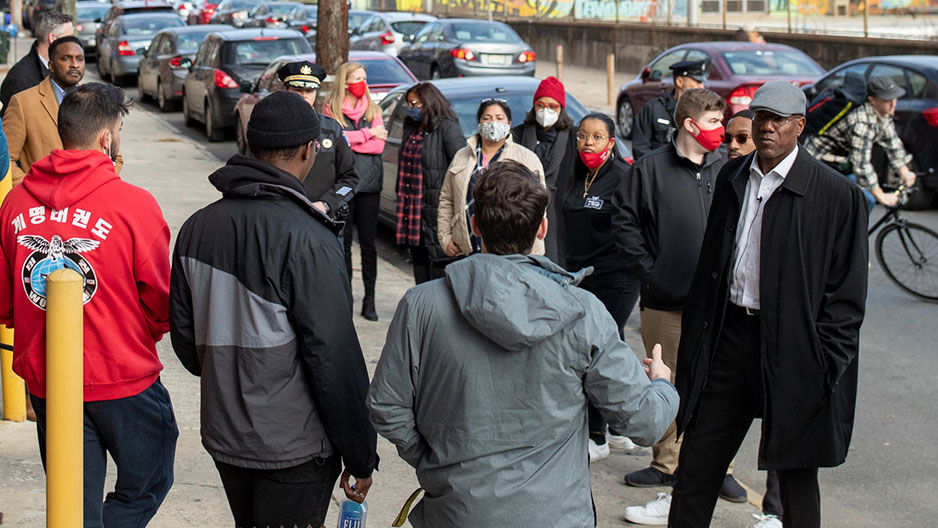 On a sunny morning in mid-December, a group of Temple leaders, students, parents and landlords gathered west of the university's Main Campus, at the corner of 16th Street and Montgomery Avenue in North Philadelphia. On the cusp of winter break, the crowd, gathered in an area of the neighborhood where many Temple students live, drew attention. The presence of Temple University President Jason Wingard drew even more attention. 
Since Nov. 29, when news of the shooting death of Temple student Samuel Sean Collington, Class of 2022 sent shockwaves through the university, President Wingard has led the university's efforts to address campus safety, elevate existing anti-violence research and programs, and devise new solutions to combat the gun violence that has plagued the city. In addition to announcing a series of immediate actions to enhance campus safety, he convened a panel of university and city leaders to hear directly from students, parents and landlords their concerns about safety and violent crime in Philadelphia. 
Those who passed by this gathering on a corner in North Philadelphia heard Wingard keeping his promise to continue the conversation and to seek collaborative approaches to stopping the spread of violence. 
Among those in the crowd were Interim Provost Greg Mandel; Executive Director of Public Safety Charles Leone; Vice President for Public Affairs Val Harrison; Senior Associate Dean of Students Chris Carey; Temple Student Government representatives Bradley Smutek, Camilla Benjamin and Cory Staples; Temple parents Martha Dixon and Rhonda Kinard; Temple Area Property Association member Herb Reid; and Denise Wilhelm and Nasir Imrani from Temple Police.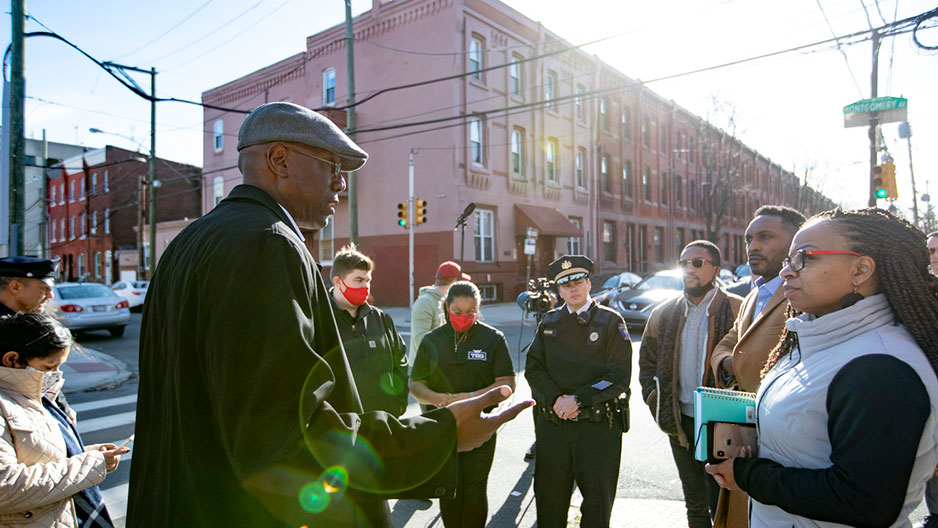 The group discussed how, like many American cities, Philadelphia is experiencing an increase in violent crimes and homicides. And though these types of crimes are uncommon on most university campuses—including Temple's—students, employees and neighbors are not invulnerable to nationwide trends. 
As Wingard facilitated the discussion, the group talked about fostering relationships with police officers built on community, how parents can be involved in campus safety training during New Student Orientation, how landlords can provide better safety information to tenants and their parents, and increasing the overall safety infrastructure of the neighborhoods surrounding campus. 
As the group walked north along 16th Street, students Joju Somoye, Class of 2022, and Nash Baria, Class of 2021, joined in the conversation. Somoye, a health professions major, shared with President Wingard his thoughts about the root cause of the violence—the lack of opportunity that is tied to living below the poverty line—and the value he places on being a part of the community as a student. Baria, a political science major like Collington, expressed concerns about the potential of over-policing the areas surrounding campus.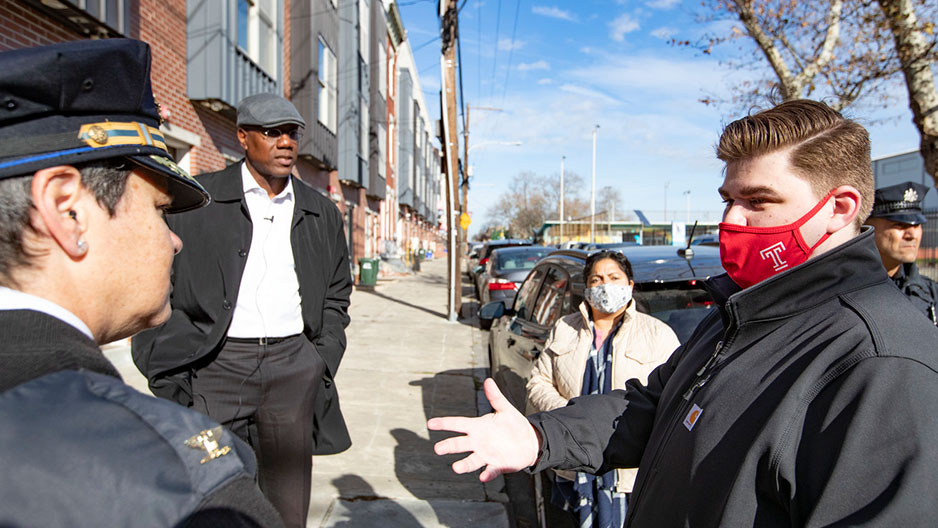 "This is exactly the input that we need at the university," said Wingard, praising the group for its candor. 
"Students want to be more engaged with the community. They understand that this is a systemic problem that we have to address," he continued. "There is also a parent community. We have a couple parents here with us today, and the parents who aren't here, who don't live here, who haven't been able to engage with the community, hear the stories about violence that's taken place. They're scared and they're worried. They want to hear from the university, what's being done to protect our kids? The student community wants to hear what's being done to help [them] engage with the community so we can take care of the systemic problems. We have to try to balance both of these." 
As the discussion concluded, Wingard thanked the participants and outlined next steps, which include the formation of a Task Force on Violence Reduction Strategies and gathering data on the key issues of safety and the relationship between students and Temple Police. He also promised to keep engaging with key constituents, including students, parents, neighbors, landlords, city government and police departments to use those discussions to fuel the university's action plan. 
Visit temple.edu/safety for more information about the university's safety initiatives.