Posted
September 13, 2022
Catching up with the chief
Newly-appointed Vice President for Public Safety Jennifer Griffin outlines what brought her to Temple University and what has her most excited for this new role.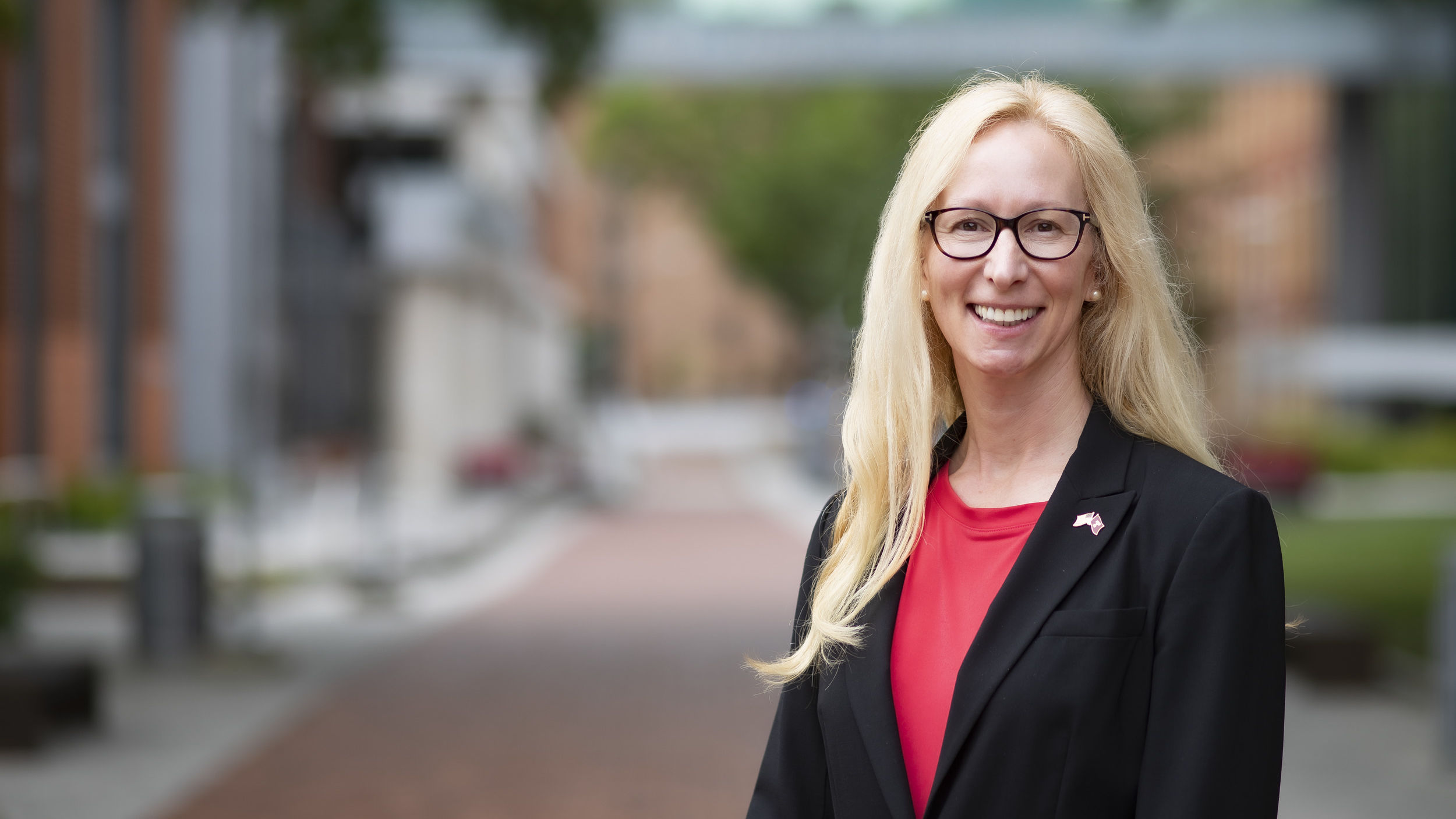 When Jennifer Griffin worked with the Delaware State Police for the last 20-plus years, there was a constant with regard to her day-to-day work. She never got complacent.
The newly appointed vice president for public safety at Temple University looked at every day as an opportunity. She continually worked to improve herself, obtaining a doctorate in sociology and later serving as adjunct faculty member in the Department of Sociology and Criminal Justice at the University of Delaware.
She also was always eager to identify new and innovative ways that she could better serve the community she was sworn to protect. And she was always looking for ways that she could assist her colleagues and fellow officers.
This was evident most recently when she helped launch the Delaware State Police Wellness app, and this drive for continuous improvement will serve her well as she begins to lead the 200-person team that makes up Campus Safety Services. The team serves the Temple and North Philadelphia communities 24 hours per day and 365 days per year.
Temple Now recently caught up with Griffin to reflect on her first few days on the job and gain insight into what has her most excited for this brand-new and immensely important role.
Temple Now: Tell us a little bit about what brought you to Temple and specifically this position?
Jennifer Griffin: Personally, it was vital for me to take my love of the university environment and merge that with my 23 years of service in law enforcement. Temple creates a unique opportunity because of its size and international reach as an R1 institution. At the same time, it also happens to be within one of the largest and most historic cities in the United States. It was an exciting opportunity for me to use the knowledge, skills and abilities I gained over the years back in my home state of Pennsylvania.
TN: When you talk to law enforcement officers about why they wanted to enter this field, they will often say they want to serve. What led you to pursue a career path like this?
JG: My father was a police officer in a university town, so I watched, and I looked up to him and his fellow officers my entire life and admired how they served our community. I always got the sense that it was more than a job. Then, while playing sports throughout high school and college, I realized that I sincerely enjoyed being a part of a team environment, and police work is very team oriented. It is the mindset of "service before self" which drew me to policing. It is a constantly changing profession due to the needs and wants of society and the changing environment. I like that demand to be flexible, adaptive and evolve, especially in a university environment.
TN: I know it has only been a few days, but have you identified some early goals for the department?
JG: One of the first things I am doing is evaluating our policies, processes, procedures and people. I think it's imperative to find out where we are in these areas, so I want to be very thoughtful during this 90-day learning and listening tour. And during this time, I am diligently working to establish trust-building relationships within and outside public safety, so I can assess the needs and wants of our diverse communities. I also want us to have more of a presence on social media to connect with our communities. We have so many hardworking individuals doing meaningful work that they care deeply about, and we need to showcase that work and the positive relationships our public service employees have within and outside the university. We need to connect with more students, faculty, staff and neighbors, so we are already working on a more robust social media presence. 
TN: Since starting in this role, I have heard you mention how university policing is a very unique opportunity. Can you elaborate a bit on that?
JG: What makes university policing unique, and the reasons agencies need to hire/retain immensely qualified and competent officers is the dynamics of the environment and the numerous populations we serve. For internal stakeholders, you have students, faculty and staff. Externally, you have the community, the neighbors, and all the businesses and vendors we interact with daily. We serve multitudes of diverse populations with different demands, wants and needs. And the issues we are dealing with range from violent crime to checking on welfare calls because a student has not called home in a week. So, university public safety employees need to have a vast skill set with solid communication and problem-solving skills while being able to handle significant and violent calls tactically. 
TN: I know you're working to expand the team at Campus Safety Services. Why should someone consider a law enforcement career at Temple?
JG: Temple offers a remarkable opportunity for anyone looking to get into law enforcement because the university is a city within a larger city, and we are just a part of the fabric of Philadelphia. The skills that we are looking for in officers are extensive. Most individuals who get into law enforcement come from criminal justice or sociology backgrounds, and we like that. Still, we are looking for individuals who also come from social work, mental and public health, communications, and other fields. You must be an excellent communicator to excel in this work. And within a campus environment, you get to see the results of your service and the relationship building over time. There are so many chances for employees to positively impact someone's life that they encounter on and around a university campus. Public safety at Temple is a very rewarding experience and an opportunity to serve the community.
TN: When students get a chance to meet or interact with Temple University police officers or other members of Campus Safety Services, they seem to always leave with a positive impression. Why do you think that's the case?
JG: Our employees genuinely care about student, faculty, staff and community well-being, which became immensely evident even when I was first researching this position. Every interaction is an opportunity to change hearts and minds, and we want to make every interaction count positively. When I speak to my team, their number one concern is safety. I keep sharing that we want the students to have fun, but we want it to be safe. I encourage everyone I encounter to please say hello and engage with our officers and Campus Safety team.