Posted
September 26, 2022
Show your pride during National Coming Out Week
Temple celebrates National Coming Out Week with various events.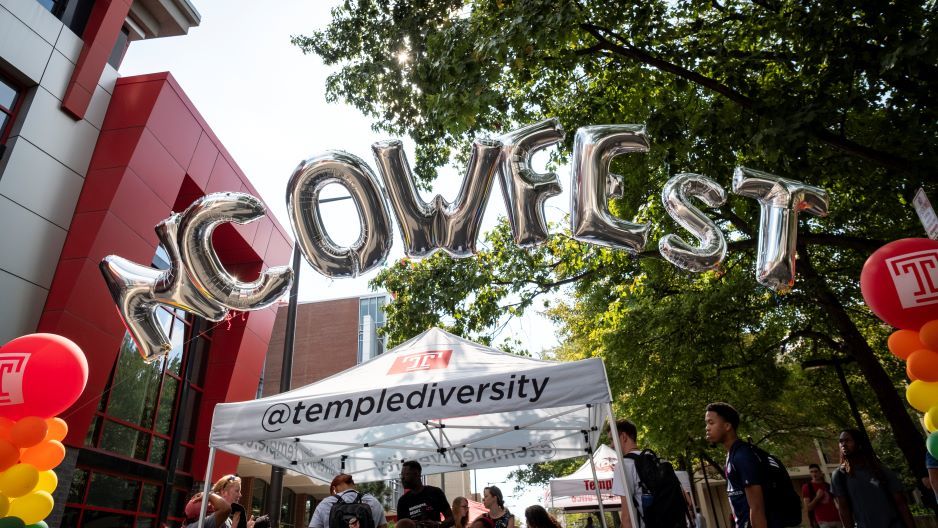 Updated Oct. 3, 2022
From Monday, Oct. 3, through Friday, Oct. 7, Temple celebrates National Coming Out Week (NCOW) with a slate of events sponsored by the Office of Institutional Diversity, Equity, Advocacy and Leadership (IDEAL).
Join this panel-style discussion with local LGBTQIA+ professionals, who will give advice on how to show up for yourself in your career, including how to advocate for representation of your identity in the workplace.
Tuesday, Oct. 4
11:30 a.m.–1 p.m.
Howard Gittis Student Center, 200 C
The gender, sexuality and women's studies program presents an evening with three local artists: children's book author Kyle Lukoff; filmmaker, photographer, activist and advocate Kelly Burkhardt; and affirmation creator, writer and poet Queen Phierce. They will discuss the importance of depicting and understanding the queer experience through art.
Wednesday, Oct. 5
5:30–7 p.m.
Mazur Hall, 821
NCOWFest & Come Out, Speak Out
Stop by this outdoor festival featuring all the LGBTQIA+ student clubs and various university offices. There will be the opportunity to snag fun prizes and participate in a unique 'come out, speak out' feature.
Thursday, Oct. 6
1–3 p.m.
13th Street, Howard Gittis Student Center
Come to this showstopping drag show featuring a fabulous lineup. While there, learn about the history of drag and its importance to the LGBTQIA+ community.
Friday, Oct. 7
7–9 p.m.
Temple Performing Arts Center
Wrap up NCOW by playing drag show-themed bingo to win great prizes and enjoy free food.
Friday, Oct. 7
8–11:59 p.m.
Howard Gittis Student Center, 200 C