Temple's LGBTQIA+ seniors celebrated at Lavender Graduation
At the ceremony, LGBTQIA+ students in the Class of 2022 received rainbow cords in recognition of their achievement.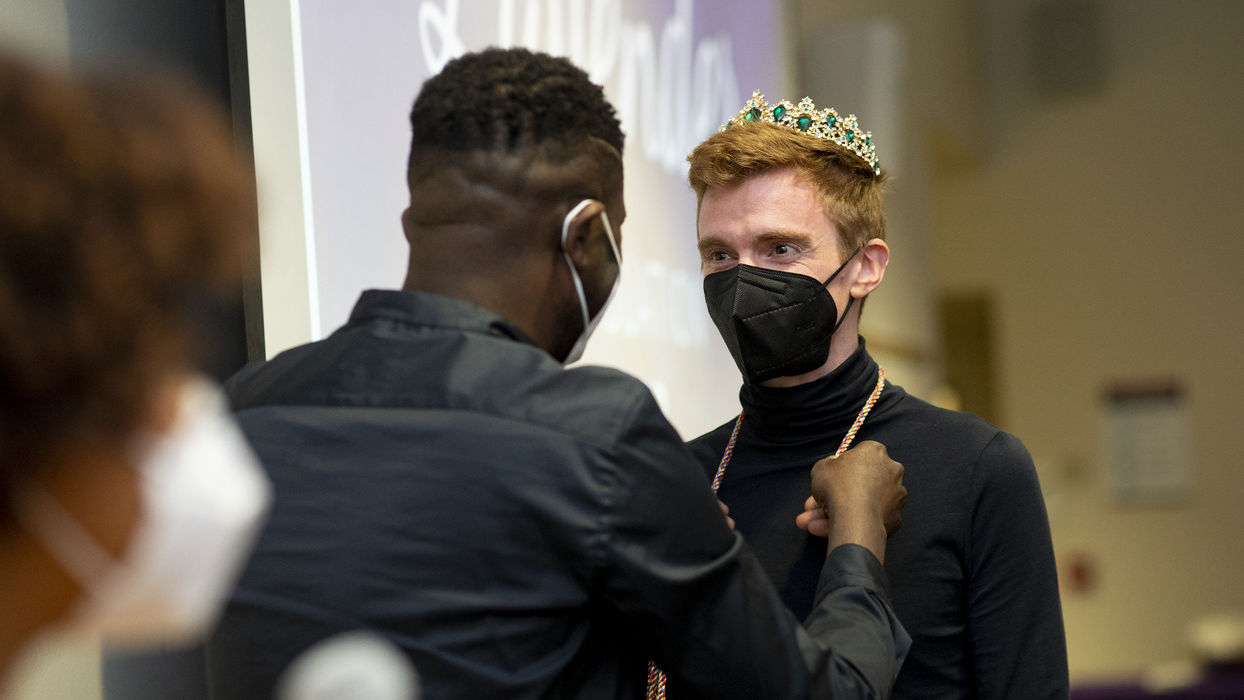 On a Wednesday afternoon at the Howard Gittis Student Center, LGBTQIA+ seniors and their allies gathered at small tables adorned with purple tablecloths and flowers in honor of Lavender Graduation.
The ceremony was sponsored by Temple's Office of Institutional Diversity, Equity, Advocacy and Leadership (IDEAL).
Lavender Graduation is celebrated at various colleges and universities to recognize the increased visibility of LGBTQIA+ graduating students and honor their academic achievement.
Before students were called up to the podium to receive their rainbow cords, Temple's First Lady Gingi Wingard welcomed and congratulated the graduating LGBTQIA+ seniors.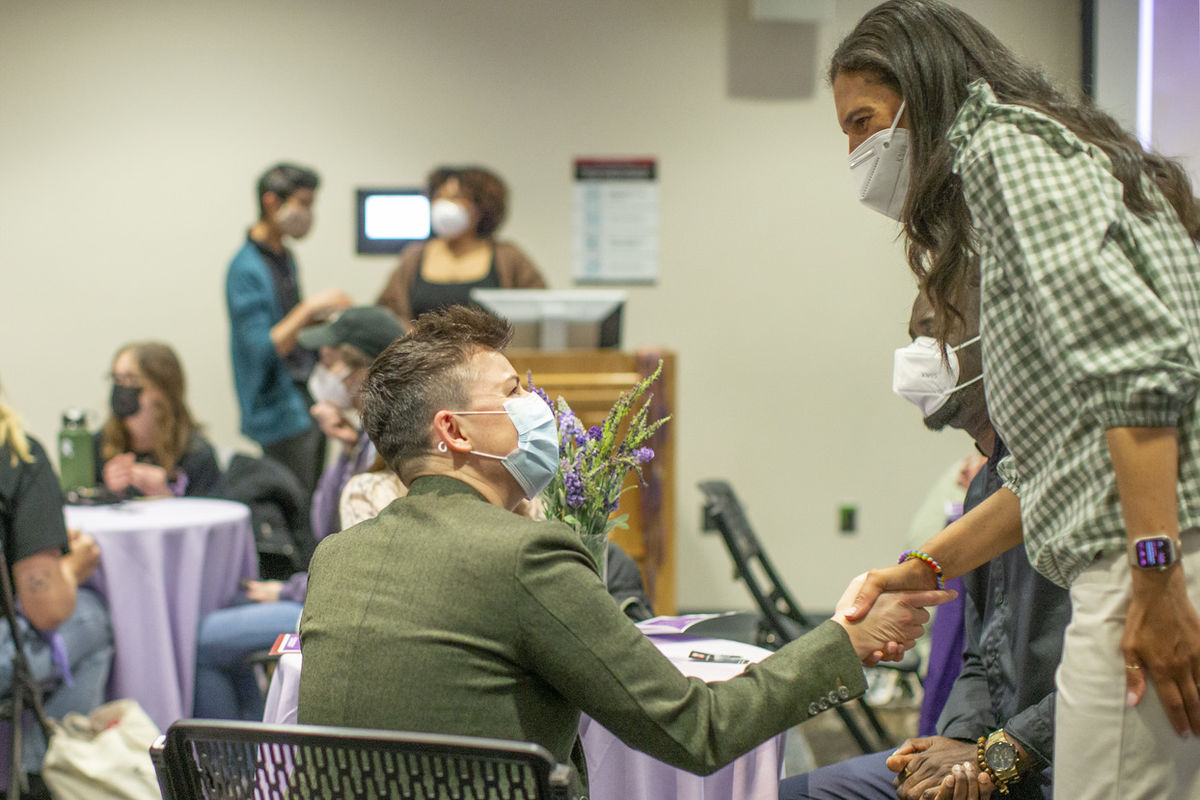 Gingi Wingard, President Jason Wingard's wife and First Lady of Temple, greeted and congratulated LGBTQIA+ students in the Class of 2022. (Photography by Ryan S. Brandenberg)
"I know you've been challenged during your time at Temple, academically and personally. But you've persevered, and that's what it means to be Temple Made," she said.
She also encouraged the students to be their authentic selves and continue creating bold, caring and creative communities. Mrs. Wingard urged them to come back to Temple as well to serve as mentors, role models and cheerleaders for their fellow Owls. 
"And as you leave the nest, I want you to know that those of us here are still supporting you," she added.
Kendall Stephens, Class of 2022, a black woman of trans experience and a public health and social work major, served as the ceremony's keynote speaker.
A North Philadelphia native and hate crime survivor, Stephens shared how she has grappled with and found pride in her interrelated identities—black, trans, queer—and implored the graduating LGBTQIA+ class to dismantle oppressive forces and occupy all spaces that are rightfully theirs.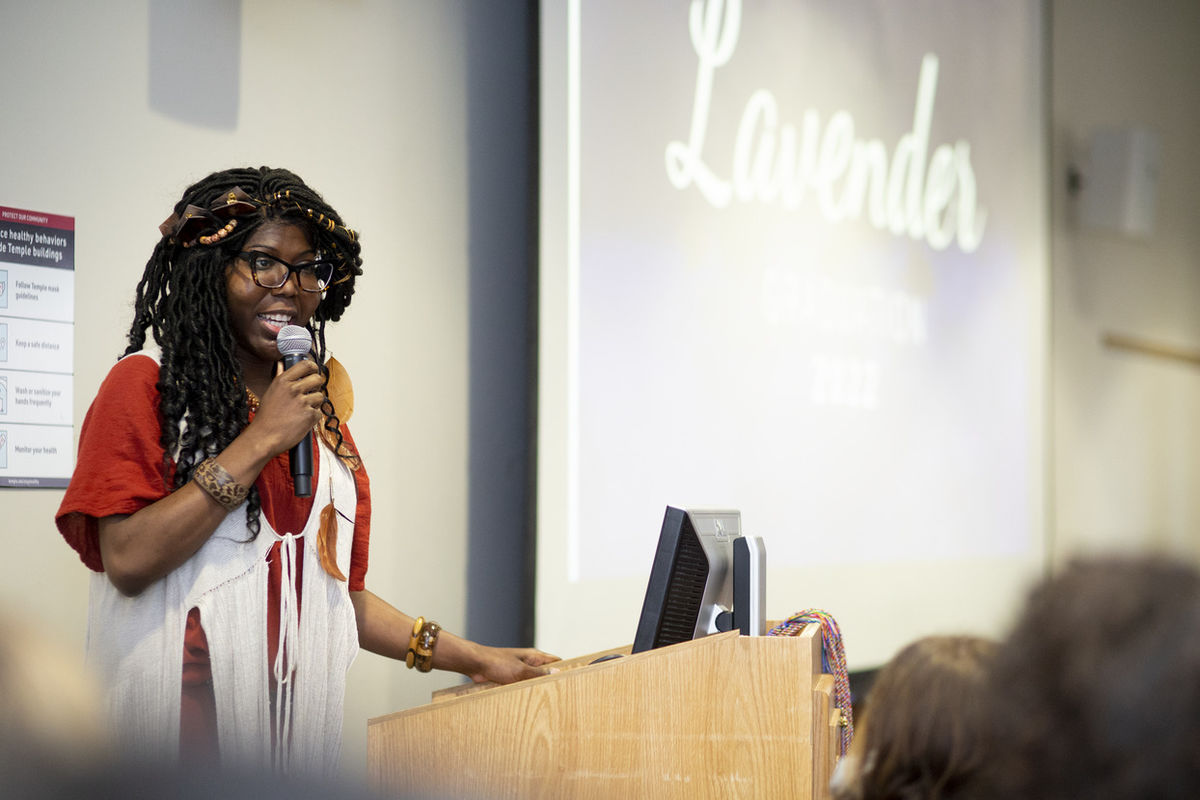 Senior Kendall Stephens was the keynote speaker at the 2022 Lavender Graduation. (Photography by Ryan S. Brandenberg)
"Coming into my transness was a dangerous endeavor, as it is for so many," said Stephens. "I felt abandoned, rejected, isolated, abused and severely traumatized. With the sheer brutality of injustice that I experienced, I shouldn't be alive today. But I am. And not just existing but thriving. And so have you all."
"These voices of hatred may think they're winning, but they have severely miscalculated the intensity of our fire—our inner flame of resilience, endurance, self-advocacy and chutzpah," she added. "Individually and collectively, we have braced the impact of every terrible force that's come our way, and we're still here."
Throughout the event, members of Temple's LGBTQIA+ advocacy acapella group Pitch, Please performed. The group's mission is to support LGBTQIA+ students and causes and spread positivity, empowerment and unity through music.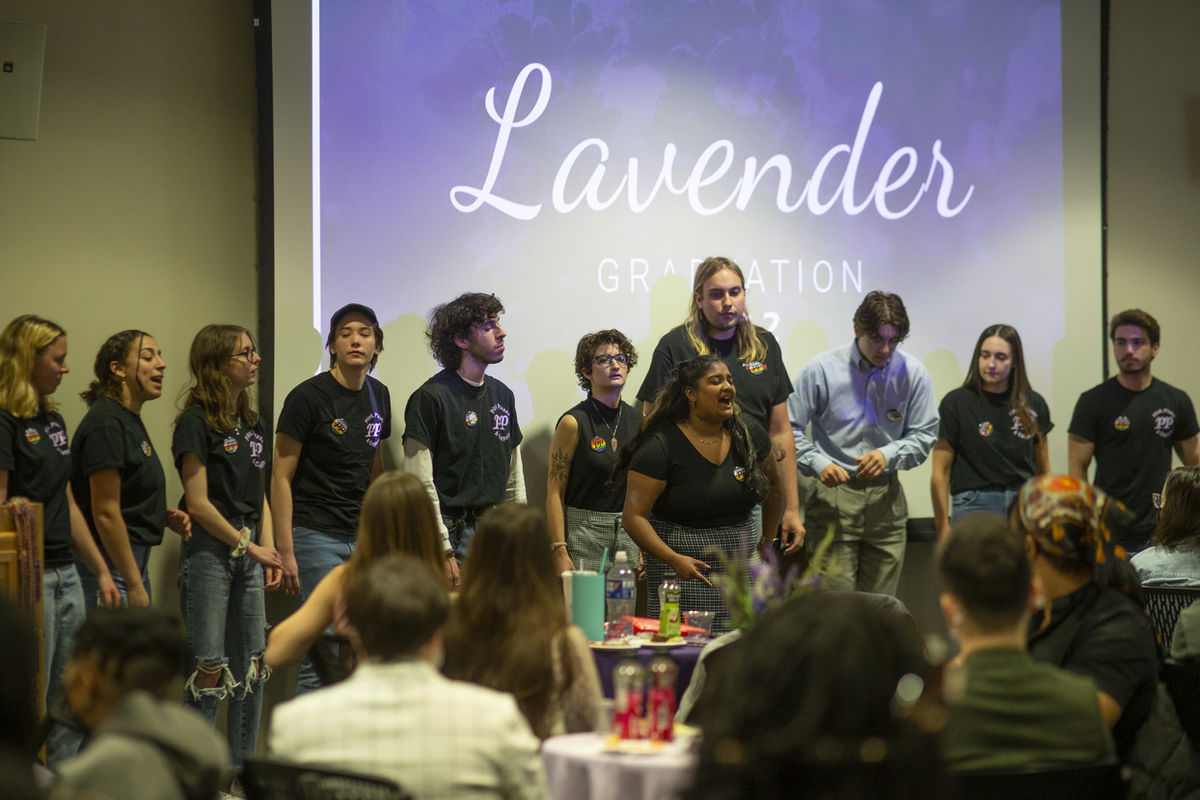 Temple's LGBTQIA+ advocacy acapella group Pitch, Please performed a few songs during the ceremony. (Photography by Ryan S. Brandenberg)
To close Lavender Graduation, Nu'Rodney Prad, director of student engagement in IDEAL, encouraged the graduating LGBTQIA+ class to challenge and change existing systems.
"We hope we've equipped you with enough skills to be a co-conspirator," he said.