Posted
September 27, 2022
Temple senior broadcasts live from London after Queen Elizabeth II's passing
 Chris Berger, a media studies and production major, traveled from Rome to London to cover the death of the queen.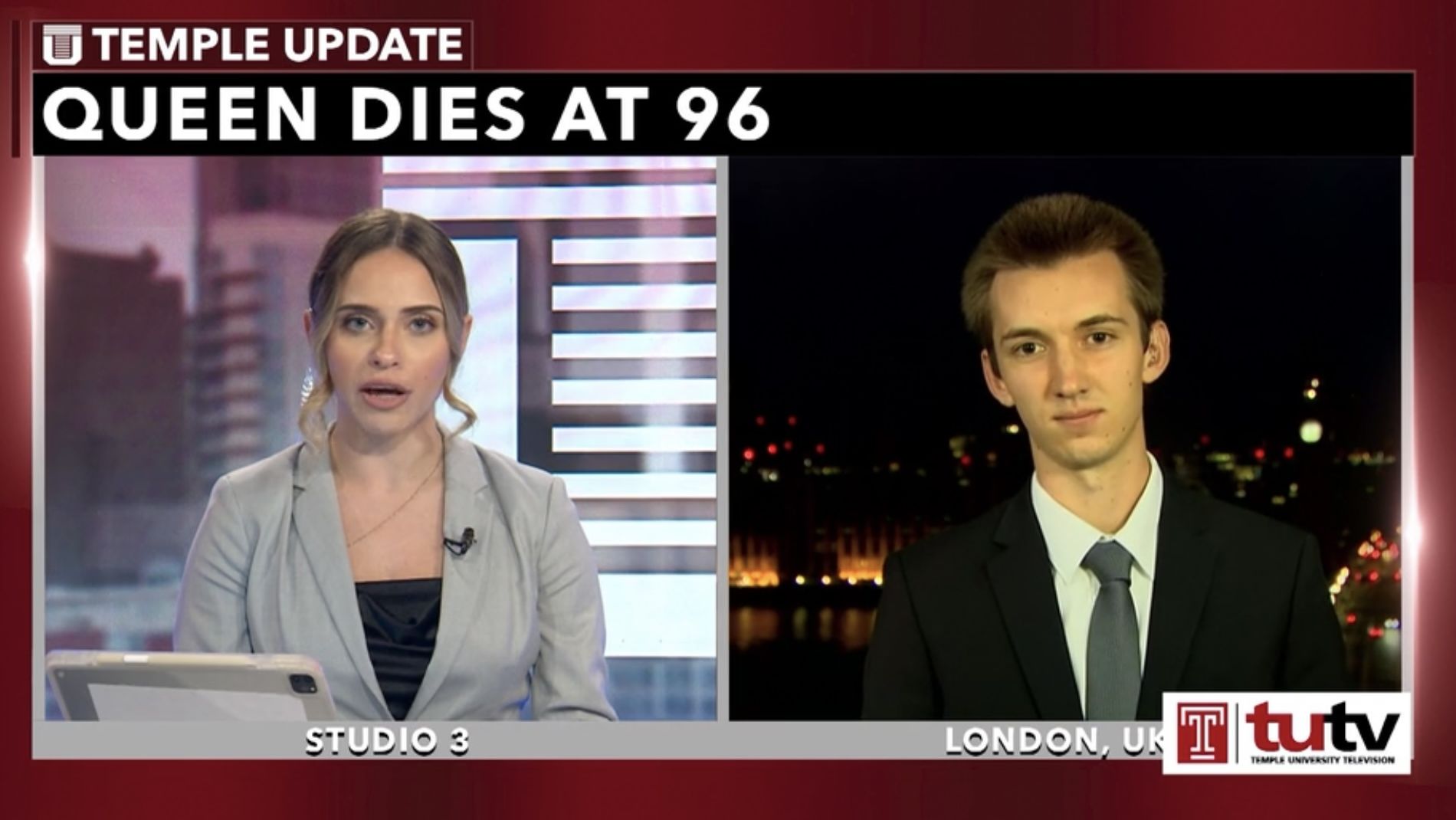 After the announcement that Queen Elizabeth II fell ill, Chris Berger received an unexpected text while studying abroad at Temple Rome. It was from one of the producers of TUTV: 'If the queen passes away, we might send you to London.'
Berger, the behind-the-scenes technical director at the student TV station, felt nervous. But as its most seasoned member in Europe this semester, he was tasked with reporting live for the first time in his four years working on Temple Update.
"As soon as the news broke of her passing, my stomach dropped," said Berger, a media studies and production major from West Grove, Pennsylvania. "I called my producer, who was with our faculty advisor Peter Jaroff and the general manager of TUTV Paul Gluck, and we decided that I was going to book a flight to London that night. I didn't have a return flight when I left, but we knew I was going to go live on TUTV the next day."
Upon arriving in London on Friday morning, Berger didn't have anything formal to wear for the live broadcast. "This was an important moment in history, so of course I wanted to look good," he said. In his rush around the city to buy a suit and tie, he recorded digital signage about the queen on his phone.
Finally, the moment arrived: Berger's on-screen debut. For the broadcast, he went to CNN. Thanks to Temple's subscription to CNN Newsource—a global content distribution platform—the university had a five-minute live satellite spot in which Berger beamed in from London to Temple in Philadelphia. He reported on the somber mood after Queen Elizabeth II's death and provided updates as news continued to come in over the following days of mourning and funeral preparation. 
Then, over the weekend, Berger went to Buckingham Palace and the floral tributes to the queen at Green Park. There, he recorded footage and interviews to be aired in a second live broadcast on Sunday.
"Most people I talked to started to shed a tear," he said. "They were sad about her passing. But they support the transition of power from Queen Elizabeth II to her son King Charles III. When I asked individuals what they think of the new king, a lot of them said he's had plenty of time to prepare and had a good teacher. Someone even said it's his birthright.
"It was a whirlwind of events," added Berger. "Telling this story for the university was a big responsibility, and I didn't want to mess it up. I was excited for this unique opportunity I felt only Temple could offer."
Despite his success reporting on Queen Elizabeth II's passing, he still prefers being behind the camera and wants to pursue broadcast engineering after he graduates in spring 2023. "The technical masterpiece that was the international coverage of the queen's death was amazing," he said.
He feels Temple has helped prepare him for a career in media. "Temple Update offers real-world experience. There are alumni around the world who have been part of this student news program and continue to say how great it was."
Berger is especially proud of TUTV's commitment to student-driven content. "We could have used CNN's coverage of the queen's passing, but having our own reporter on the ground allows us to put a Temple spin on it."