New Temple Press book celebrates Philadelphia's Italian legacy
The Italian Legacy in Philadelphia: History, Culture, People and Ideas is discussed during a recent panel discussion held at Temple University's Charles Library.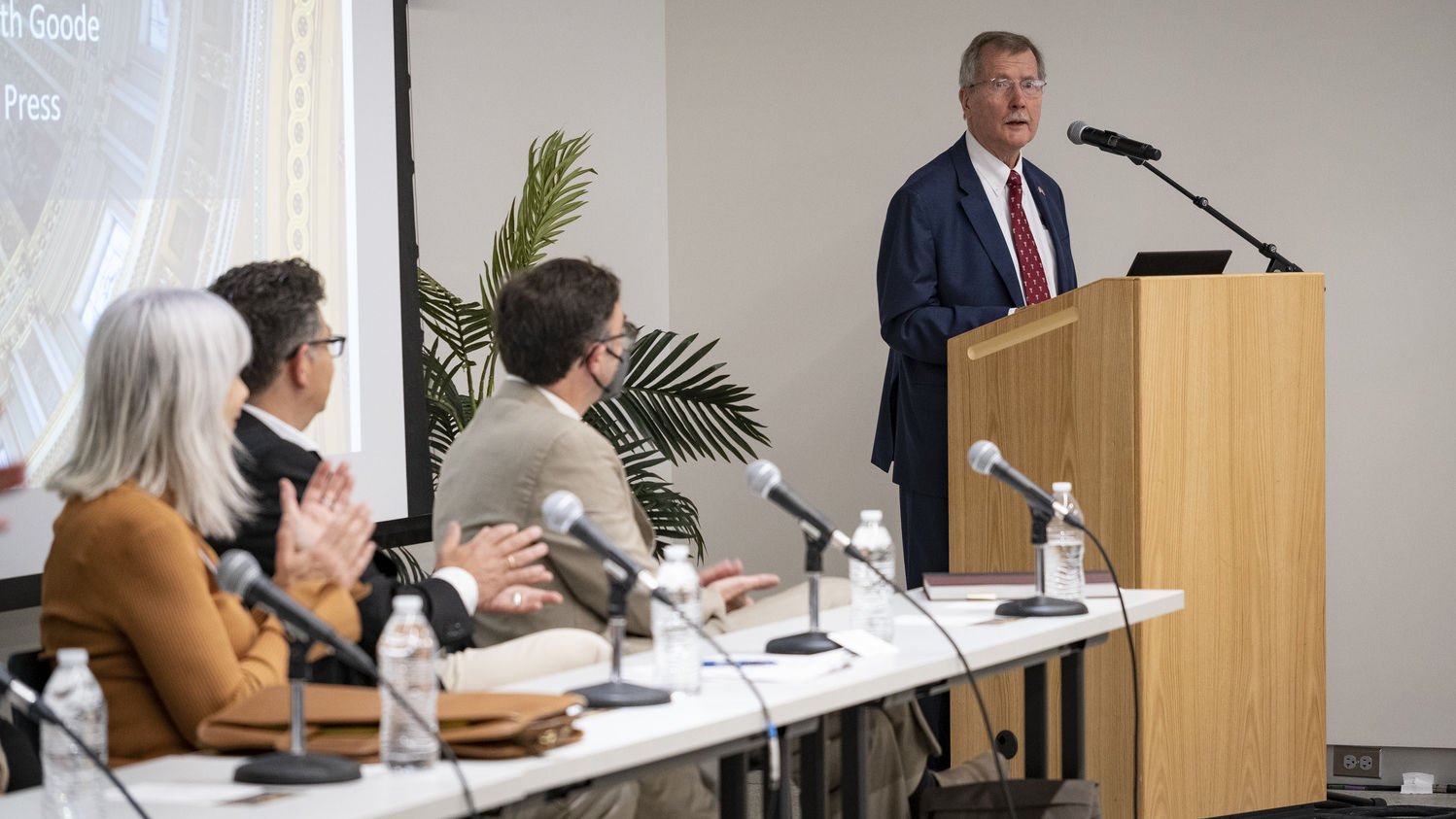 Italy's profound cultural and arts impact on Philadelphia and southeastern Pennsylvania is profiled at length in The Italian Legacy in Philadelphia: History, Culture, People and Ideas. Published by Temple University Press in Dec. 2021, the collection of interdisciplinary essays was edited by Andrea Canepari, an Italian diplomat currently serving at the directorate general for country promotion of the Italian Ministry for Foreign Affairs in Rome, and Judith Goode, professor emerita of anthropology and urban studies. 
On Thursday, Nov. 3, the editors joined contributors Inga Saffron, Pulitzer Prize-winning architecture critic for the Philadelphia Inquirer, and William Valerio, director of the Woodmere Art Museum, for a panel discussion at Temple University's Charles Library. University of Pennsylvania Professor of Urban Studies Domenic Vitiello also served on the panel. The discussion, which was open to the public and attended by more than 100 people, was moderated by former Temple president and current Chancellor Richard Englert. 
"We have an Italian legacy here at Temple and have had a campus in Rome for over 50 years," Englert said to open the discussion. "We have a really great panel here today to discuss this great topic." 
Throughout the discussion, Canepari, Goode and the book's contributors discussed the process of compiling such a thorough book, which exceeds 400 pages. 
"Why are we here? Because this book was a labor of love," said Canepari, who served as consul general of Italy in Philadelphia from 2013 to 2017. "We worked on this since 2016, and it was a really tough project." 
One of the areas that is detailed throughout the book is the colonial period. 
"This is a case study of a particular place where a community forms," Goode said. "The book raises questions about future research and gaps that we see. We follow the evidence, and we're very proud of what we were able to say about the colonial period." 
As part of the discussion, each panelist discussed their contributions to the book. Valerio discussed the legacy of Italian art in Philadelphia and Saffron touched on architecture. As the discussion continued, it became very clear that Italy's influence is just about everywhere within the city. 
"Even today, people of Italian descent dominate building trades in this city," Saffron said. "There is one thing we know. Without these architectural contributions, Philadelphia would be a much less beautiful city." 
For more information on the book or to order a copy, visit the Temple University Press website.