Ways to celebrate Martin Luther King Jr. Day at Temple
Temple celebrates the legacy of Martin Luther King Jr. with a variety of events on Main Campus.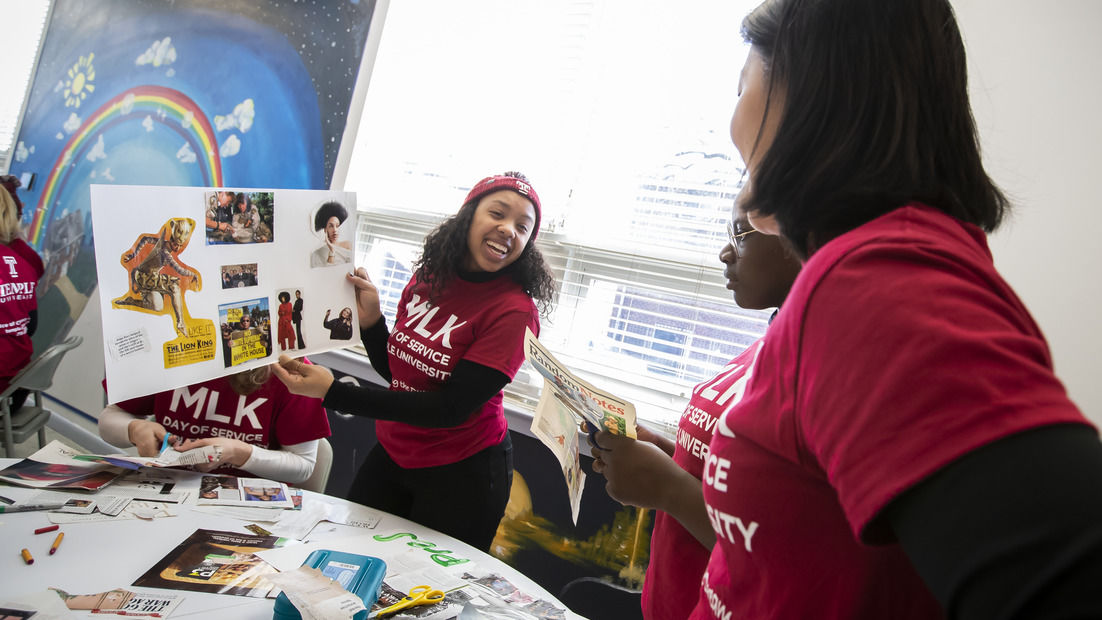 Temple celebrates Martin Luther King Jr. Day with a day of service and events every year. For 2023, the university is hosting in-person events to honor the civil rights leader's significant contributions and lasting influence. 
MLK Day of Activism and Service
Join an MLK Day celebration and author discussion with Linda Villarosa, New York Times bestselling author of Under the Skin: The Hidden Toll of Racism on American Lives and on the Health of Our Nation. The Lewis Katz School of Medicine will host the event at Temple's Performing Arts Center. Register to receive a  Zoom link if you cannot attend in person.   
Monday, Jan. 16
Temple Performing Arts Center
9:30 a.m.
MLK 365—The King and I: Intergenerational Conversations on the Dream
Attend a series of MLK 365 diversity talks hosted by the Institutional Diversity, Equity, Advocacy and Leadership (IDEAL) office. The event will focus on critical conversations regarding a more inclusive society and how Martin Luther King Jr.'s dream has evolved over the decades.
Monday, Jan. 16
Center for Anti-Racism 1st level: Mazur Hall
11 a.m.
Klein College of Media and Communication is hosting its sixth annual reading of King's "I Have a Dream" speech at the Bell Tower. Klein professors David Brown, David Mindich and Karen Turner will lead the event. 
Monday, Jan. 16
Bell Tower 
11:45 a.m. 
Toiletries and clothing drive
The Temple community is welcome to donate new items (toothpaste, soap, socks, etc.) to the Office of Community Affairs and Engagement to benefit people experiencing homelessness and North Philadelphians in need. The office will send the donated items to the Salvation Army.  
The office will accept donations through January. Please contact Andrea Swan at 215-204-7409 or aswan@temple.edu to coordinate a time to drop off your donations at the Office of Community Affairs and Engagement at 1509 Cecil B. Moore Ave.