A look back at the Owls' greatest upsets
The Temple Owls men's basketball team shocked the college basketball nation in a road win against No. 1 Houston on Sunday. Here is a look at the biggest upsets and wins in Temple men's basketball history against ranked opponents.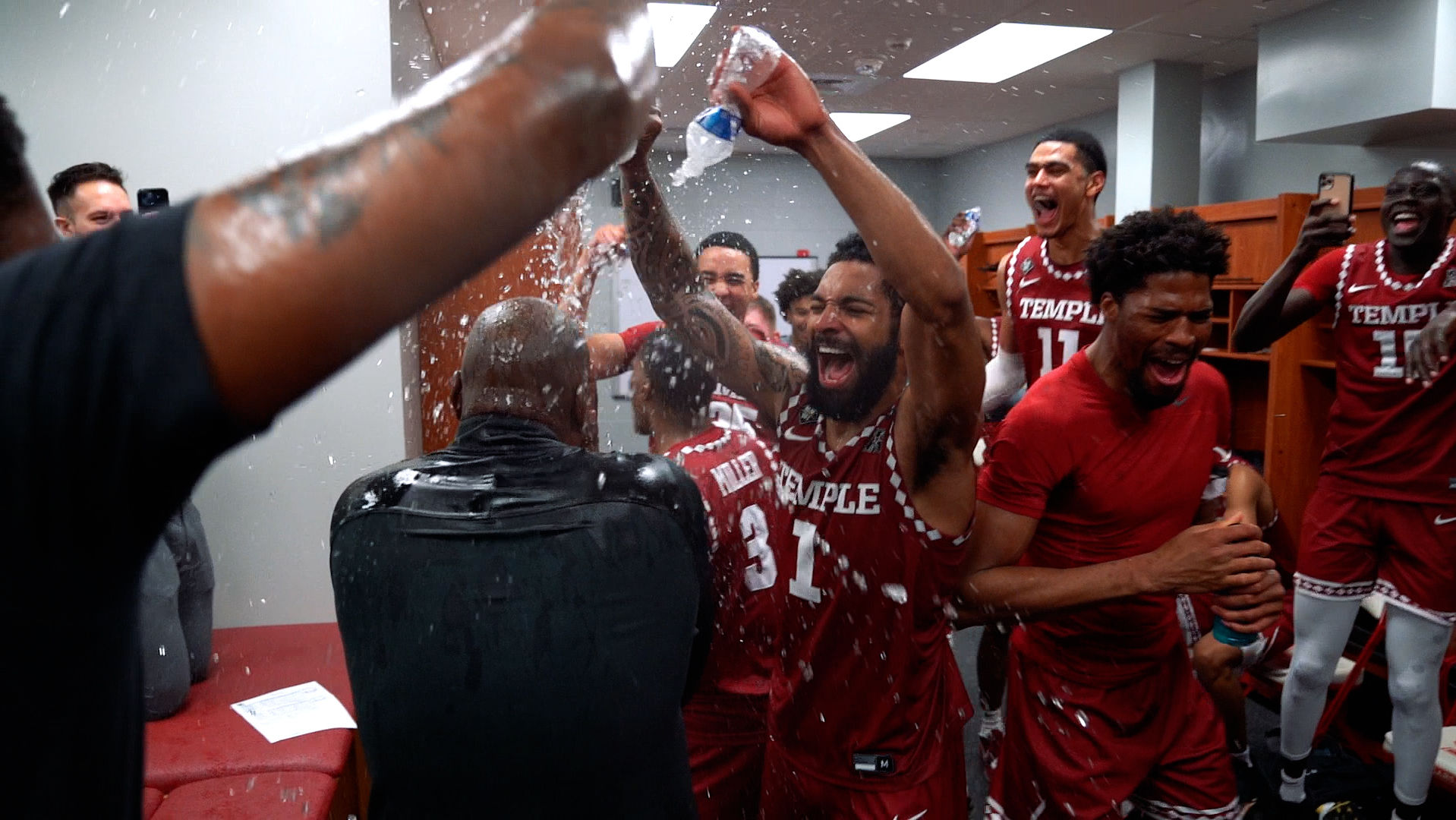 Temple University shocked the college basketball world over the weekend.
The Temple Owls men's basketball team defeated the top-ranked Houston Cougars 56-55 in a road game on Sunday. Coach Aaron McKie, SSW '02, got doused with water by his players in a locker room celebration following his first win over a top-10 opponent.
"Any time you get the opportunity to beat the No. 1 team in the nation on their home floor, it was a great atmosphere and a really good win for our guys," Coach McKie said in a postgame interview with owlsports.com. 
"It was a cold celebration for me because the guys threw a lot of cold water on me, so it was pretty good."
The Owls were a 19.5-point underdog coming into this game, as No. 1 Houston had lost just once before Sunday's matinee. It was also Temple's first win over a top-ranked opponent in nearly 23 years, since Coach John Chaney's Owls defeated No. 1-ranked Cincinnati 77-69 on Feb. 20, 2000. 
Temple improved its record to 12-9 this season and added another win to its column as the fifth winningest basketball program in NCAA Division I men's college basketball history. 
Sunday's win was a marquee win for a program (Temple is the fifth winningest basketball program in NCAA history) that has plenty of them. Here is a look at some other great moments in Temple men's basketball history.
The Owls shock No. 1 Cincinnati—2000
Feb. 20, 2000, at Myrl H. Shoemaker Center. Temple 77, Cincinnati 69: The Owls were on the road against top-ranked Cincinnati, who entered the contest after winning 42 games in a row at home. Temple star guard Pepe Sánchez, CLA '00, was not expected to play due to a left ankle sprain, but right before tip-off, he convinced Coach Chaney he was ready after doing three spins in the locker room on his ankle. Sánchez (seven points, five assists) played a game-high 38 minutes, and Lynn Greer, CPH '02, went 5-for-5 from 3-point range in the first half to get Temple off to a hot start. Mark Karcher led the Owls with a game-high 28 points. The win was even more significant as it marked Chaney's 400th victory at Temple. 
Temple upsets No. 1 Kansas in overtime at the Jimmy V Classic—1995
Dec. 23, 1995, at Brendan Byrne Arena. Temple 74, Kansas 66: Temple took on top-ranked Kansas in the inaugural Jimmy V Classic at the Meadowlands in East Rutherford, New Jersey. Kansas went to the free-throw line with the score tied, 55-55, with 8.6 seconds left in regulation. Miraculously, the Jayhawks missed both free throws, providing the Owls with the opportunity they needed. Temple would rally, scoring the first 10 points in overtime, and Marc Jackson, FOX '97, led the team with a career-high 31 points and 12 rebounds. Coach Chaney's matchup zone defense held future NBA star Paul Pierce of Kansas to 2-for-14 from the field and just four points. The win came nine days after the Owls defeated then No. 2 Villanova 62-56. 
Temple's Fernandez makes seven 3-pointers to upset No. 3 Villanova at the Liacouras Center—2009  
Dec. 13, 2009, at the Liacouras Center. Temple 75, Villanova 65: In front of nearly 8,500 fans at the Liacouras Center, Temple defeated No. 3 Villanova to end its 9-0 undefeated streak and reclaim city dominance in Philadelphia. Villanova cruised to an early 31-19 lead in the first half and appeared on its way to another city series win, having won 21 of its last 23 Big 5 games. But the Owls battled back. Juan Fernandez drained seven 3-pointers and scored a career-high 33 points, and Ryan Brooks added 20 points to lead the Owls. Temple fans stormed the court to celebrate the Owls' upset win over the Wildcats, which was the team's first win over Villanova in four years. 
Temple erases No. 6 George Washington's perfect Atlantic 10 run—2006
March 6, 2006, at Riverfront Coliseum. Temple 68, George Washington 53: In the Atlantic 10 quarterfinals, Temple faced No. 6 George Washington, who finished the regular season with a perfect 16-0 record in A10 regular season games. The Owls were heavy underdogs, but Coach Chaney employed variations of his matchup zone defense to hold GW to just 32.3% from the field. Antywane Robinson, UC '06, led Temple with 19 points, and Wayne Marshall and Mark Tyndale added 15 apiece in the victory, which ended GW's 18-game win streak. 
Temple ends No. 8 SMU's undefeated season—2016 
Jan. 24, 2016, at the Liacouras Center. Temple 89, Southern Methodist 80: Temple took on No. 8 SMU, who started the season 18-0 and was the last Division I undefeated team in the nation. The game was delayed a day because of a winter storm that covered North Philadelphia. Coach Fran Dunphy's Owls shot 14-of-29 on 3-pointers. Devin Coleman came off the bench to score a career-high 23 points, going 7-for-7 from 3-point range to lead Temple. Quenton DeCosey, EDU '16, added 19 points for the Owls. The Temple fans rushed to the court when the final buzzer sounded. 
Temple upset No. 3 Syracuse at Madison Square Garden—2012
Dec. 22, 2012, at Madison Square Garden. Temple 83, Syracuse 79: Temple beat No. 3 Syracuse 83-79 in the first Chevrolet Gotham Classic. Khalif Wyatt scored a career-high 33 points and shot 15-for-15 from the free-throw line while Anthony Lee added a career-high 21 points for the Owls. Under Coach Dunphy, Temple snapped Syracuse's 52-game regular-season nonconference winning streak. It was the fifth straight season the Owls had beaten a top-10 opponent as an unranked team.