Graduate student in search of kidney transplant
Jazmin Evans has been on the national organ transplant waiting list for four years.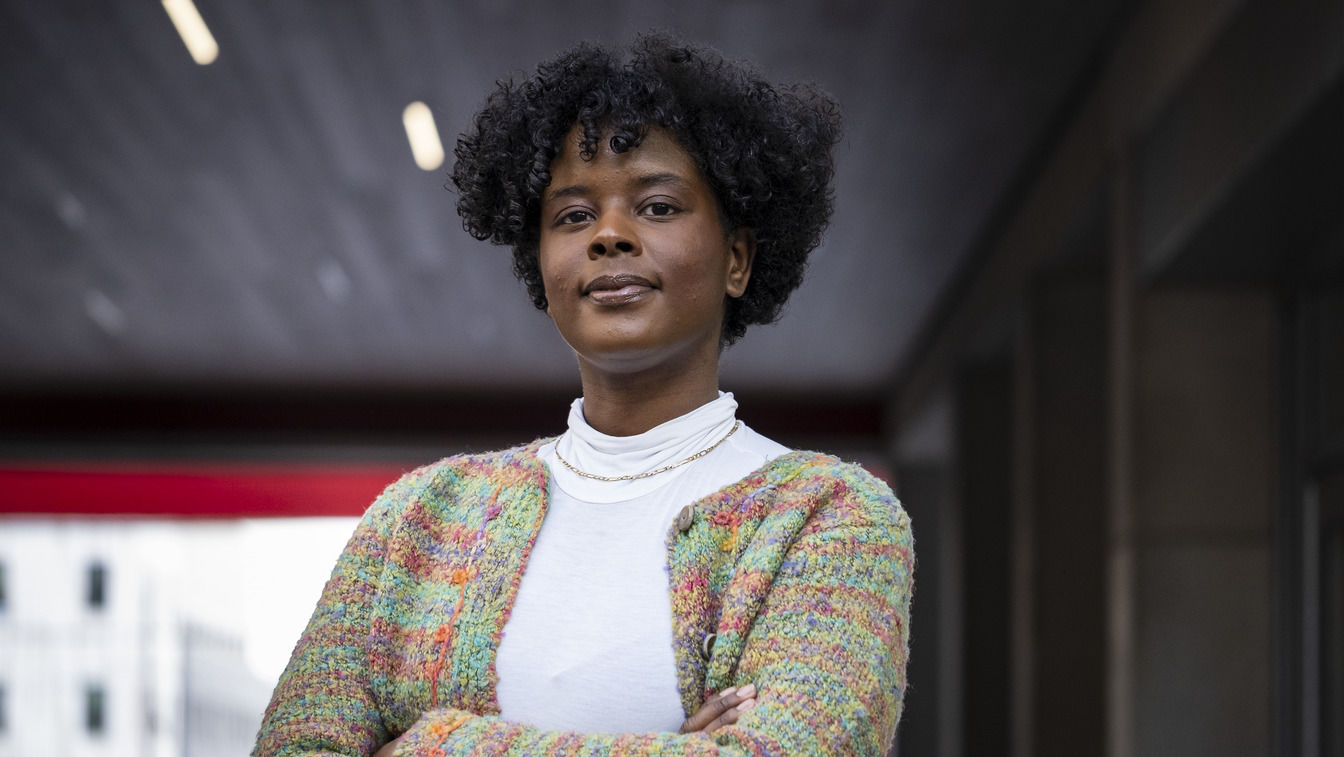 Jazmin Evans is determined not to let anything deter her from having a productive life, not even chronic kidney disease. She has been waiting for a kidney transplant for the last four years and she's sharing her story during National Kidney Month. 

Evans was diagnosed with the disease in 2012. Now 11 years later, the 28-year-old is dreaming big and working hard to make them a reality. She's pursuing her graduate degree in Africology at Temple University, teaching undergraduate classes and working with the Pan-African Studies Community Education Program. She also serves as director of the Organization of Africology & African American Studies Graduate Students (OAAASGS) and senior editor of The Imhotep Journal. 

When she's not studying, teaching or working, Evans uses social media platforms such as Instagram and TikTok to educate others about the risk factors of kidney disease and what it's like to live with the condition. Every night, Evans undergoes peritoneal dialysis at home for nine hours while she is sleeping. Through this procedure, the lining of her abdomen is used to remove waste products from her blood. "It has been one of the hardest things that I've ever had to do to date," Evans said of the procedure. "It affects everything, but a lot of people don't necessarily see that." 

Evans—who is a Gulfport, Mississippi, native—also uses social media to highlight that there are many African Americans waiting for organs. The U.S. Department of Health and Human Services notes that African Americans make up the largest number of minorities in need of an organ transplant. "There is a lot of misinformation and disinformation about the kidney transplant process, and I think a lot of times that really stops people from wanting to give," said Evans. 

"I'm just trying to showcase that there are people out here trying to live their best lives, but we can't do everything that everyone else can do. There are real tangible ways that you can help someone improve their quality of life." 

Upwards of 104,000 people in the U.S. are on the national organ transplant waiting list, with more than 92,000 in need of kidneys. Most people wait three to five years for a kidney from the list, according to the United Network for Organ Sharing. "The demand for kidney transplants really outstrips the supply," said Dr. Suzanne Boyle, the Temple University Hospital nephrologist that Evans has been working with since 2017. 

Evans has faced various challenges along her journey, such as fatigue, loss of appetite and adverse reactions to medications. She credits a community of family, friends and medical professionals with helping her to cope. When Evans felt depressed and anxious about having kidney disease, a nurse from her dialysis clinic offered words of encouragement. "She reminded me that this diagnosis doesn't define me as a person," Evans said. "That really just changed my perspective and my worldview on the entire situation." 

People typically receive kidneys by being matched with a deceased donor from the national transplant waiting list. The less common way to receive a kidney transplant is through a living donor. According to Boyle, a minority of people have received a kidney from a donor such as a family member or a stranger. However, there are often health issues that may disqualify people from being able to donate. 

"A living donor is certainly preferred because you can jump the queue and come off dialysis," Boyle stated. "We know that patients live longer and have better-quality lives with a kidney transplant than on dialysis. But living donors are hard to come by."

Boyle believes more should be done to make people aware of the importance of becoming an organ donor.
"I think escalating public awareness about this would really go a long way, and even getting celebrities who have kidney transplant recipients to speak out about this would be extremely helpful, too," she said. 
Evans may not be a celebrity but she's still doing her best to raise awareness of this disease and the need for living donors. But her social media messaging is meant to do more than educate, it's also meant to inspire. "I share that you don't have to let your diagnosis limit you, and I do that very intentionally because there are a lot of times when I'll be in conversations with people and they'll be like 'if I were you, I would just focus on my health,'" Evans said. "I'm like, 'What should stop me from still being ambitious and wanting to achieve my goals?' I just never let my diagnosis stop me from being me." 
- Ayana Jones