A Temple and Comcast partnership addresses digital divide by gifting laptops to Philadelphia teens
Temple's Digital Equity Center collaborates with Comcast to gift laptops to students participating in Powerful Mindz Inc., a community organization sponsored by STARS Computing Corps at Temple.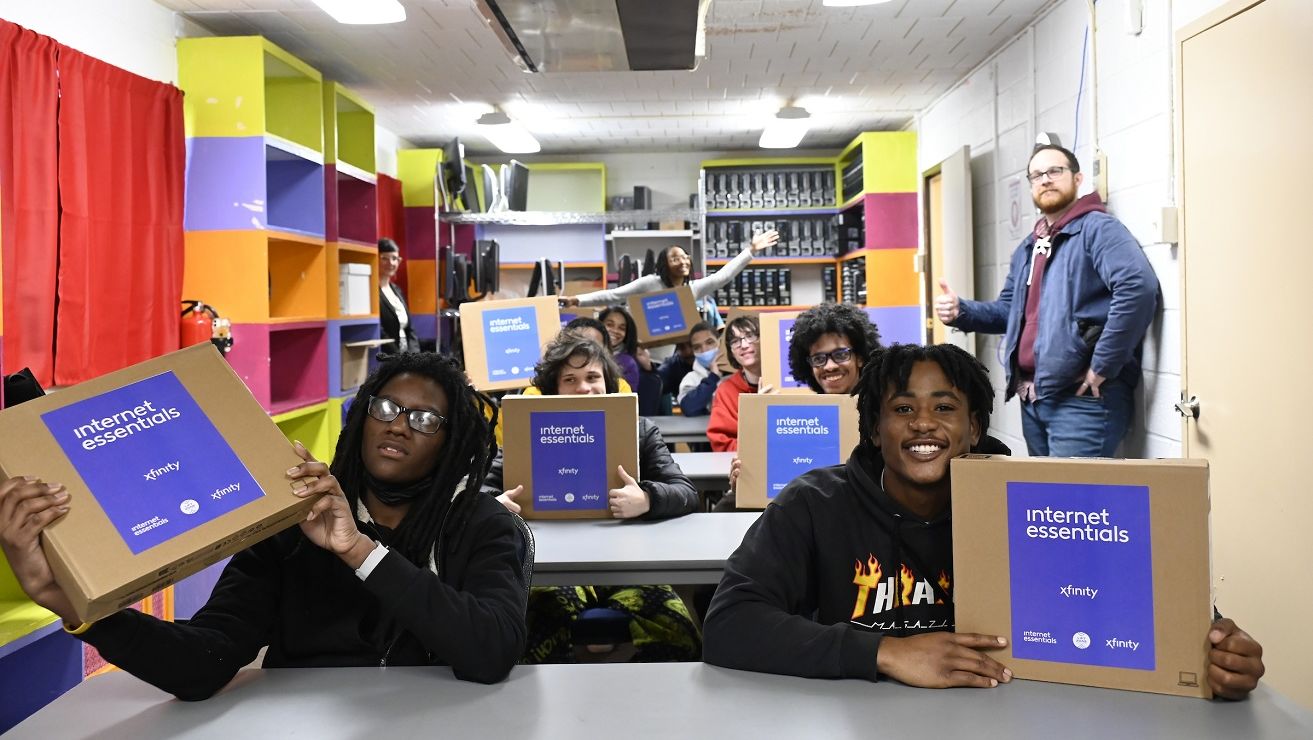 On March 24, a group of young adults from North Philadelphia arrived at Temple University's Digital Equity Center to find big surprises waiting for them—brand new laptops that were theirs to take home. The students were all smiles as they unboxed their new computers.
The surprise laptops were provided courtesy of Comcast and the result of its partnership with the Digital Equity Center, a workforce development center for the North Philadelphia community that bridges the digital divide in North Philadelphia. 
"There are thousands of people in the city without the necessary degrees and experience to secure jobs in technology, so we have partnered with local organizations that offer computer science education programs," said Jonathan Latko, executive director of information technology services at Temple. "In doing so, we prepare young people from underserved communities to one day be able to fill the demand in the industry."
Comcast provides open internet access for Temple's Digital Equity Center. (Photography by Ryan S. Brandenburg) 
The students who received the laptops are from Vaux Big Picture High School and El Centro de Estudiantes. They participate in Powerful Mindz Inc., a nonprofit founded by Tya Barnes, the managing director of programs and impact of STARS Computing Corps, a grant-funded organization headquartered at Temple.
Barnes' goal for Powerful Mindz is to provide at-risk minority youth with transformational educational coursework, mindfulness practices and networking resources for sustainable career paths. She said providing laptops for the students gives them more access to software resources and computing technology to use at home. 
"Powerful Mindz focuses on encouraging students to forge unique paths for themselves in computer science, so it is important for them to have their own personal laptop," Barnes said. "Most of our students do not have Wi-Fi access to the internet at home, but Temple's Digital Equity Center has made what the students are learning more accessible and applicable."
"Underrepresented students have often been excluded from computer science education," said Jamie Payton, chair of the Department of Computer and Information Sciences at Temple and executive director of STARS Computing Corps. "So it's key for us to provide a program that can transform the way we educate people about computer science. This is an important step in the right direction to provide equitable and inclusive opportunities in computer science education that are designed for students within our communities."
"We love what Temple is doing," said Bob Smith, a representative at Comcast. "Many Comcast staff were at this event because these students are embracing technology and have taken the initiative to grab hold of their future, and we want to support that."
Students participating in Powerful Mindz are learning about website development; business inventory; and computer languages such as CSS, HTML and jQuery. Barnes said their program also provides mental health resources like mindfulness practices during program activities that allow students to be more present and focus on their social self-awareness. 
"I'm hoping our program engages students to do more community outreach and be aware of their impact," Barnes said. "I also hope that they will see how they can benefit from learning computer languages as far as building a strong and stable career for themselves that will also empower them to help their communities." 
Amber Miller-Butler, 20, a student at El Centro de Estudiantes, said she developed new career interests and her mental health benefited from participating in Powerful Mindz.
"I learned about meditation, mindfulness and coping skills to keep calm. I connected with mentors within its programs and was given great opportunities," she said. "I was always interested in architecture, and now I am also learning computer technical skills like coding and electrical and computer engineering."
The surprise laptops were provided courtesy of Comcast and the result of its partnership with Temple's Digital Equity Center. (Photography courtesy of Comcast by Sabina Louise Pierce)
Eddie Riviera, 20, another El Centro de Estudiantes student, said his passion is working in the film industry and that having a laptop will allow him to work on projects more efficiently at home. 
"I learned computing skills that can help me build a website for my film projects," he said. "Powerful Mindz is for whatever your passion is. My mentor in the program offered to help me find someone who can guide me in the film industry once I launch my website." 
Jamal Moore, 20, a classmate of Miller-Butler and Riviera, said, "Many young people in communities may have a lot on their minds and have nobody to speak with. But this program has mentors to speak with, and it opens your eyes to work on yourself."