Students make the case for Temple's funding during Owls on the Hill Day
Temple students traveled to the Pennsylvania State Capitol in Harrisburg on Owls on the Hill Day to advocate for the commonwealth to fund the university.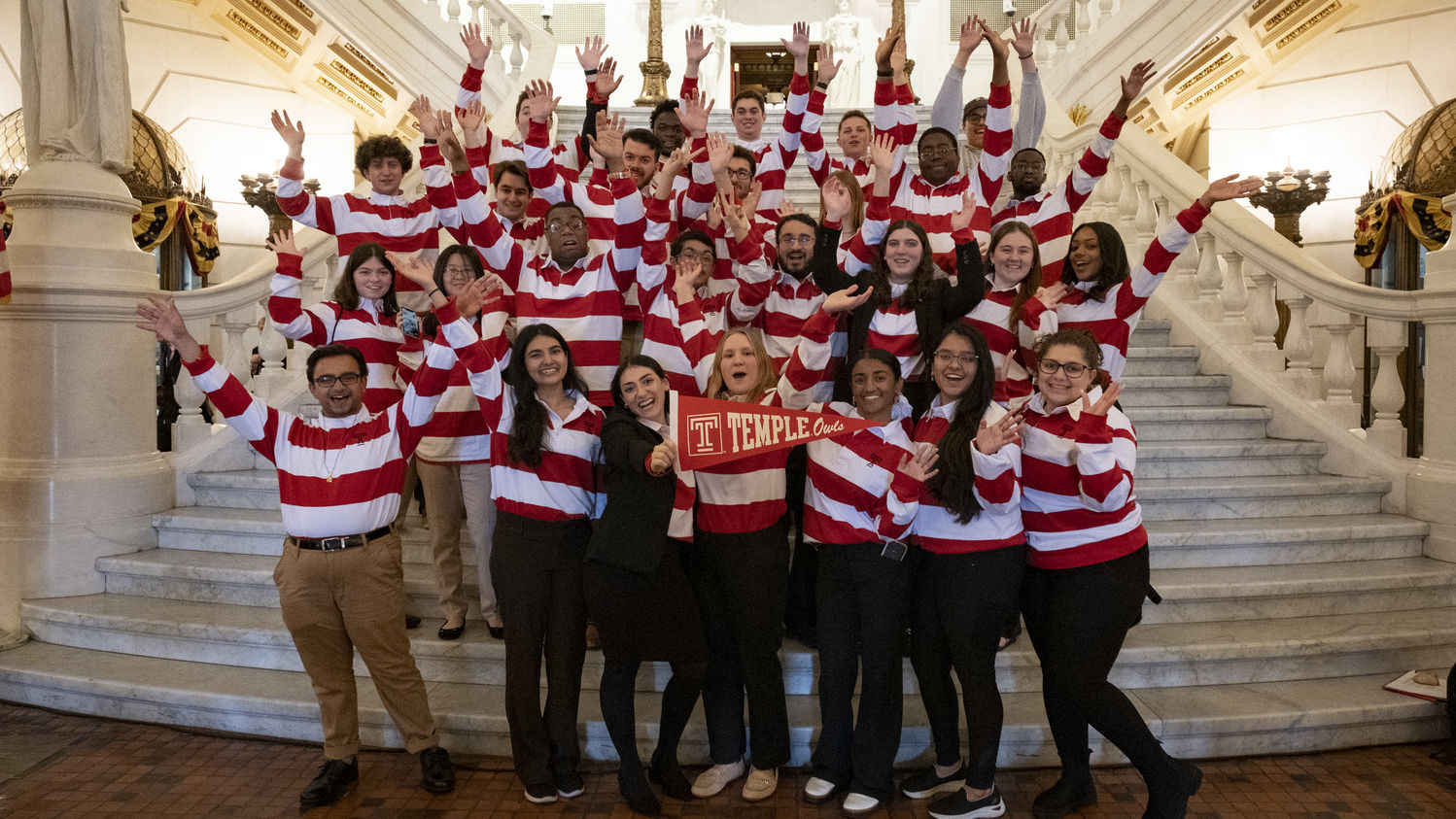 On April 26, a group of 40 students, wearing red and white striped rugby shirts, climbed the steps of the Pennsylvania State Capitol in Harrisburg for Owls on the Hill Day, an annual opportunity to meet with legislators to lobby for the commonwealth's continued funding of Temple. The university's mascots Hooter the Owl and Stella the Owl joined the students for the trip to the Capitol.  
It was the first week the Pennsylvania House of Representatives and the Pennsylvania State Senate were in session since Governor Josh Shapiro delivered his budget address on March 7. He proposed that Temple receive $169.4 million in funding from the commonwealth for the next fiscal year. Currently, Temple receives an appropriation of $158.2 million, which goes directly toward providing an in-state tuition discount for Pennsylvania students. 
Gianni Quattrocchi, the then-Temple Student Government (TSG) president, took part in the Owls on the Hill Day and said these meetings with senators and representatives are essential to secure continual state funding.  
"The significance of Owls on the Hill is its face-to-face, personable communication where we can tell them stories about ourselves and what a Temple education has done for us. It allows us to effectively express how important the funding we receive is if there is a face and a name to the bills they pass," he said.  
"These appropriations impact the overall quality of life for students by making college more affordable, and it fulfills Temple's mission of being an accessible academic institution."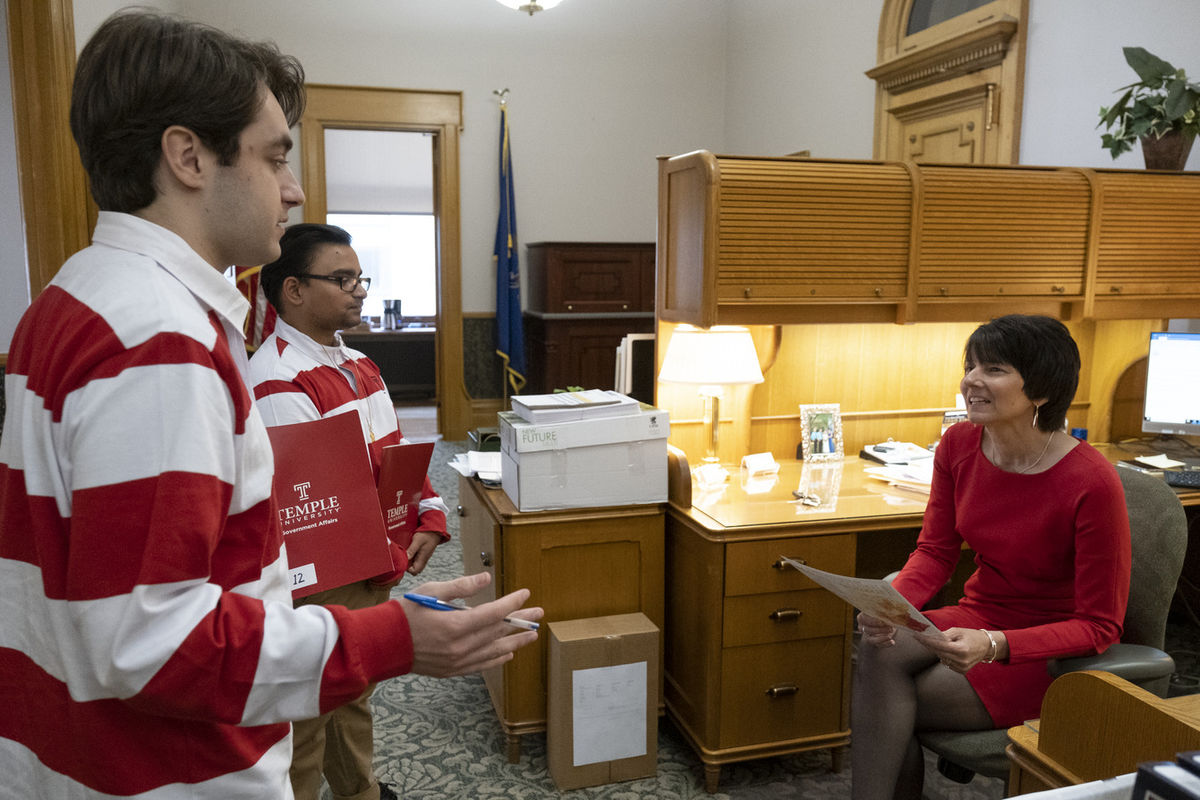 Gianni Quattrocchi, Class of 2024, has interned for a U.S. congressperson and state senator and served as president of Temple Student Government. (Photography by Joseph V. Labolito)  
During the trip, students visited the offices of every state representative and made sure to say a special hello to Temple alums, Rep. Shelby Labs, KLN '09, and Rep. Malcolm Kenyatta, KLN '12. 
In addition to meeting with Temple alum members of the General Assembly, the students met Sen. Sharif Street on the Senate floor where they learned about its history and captured photos of its notable architecture. They then entered the Senate gallery where Sen. Christine Tartaglione, chair of the Pennsylvania Senate Labor and Industry Committee and a member of Temple's Board of Trustees, acknowledged the students during a session. The students were also acknowledged by House Speaker Joanna McClinton and had their photo taken on the House floor. 
Another student on the trip, Akshitha Ag, vice president of TSG, said it was valuable to learn what occurs during a session.  
"We were learning about the process of how bills get made. Although I want to pursue a career in healthcare, this experience has inspired me to do more policy lobbying, specifically in healthcare," said Ag, a senior biology major who graduated from the College of Science and Technology in May.  
During lunch, more Temple alums, who now work at the Capitol, including representatives Pat Gallegher, CLA '98, Donna Bullock, LAW '03, Ben Sanchez, LAW '04, Rep. Kyle Donahue, CLA '09, and Joe Hogan, LAW '23, spoke with the group of Owls about the benefits of advocating in person for state funding.  
"It's essential that our young people can voice their needs because they are the future of Pennsylvania," Bullock said. "It is important to hear directly from the constituents, but I am more moved when they are young people from one of our state universities like Temple. I received a scholarship at Temple law school that helped direct my career path."  
"Students meeting with us in person makes all the difference, especially when we are going through the budget process and considering state funding planning," Sanchez added. "For choosing Temple Law myself, affordability was a big consideration in addition to it still having a great reputation that allowed me to get a job right after law school and have successful employment as a lawyer."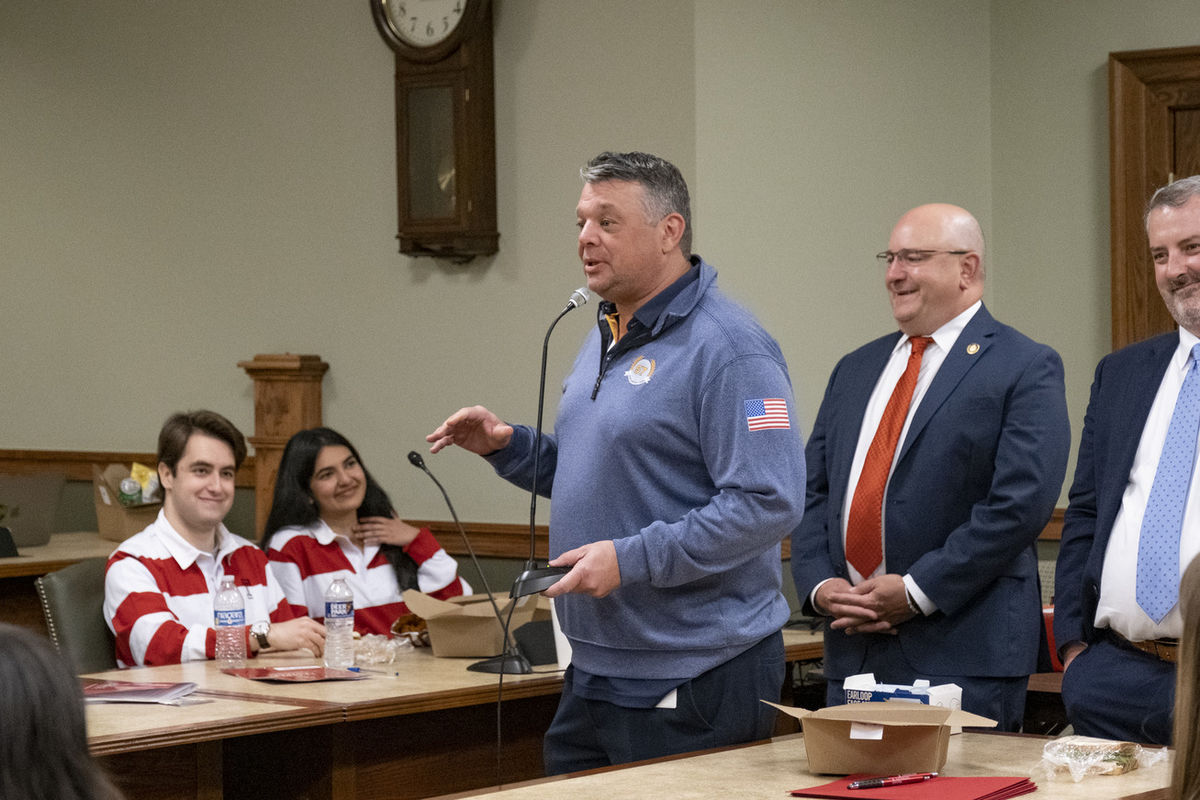 Rep. Pat Gallegher (D-173 Philadelphia), CLA '98, Rep. Ben Sanchez (D-153 Montogomery), LAW '04 and Rep. Kyle Donahue (D-153 Lackawanna County) are each Temple alums. (Photography by Joseph V. Labolito)  
Rep. Joe Hogan, graduating from Temple Law School in late May, spoke with the group about making college affordable. "I think all education should be affordable," he said. "Temple is known as a high-quality school in Pennsylvania, so we are making it as affordable as possible for people to not only go there to gain a valuable education but to stay in Pennsylvania and find a good-paying career."  
Lastly, Shawn Aleong, the senior advisor to TSG's president, said it was vital for him to share with legislators the significant impact state funding has had in enabling individuals from minority groups and those with intellectual disabilities to pursue a four-year college education. 
"By going to Owls on the Hill, I learned how to sharpen my skills when talking with senators about policies," he said. "State funding also goes into the disability resources and support services that some students need in order to be a success story."