President Wingard advocates for Temple in Harrisburg
Dr. Jason Wingard advocates for Temple University during Senate and House Appropriations Committee hearings in Harrisburg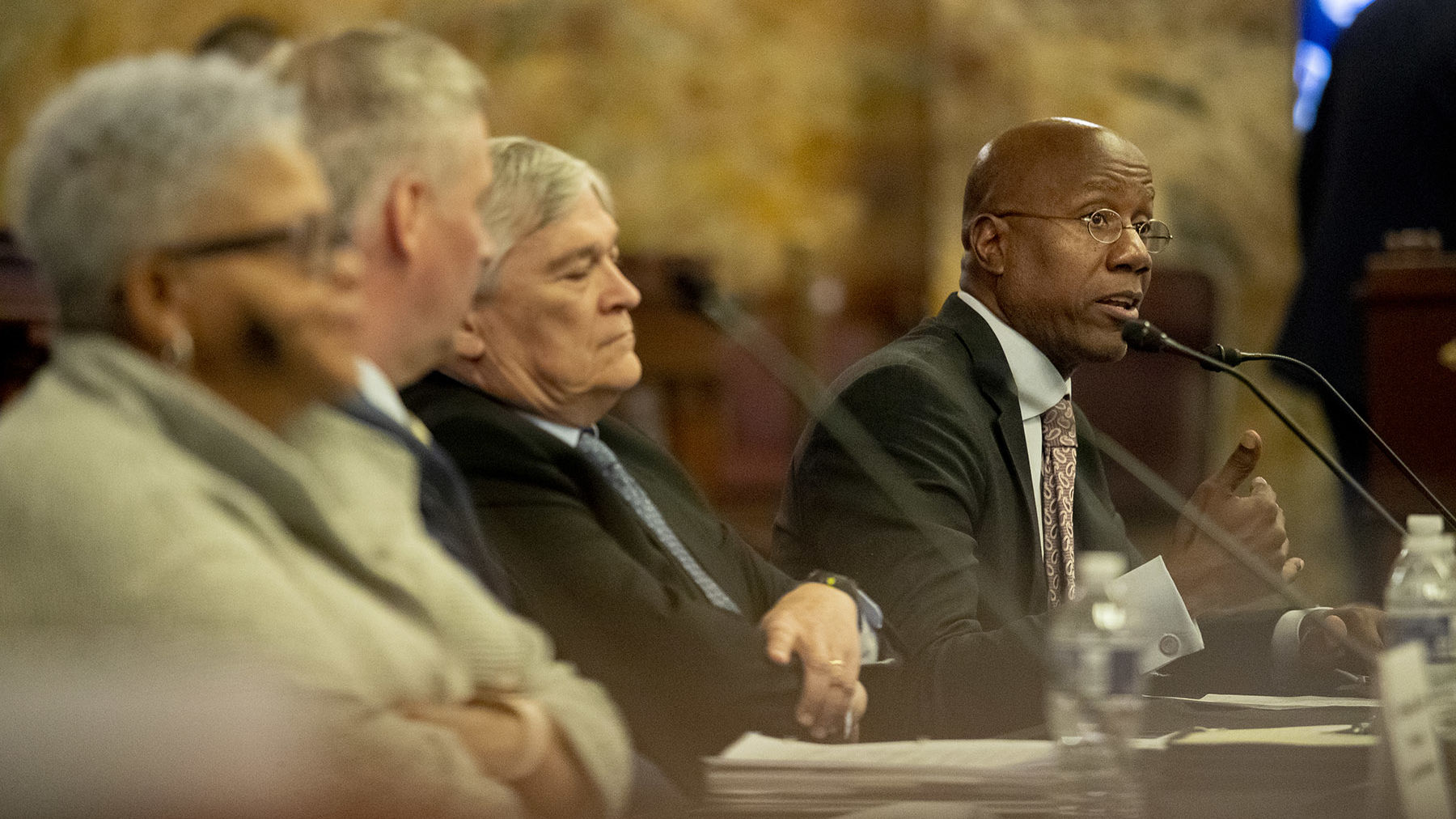 Temple University President Dr. Jason Wingard advocated on behalf of Pennsylvania's state-related institutions during two separate hearings in Harrisburg this month. 
On Thursday, March 3, he made the case for continued commonwealth support during the Senate Appropriations Committee hearing before testifying in front of the House Appropriations Committee on Tuesday, March 8.
The Commonwealth appropriation for Temple this past year was $158.2 million, and it has remained flat for three years. However, Gov. Tom Wolf has proposed that Temple receive a 5% increase for the 2022–2023 academic year. 
In prepared remarks that were provided to all of the legislators in attendance, Wingard outlined the significance of the state appropriation. Each year, Temple effectively doubles the appropriation to provide every in-state resident a tuition discount of more than $13,000. The proposed increase is key to ensuring that in-state students continue to reap the benefits of that discount.
"We want to give our residents in Pennsylvania the highest-quality education at the best price possible," Wingard said during the Senate hearing. "And we're competing with other states in the process of doing that. And so, we can live with 5%, but we can do better with six."
On Tuesday, while advocating for the university in the House of Representatives Chamber, Wingard emphasized the importance of diversity at Temple. This fall, Temple welcomed its most ethnically and geographically diverse class of students in 25 years. 
Nearly 45% of Temple's Class of 2025 are students of color—up from 31% just five years ago—representing the largest student of color community at Temple in at least 25 years. Temple experienced a 23% increase over last year in first-year Black students, with 831 enrolling, and a 4% increase in Hispanic/Latinx/Latine students, with 458 enrolling. Both increases mark the largest Black and Hispanic/Latinx/Latine first-year student communities that Temple has welcomed in at least two and a half decades.
Wingard outlined how a commitment to diversity, equity and inclusion goes beyond just recruiting a diverse student body. It requires commitment to those students during their tenure at Temple.
"It's core to our mission at Temple University: equity and access," Wingard said. "We're investing in making sure that students have the tuition rate they're looking for, that it's competitive against our out-of-state peers and we're making sure that we're investing in each one of them on a person-to-person basis to make sure that they have all the resources to have a high-quality experience during their four years here."
In the same hearing, Rep. Stephen Kinsey, who serves the 201st Legislative District located in Philadelphia County, brought up campus safety, which has become a key issue as gun violence has surged in both Philadelphia and the country.
Wingard described how the university is putting its full energy into increasing safety and helping the city find solutions to reduce violence. Temple has partnered with the former commissioner of the Philadelphia Police Department Charles H. Ramsey, who will audit all of Temple's current campus safety services. Wingard also recently announced the creation of a Task Force on Violence Reduction, one of many efforts designed to enhance the safety of the Temple campus and North Philadelphia community.
The day's hearing closed with a question from Rep. Patty Kim of the 103rd Legislative District located in Harrisburg. Kim thanked Wingard for helping to keep students safe during the COVID-19 pandemic, and she then asked about mental health.
"Mental health is the biggest crisis that we are facing on campus, and it affects everything that we're doing now, at the student level, at the faculty level," Wingard said. "We are working feverishly to be able to invest in an infrastructure that can provide the [necessary] level of [mental health] support. We are well on our way, and we're getting lots of support from corporations and philanthropic dollars, and we're also allocating more of our budget toward it."
An example of this is the creation of the universitywide Task Force on Mental Health and Wellness, which was recently formed to examine and assess the university's existing mental health and wellness infrastructure and programs, evaluate the infrastructure and programs at other peer and aspirational universities, and develop recommendations concerning the mental health and wellness needs of the Temple community.