Marion Parker has spent 50 years at Temple changing lives one job offer at a time
Parker was hired by the university in 1972 and has spent the majority of her Temple career working in human resources.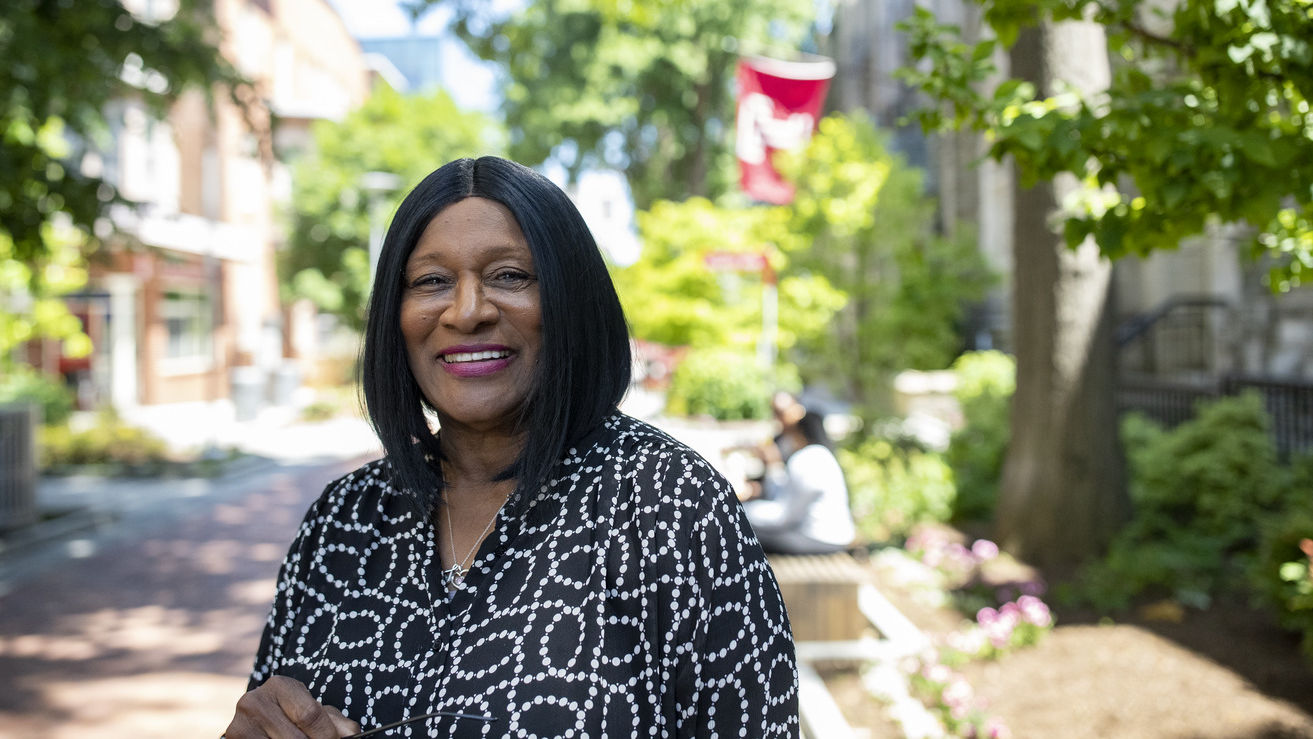 For nearly 30 years, the name plate on Marion Parker's desk has read "recruiter" or "talent acquisition specialist." But titles aside, Parker will tell you that her position is about transforming peoples' lives by offering them a job at Temple University. 
"The most impactful thing about what I do is picking up that phone and offering someone a position," Parker said. "Hearing that person scream on the other end and tell me how long they've been waiting to be a part of the Temple University family, I'll never forget that." 
Parker has been working in human resources for the university since 1994, but her time at Temple dates back to 1972. She had just finished business school and was looking for an administrative position when she was hired by Temple. She worked in various roles including posting coordinator and administrative assistant before finding a home in human resources. 
Parker was honored for her career at Temple during last Friday's 20 Year Club ceremony at the Liacouras Center. The annual event recognizes active full-time, nonfaculty staff members who have completed 20 years of continuous service at Temple. The event also recognizes 20 Year Club members celebrating anniversaries in five-year intervals after their initial membership in the club. Twenty Year Club members are awarded a pin commemorating their service and are invited back to each year's ceremony. As a 50-year member, Parker is one of the university's longest-tenured staff. 
When asked about what has kept her working for the university all this time, Parker has a simple answer: the people. 
"Temple University, it's a family," she said. "People say, '50 years, how did you do it?' But I said it wasn't hard. When I come in in the morning, I see a smile. When I leave, they say goodnight." 
Parker speaks highly of the coworkers and colleagues she's worked alongside and reported to during her career. The people she worked with pushed her to come out of her shell and expand her capabilities. One of her former supervisors, Sharlita Brown, made a particularly big impact on Parker's career development. 
"I don't think I'd be doing this interview if it wasn't for Sharlita," Parker said. 
Parker has enjoyed her time at Temple not only because of the people she's worked with, but also thanks to the people she has hired. Offering positions to people who serve Temple, like housekeeping and Campus Safety staff, is a rewarding and important part of her job. 
"Housekeeping is special to me," Parker said. "I'll always remind them that they are the most important people here, because when we walk in in the morning, we walk into a clean facility. And campus police are important to me as well. Our safety is their number one priority, and they take care of us." 
After spending 50 years at Temple, Parker has witnessed firsthand how the university transforms the lives of its faculty and staff. 
"A lot of the people that I have hired have children who took advantage of the tuition remission that we offer. They stop by and tell me their children have graduated from Temple," Parker said. "Some of the people I helped get employed by Temple never had health benefits, and we were able to afford them a health benefit package for themselves as well as their family. And that's a good feeling."