Temple and Philadelphia honor Sergeant Christopher Fitzgerald with a street renaming ceremony
A street renaming ceremony was held at the 1700 block on West Montgomery Avenue on Thursday, June 15, 2023, to honor and celebrate the life of Sergeant Christopher Fitzgerald. Hundreds of community members, Temple University staff and faculty gathered with members of the Fitzgerald family, the Temple Police Department, the Philadelphia Police Department and the Philadelphia City Council. 
The Temple and Philadelphia police departments, elected officials, family, friends and hundreds of Temple and North Philadelphia community members gathered on Thursday, June 15 to memorialize the life and legacy of Sergeant Christopher Fitzgerald, a devoted father and fearless public servant.  
"This street is appropriately called Christopher Fitzgerald Way because in his life he showed us the way to support and invest in our law enforcement, take care of a community and love all of our neighbors no matter what they looked like," Governor Josh Shapiro said as he addressed the hundreds of attendees. "When people walk down this block, they will see Chris' name, the name of a hero, someone who was the best of us. And they will be reminded of the work that he did every single day in this community." 
Sergeant Fitzgerald, 31, was a beloved community member and Temple University police officer who lost his life when he was shot and killed in the line of duty in North Philadelphia on Feb. 18. He was a father of four children, Giselle, Julian, Armani and Autumn, and husband to Marissa. His father, Joel Fitzgerald Sr., and his mother, Pauline Fitzgerald, both had law enforcement careers.  
Fitzgerald joined the Temple University Police Department in October 2021 and left a lasting impact on many of his colleagues and community members who knew him well. It was this impact that led Leroy Wimberly, a fellow police officer in Temple's Department of Public Safety, to action. 
Wimberly was determined to keep Sergeant Fitzgerald's memory alive, so in March he came up with the idea to rename the 1700 block on West Montgomery Avenue "Christopher Fitzgerald Way." He called Senator Sharif Street, who helped him draft a petition to rename the street.  
Wimberly pounded the pavements surrounding Temple's Main Campus with the petition in hand for weeks. He and his colleagues were all tears and high fives when they received the news during a live broadcast that Philadelphia City Council approved of the street renaming after the petition received more than 1,000 signatures.  
"It shows that people really cared about Chris, and I wanted to do something big in his honor to keep his memory alive," Wimberly said. "Chris was caring, thoughtful and a great young man.  
"He truly took pride in being a police officer and was always willing to give his life in making the community safe," he added. "He worked hard and was inspiring for young people." 
With 16 years of experience as an officer in the Temple Department of Public Safety, Leroy Wimberly covers the footprint of Temple's Main Campus and serves as a source of safety for the North Philadelphia community. (Photography by Ryan S. Brandenberg)  
 In addition to Governor Shapiro, elected Philadelphia city officials, including Mayor Jim Kenney; Council President Darrell Clarke (D-5); State Senator Street (D-3); and state representatives Donna Bullock (D-195), LAW '03, Malcolm Kenyatta (D-181), KLN '12, and Amen Brown (D-10); and Philadelphia Sheriff Rochelle Bilal each addressed the Fitzgerald family during the street renaming ceremony.  
Pennsylvania Governor Josh Shapiro was elected as the commonwealth's governor in November 2022 after serving as attorney general. (Photography by Ryan S. Brandenberg)  
Philadelphia Police Corporal Theresa Brooks, who 13 years ago worked alongside Police Chief Fitzgerald Sr. in the city of Philadelphia, was recognized with an award by Senator Street for springing into action after hearing fatal gunshots and apprehending the two teens who had been with the suspect. Her heroic acts that day led to the arrest of the suspect.  
"There's no greater honor that a family can have than to have people coalesce from all different walks of life, faiths and parts of our great city of Philadelphia to honor our son, Christopher, for doing what we taught him and doing the job that every one of the police officers that are seated and standing in the audience here do every day," said Fitzgerald Sr. 
"Those over 1,000 signatures on the petition that the City Council passed in record time to ensure that this block got renamed show that people in the community cared a lot about Christopher and support police officers. There are some qualities in this great city of Philadelphia that we are so proud to be from that should reinforce in your minds that the people in this city support you 110% no matter where they come from."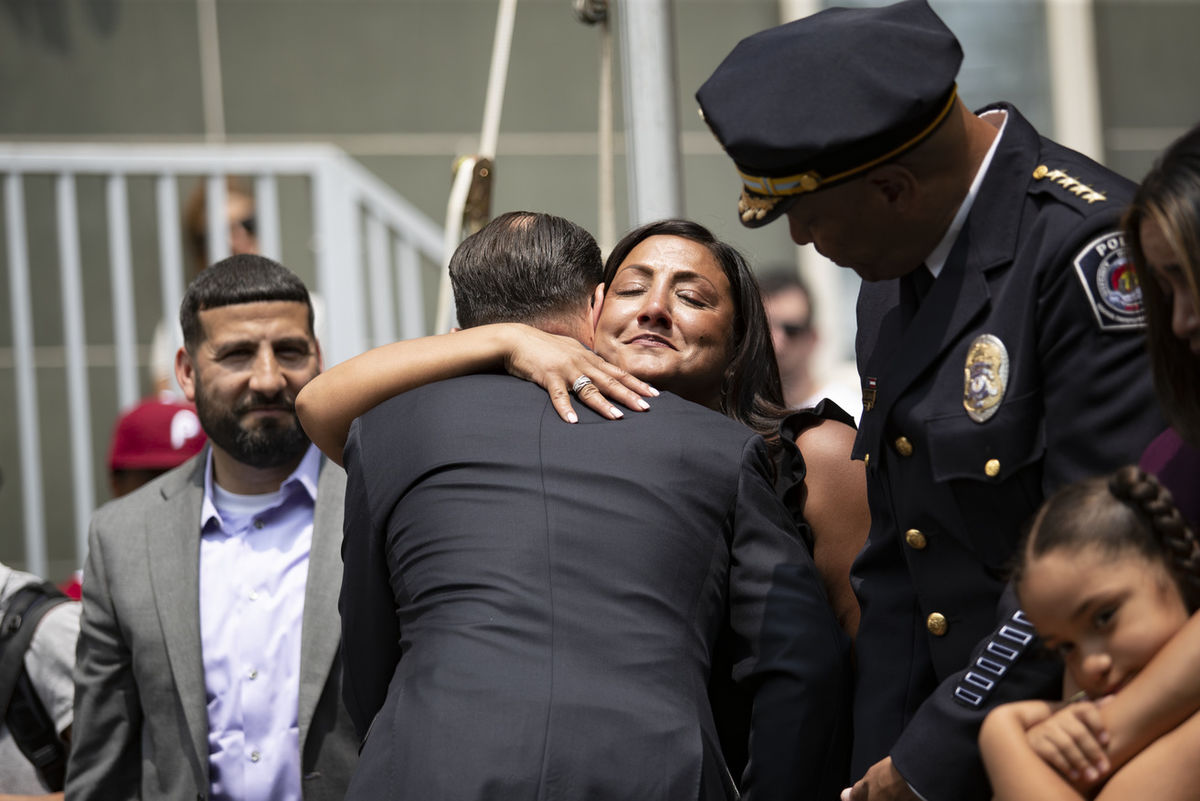 Sergeant Christopher Fitzgerald's father Joel Fitzgerald Sr. served as a police officer in Philadelphia for 31 years and a police chief in cities across the country, including Allentown. Christopher's mother, Pauline Fitzgerald, served the commonwealth and the Office of the Attorney General in Pennsylvania. (Photography by Ryan S. Brandenberg)  
 Acting President JoAnne Epps said, "Sergeant Christopher Fitzgerald had what his father called the spirit of service. He doted on his wife and children, but he also felt a responsibility to the children and families of North Philadelphia. He understood that to improve safety, the police needs to also partner with the community. He embodied the best of us, not just in what he said, but in how he lived every day. 
"We will never forget his sacrifice. He gave so much to Temple and the city of Philadelphia. His street sign ensures that he will be forever remembered as a hero," she added.