Vendor pad rehab marks final stage of the East Gateway project
Temple University's 12th Street Vendor Pad, affectionately referred to as "the Wall" by students, is currently undergoing a major facelift. The newly renovated outdoor dining area will be open when students return this fall.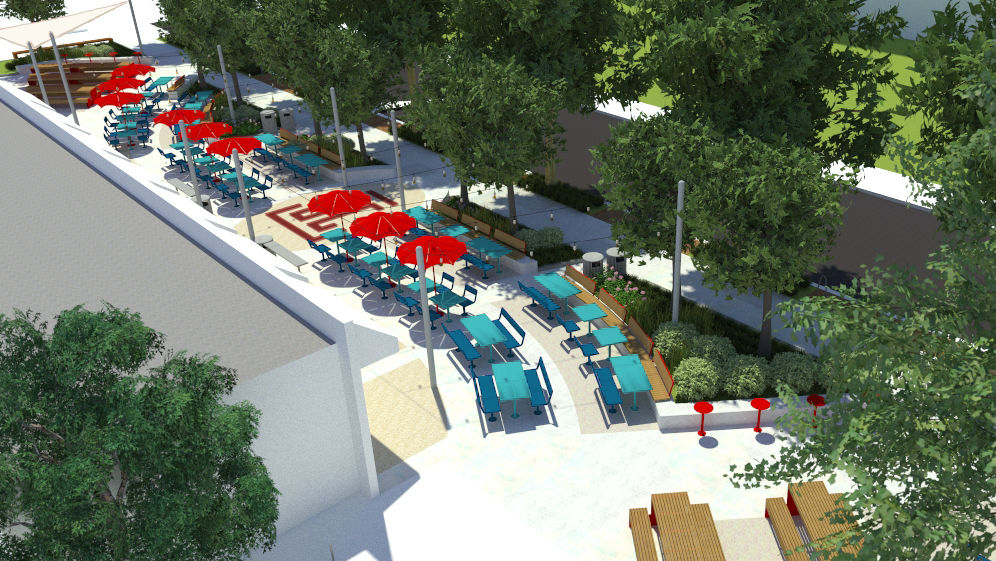 Temple University students, faculty and staff have had to forgo their favorite ice coffees and sausage, egg and cheese sandwiches for a bit this summer. Pretty soon, however, they will be able to enjoy those same delicacies from Richie's Deli, but in the presence of a much better backdrop. 
Temple's Project Delivery Group—which manages the design and construction of new capital projects and renovations—is currently completing the final piece of the East Gateway project. The group is getting ready to put the finishing touches on the renovation of the 12th Street Vendor Pad, an area affectionately referred to as "the Wall" by Temple students. The lead designer for the project is Viridian Landscape Studio and the general contractor is Anthony Biddle Contractors Inc. 
"This is one of the many master plan improvements that was planned and budgeted as part of the Mazur and Gladfelter Terrace project," said James Templeton, assistant vice president and university architect for the Project Delivery Group. "It had been delayed for a bit because one of the challenges is that we can't shut the vendor pad down for more than a few months at a time. We're ready to implement it now, and it is really going to transform the experience of the vendor pad itself." 
The newly-renovated space, which will be completed and open in time for the start of the fall 2023 semester, will offer a number of new seating options. All of the pad's vendors, including Eddie's Pizza, Fame's Pizza, Richie's Deli, Orient Express and Tai's Vietnamese, are expected to be back and open by this fall, as well. 
Picnic tables will again be a part of the dining experience, but smaller seating areas will also be available for groups of four and two. Individual seating will be available as well. The new space will also feature an area akin to a bar setting. Brand new, outdoor festoon lighting is also being installed. 
"We have really focused on creating a variety of gathering areas for students to grab their food and sit with friends or sit by themselves," Templeton said. 
In picking furniture for the new space, the Project Delivery Group collaborated directly with the vendor pad's tenants. Through this consultation process, they identified the vendors' needs, which helped inform the proposed seating for the new space. 
"What we feel we have done is create a really impressive outdoor dining experience that hasn't been seen on campus before," Templeton said. "The design is very unique, in that it still encourages people to go up to the newly built terrace, but it also ensures that there is a great experience down below, as well." 
There hasn't been a major renovation to the space since it originally opened almost 30 years ago, and the existing picnic tables will be repurposed to create additional outdoor social experiences on campus. 
The project also will create additional landscape areas on the site, which will help with stormwater management. It has also been designed to work around and maintain the existing trees in the area. Aside from the removal of two to three trees that are toward the end of their life, all trees will remain intact. The few trees that will be removed will be replaced, as well. 
"We're just really excited about this project," Templeton said. "We think it's going to transform that part of campus even further than what we have already seen. And then, when you couple that with the new Paley Hall, you are going to see such a dynamic transformation for 12th Street. There will be something for everyone once this project is complete."