Bob McQue celebrates over 50 years of Temple Police service
Officer McQue has spent most of his career protecting and serving the Ambler Campus community as a Temple police officer.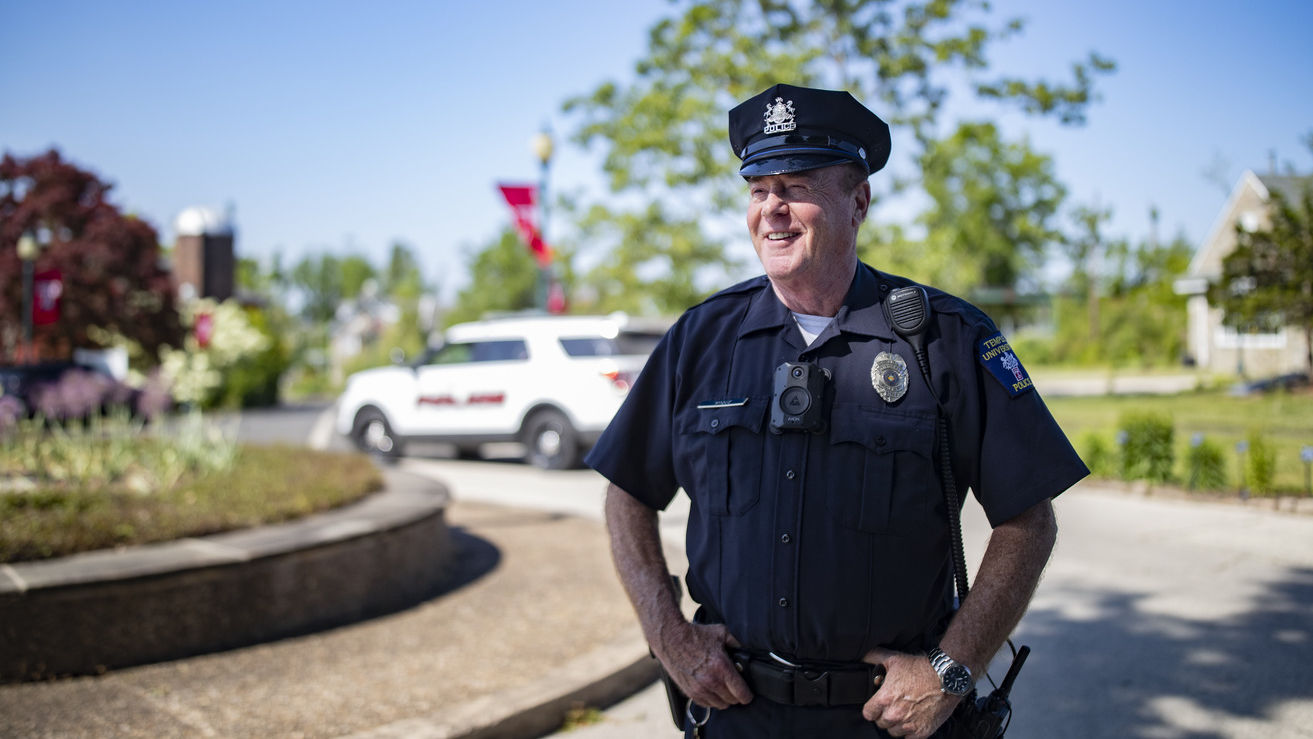 Bob McQue still remembers the exact day, more than 50 years ago in the fall of 1972, when he was offered a position with the Temple University Police Department. 
"I had gone in for an interview, and the folks at Temple said they would get back to me," McQue recalled as he sat in the driver's seat of his patrol car. "A little while later I heard from the university. They called me and asked if I'd like to start on Sept. 9. And I'm still here." 
McQue began his career stationed on Main Campus. He held that position until 1979, when he was transferred to Temple's Ambler Campus. He has been at Ambler ever since, patrolling the campus and providing assistance wherever it is needed.  
"If people have questions, if they're not sure where to go, I help them out. When we have events up here, I help with those," McQue said. "I basically show a police presence on the campus. Everybody loves that." 
When people ask why I've stuck around so long, I tell them it's because I enjoy the atmosphere. I enjoy the campus. I enjoy the people here. That's why I'm still here.
-- Bob McQue
McQue was recognized for his more than 50 years of service during June's 20 Year Club ceremony at the Liacouras Center. The annual event recognizes active full-time, nonfaculty staff members who have completed 20 years of continuous employment at Temple. The event also recognizes 20 Year Club members celebrating anniversaries in five-year intervals after their initial membership in the club. Twenty Year Club members are awarded a pin commemorating their service and are invited back to each year's ceremony. McQue is one of just five current staff members who have spent 50 years or more at Temple. 
Some of his earliest memories working for Temple involve working the summer music festival that used to be held at Ambler Campus. The annual event attracted large crowds and featured popular acts of the day, like Kris Kristofferson, Rita Coolidge and Harry Chapin. 
As the decades passed, McQue witnessed firsthand the many changes that Ambler Campus has undergone, none more stark than the aftermath of the tornado that passed through campus on Sept. 1, 2021.  
He remembers the chaos around campus and giving aid to the students, faculty and staff at Ambler at the time, including the cadets training at Ambler's Law Enforcement Training Center. 
"Nobody really knew what to do. A lot of the cadets were stuck here on campus, and we helped them get off campus safely," McQue said. "The roads were closed. It was pretty hectic at the time." 
Helping the Ambler community and working alongside the campus' faculty and staff have made it easy to enjoy such a long career, McQue said. 
"The most rewarding part of my job is just helping people. This is more of a service-oriented campus up here," he said. "When people ask why I've stuck around so long, I tell them it's because I enjoy the atmosphere. I enjoy the campus. I enjoy the people here. That's why I'm still here."