Temple to launch TUSafe app Aug. 14
The new TUSafe app will replace RAVE Temple Guardian as the university's one-stop personal safety mobile app.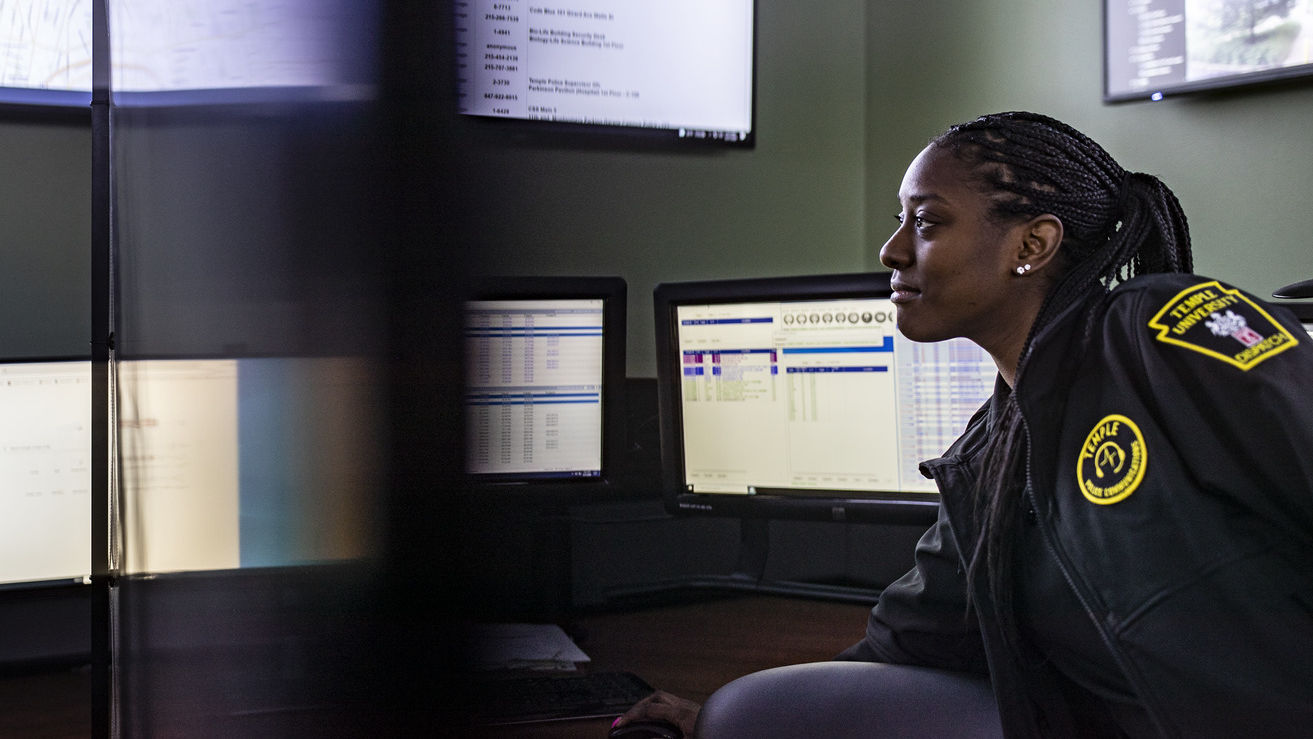 Later this month, Temple University's Department of Public Safety will launch the TUSafe app, a one-stop personal safety app that will be available via mobile device. TUSafe, which will launch Monday, Aug. 14, will ultimately replace RAVE Temple Guardian, which has been the university's personal safety app of choice since February 2022. 
The new TUSafe app includes enhanced features such as the ability to link to new key resources within the app. It also retains all of the features that were available in RAVE Temple Guardian, including the ability to chat with Temple Police, call Temple Police, call 911 or start a virtual safe walk. Users are also able to report crimes; provide emergency contacts; access real-time tracking for Flight, Temple's fixed-route shuttle loop service that transports students around the Main Campus patrol zone; and access the university's walking escort service. 
The move from RAVE Temple Guardian to the new TUSafe app was decided earlier this year when RAVE announced that it had purchased AppArmor, an app with many more features than Guardian. Temple students, faculty and staff will still be able to access RAVE Temple Guardian through at least the end of September 2023. 
"RAVE, the company we use for TUalerts, notified us in January about AppArmor which they recently acquired," said Gene Mayro, director of information technology at Temple. "We worked closely with the AppArmor/RAVE team to develop TUSafe and make sure that it works with the TUalert system." 
To add the TUSafe app, users must first download the application to their mobile device. Search "TUSafe" in the Apple App Store for iPhones or Google Play Store for Android phones. Once installed, log on with your AccessNet username and password. 
The move from Guardian to AppArmor came following months of research undertaken by Nicola Mammes, the university's former director of emergency management. Mammes met with her counterparts at other peer institutions to gain a better understanding of AppArmor and its functionality. 
Boston College; Princeton University; New York University; The University of California, Los Angeles and Virginia Tech are a few of the universities who have had success with the app, personalizing it for their institution as Temple has. 
"Nicola spoke with her counterparts at schools like Princeton and NYU, and they said they have had a lot of success with the app," Mayro said. "We plan to stay in touch with some of these universities moving forward and will continue to share best practices with regard to AppArmor." 
To help encourage the Temple community to move from RAVE Temple Guardian to TUSafe, Information Technology Services will be sending push notifications directly to Guardian users, encouraging them to download the new app. 
"We are happy to enhance a safety resources for our Temple community with the TUSafe app, and we encourage everyone to download it and become familiar with its capabilities," said Jennifer Griffin, vice president for public safety. "We were able to keep all the features of RAVE Temple Guardian, while adding several features that our community requested like a one-touch panic button, flight maps and more options to interface with Temple to request walking escorts, report a crime tip virtually and add campus maps. This app has the ability to keep Temple students, faculty and staff connected to public safety and resources, but for that to happen, our community members have to take the first step in adding the app to their mobile devices." 
For more information on TUSafe, please visit the university's Public Safety website for the new application. If you have any questions regarding the use of the app, contact Information Technology Services. Additional details on how to use the app are also available here. TUSafe is only available at Temple's Pennsylvania campuses.