With summer on the horizon, Temple University shares updates on public safety
Following the release of the 21CP Solutions report, the university continues to pursue important initiatives and works to improve police officer recruitment and retention. Philadelphia City Council President Darrell Clarke also recently introduced a resolution that calls for the creation of a Temple-Community Safety Partnership Zone and a Response Resource Task Force.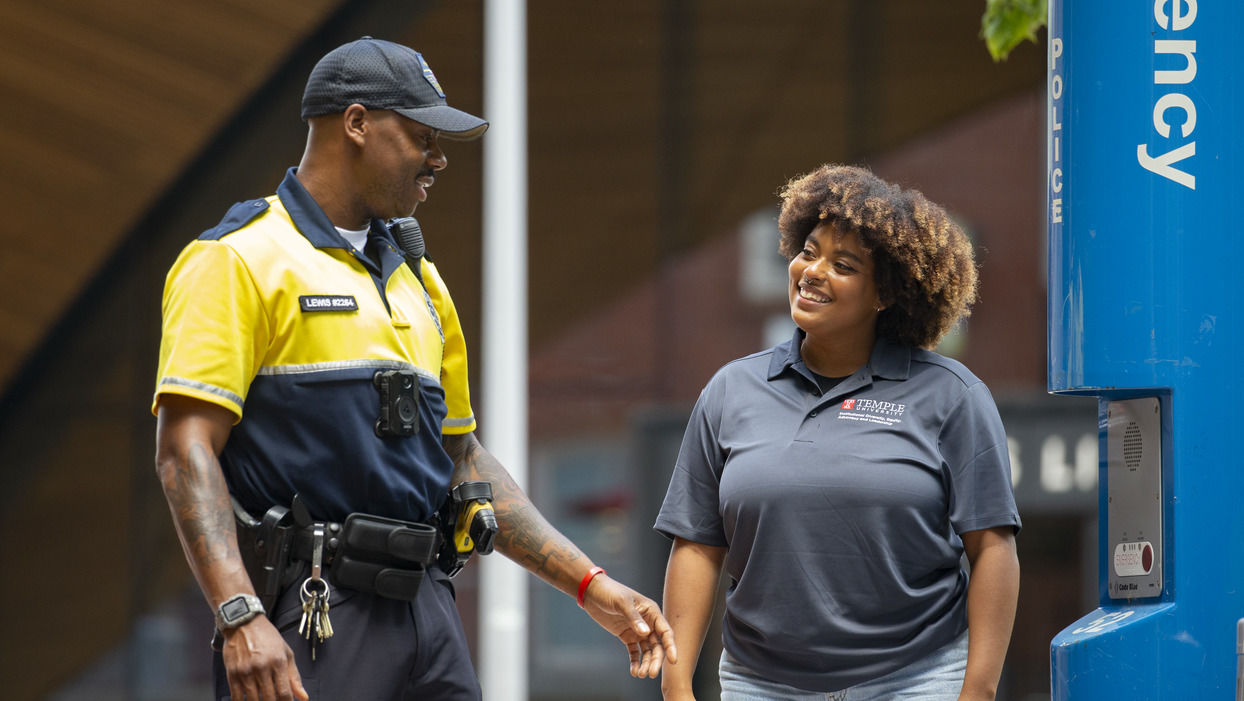 Earlier this spring, former Philadelphia Police Commissioner Charles Ramsey and his team at 21CP Solutions released their report on the independent audit of Temple University's Department of Public Safety. 
In addition to efforts made prior to the report's release, the university continues to review and implement many of the recommendations from the report as it addresses the challenges related to campus safety. 
One of the primary findings of the 21CP report and the Temple University Violence Reduction Task Force was that Temple should serve as the main convener in bringing key stakeholders together to address the issue of violence in North Philadelphia. To that point, just last week, Philadelphia City Council President Darrell Clarke introduced a resolution that calls for the creation of a Temple-Community Safety Partnership Zone and a Response Resource Task Force. 
"The 21CP Solutions report noted that because of the deep expertise of our faculty, the university has the ability to lead a wide-ranging, collaborative effort to enhance public safety in our campus community," Temple President JoAnne Epps said. "We applaud and are deeply grateful for the City Council's introduced resolution as it sets exactly the right tone for Temple and our partners to move forward to have a real and lasting impact on reducing violence and improving the quality of life in North Philadelphia." 
Under the leadership of Vice President for Public Safety Jennifer Griffin, the Temple University Department of Public Safety has also been working to implement operational improvements as well as 21CP recommendations. As a result of efforts by the Department of Public Safety and many others, the university has seen marked decreases in violent crimes within its patrol zone year over year. Despite this overall positive trend, we remember the loss of Sergeant Fitzgerald and, in his memory, remain steadfastly committed to working to further reduce crime and violence. 
In the weeks to come, the university will launch an online dashboard on our public safety website which will be used to track the progress of the Department of Public Safety and its many initiatives moving forward. 
Update on crime incidents 
The following TUPD statistics provide detail regarding the Main Campus patrol zone and include crimes reported to, responded to and documented by TUPD. Campus patrol boundaries are from Susquehanna Avenue south to Jefferson Street, and from 9th Street to 18th Street, with the exception of 13th to Broad streets, where the southern boundary is Girard Avenue. 
When comparing the period of Jan. 1-May 31, 2022 to Jan. 1-May 31, 2023: 
Robberies decreased from 28 to 26 
Aggravated assaults decreased from 31 to 18 
Motor vehicle thefts decreased from 21 to 18 
Burglaries increased from 7 to 9 
"We have said this time and time again, but campus safety is truly our No. 1 priority," said Ken Kaiser, senior vice president and COO. "When we brought on Dr. Griffin as our first vice president for public safety last summer, it was because we felt it was important to elevate the role of the department. Dr. Griffin has only been here for a little over nine months, but she has already made an undeniable impact. We could not be more pleased with her leadership and overall commitment to campus safety at Temple."
PCCD Grant 
Late last month, the Pennsylvania Commission on Crime and Delinquency's (PCCD) School Safety and Security Committee approved the launch of a statewide evaluation initiative, which will be used to gauge the effectiveness of programs funded through the PCCD that are designed to reduce gun violence. 
The initiative will be supported by a new partnership between Temple and the University of Chicago's National Opinion Research Center (NORC), who together were approved for an award of up to $2,792,862 in federal VIP funds to support these efforts. 
Over the next two years, Temple and NORC will work closely with the PCCD to develop a process evaluation, implementation study and outcome evaluation, which together will be used to measure the effectiveness of violence intervention and prevention grants. 
Update on police officer recruitment and retention 
One of the key themes to emerge from the 21CP report was the importance of recruitment and retention of police officers, which remains a challenge for police agencies across the country. 
"As Commissioner Ramsey and so many others have articulated, recruitment and retention of high-quality police officers is really difficult in our current environment," said Sharon Boyle, vice president for human resources. "We know that we need to be doing more, and for that reason, we reached out to leadership of the Temple University Police Association (TUPA) in February to discuss additional compensation, even though TUPA and the university had just agreed to a new four-year contract in June 2022." 
The university's latest proposal, which is currently being reviewed by TUPA, would further increase salaries, provide enhanced benefits, signing and retention bonuses, incentivize lateral recruitment, and begin implementing increased contributions to retirement accounts above the existing level of 8.5%.  
TUPA's current salary and benefits package is already on par with or exceeds that of every other university law enforcement agency in the City of Philadelphia. This new proposal along with the increased salary and benefits package puts Temple on par with the Philadelphia Police Department, as well. 
The Department of Public Safety currently has open job postings for lateral police officers and new academy recruits. The new academy recruit testing process will occur in July at the conclusion of the open posting. Two trainees are also currently in the Philadelphia Police Department Academy and set to graduate this fall. 
Equipment upgrades 
Numerous equipment upgrades also are underway throughout the Department of Public Safety. By the end of June 2023, all officers will have been assigned new upgraded tasers, and a new handgun, the Glock Gen5, is currently being distributed. Four new patrol vehicles were added in early 2023, two more have been ordered and six new medical trauma bags with oxygen are being assembled to outfit all patrol vehicles. The Department of Public Safety is also in the process of ordering six more automated external defibrillators. 
In addition to the traditional bullet proof vests that all police officers are issued, we have also ordered outer uniform bulletproof vest carriers which reduce the load of weight on officers' belts reducing pressure on the lower back. These new carriers have been individually measured for each officer and are being custom made and delivered in batches as soon as they are received. A bulletproof vest demo by Atlantic Tactical is being scheduled for this summer to demonstrate vest protection capabilities. 
Department reorganization 
The Department of Public Safety has been completely reorganized to help increase the professionalism, training and organizational development of the department to better serve the Temple University community. There are currently 15 positions, including 10 new positions to bring about these goals. 
Three of those positions are filled with new employees who joined the department on Monday, June 5. These include Deputy Director of Organizational Affairs Michael Smith, Director of Tactics and Professional Development Chris Willard and Associate Director of Organization Administration (HR) Amber James. 
As part of the reorganization, five police officers have been relocated from the Ambler campus to Main and Health Science campuses. We also have a designated police officer who is responsible for checking in and supporting operations in the residence halls. This ensures that the safety protocols and personnel working at the residence halls have additional support and an additional direct conduit to the Department of Public Safety while we are in the process of adding turnstiles for additional security at several locations. 
This July, the Department of Public Safety will also launch a new pilot program of 12-hour shifts. Through this program, police officers will work 15 12-hour days per month, with every other weekend as scheduled time off. Currently, officers work an 8-hour schedule where they work on average 21 days per month and receive a full weekend off every 13 weeks.