Temple partners with neighboring synagogue for citywide dialogue series
The Feinstein Center for American Jewish History and Congregation Rodeph Shalom present Broad Perspectives, a series of public conversations exploring divisions in our communities and society as a whole.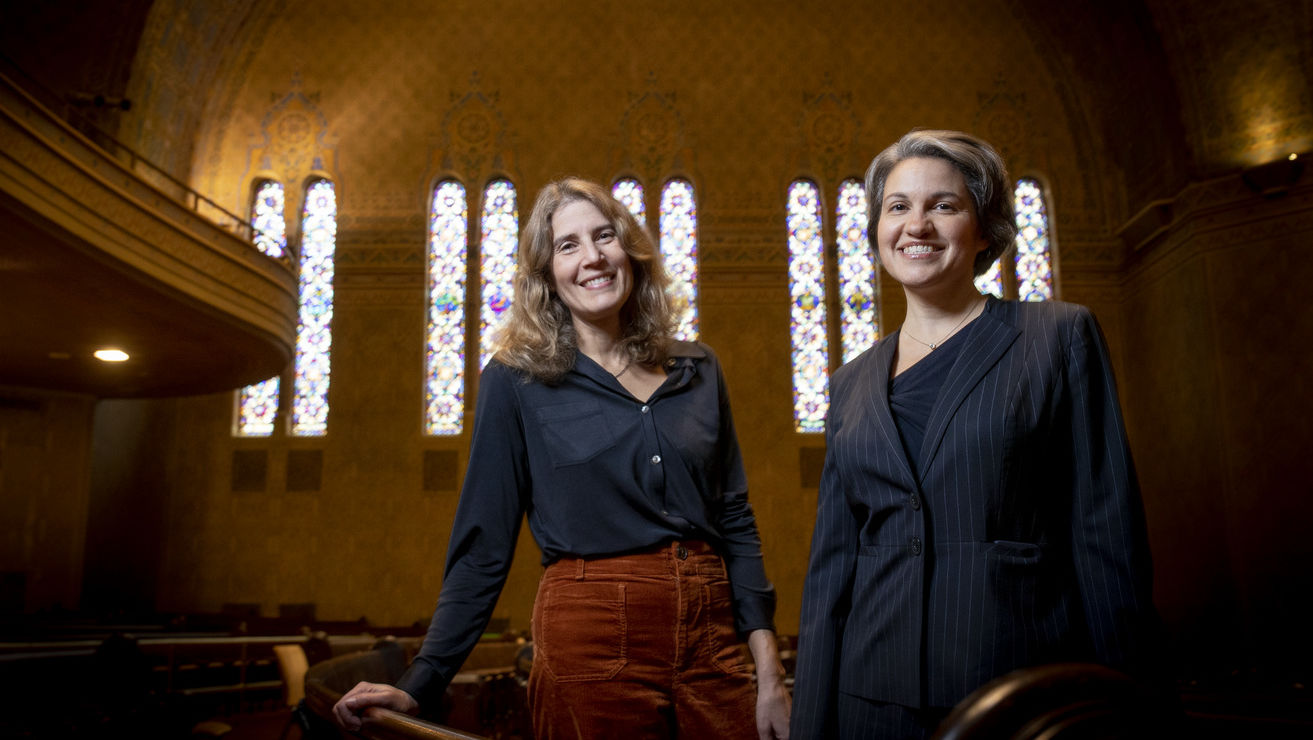 Both situated on North Broad Street, Temple University and Congregation Rodeph Shalom regularly encounter the injustice and inequities of city life. And they both see it as their mission to help bridge cultural and societal divides experienced in the neighborhood and beyond. 
As part of that shared mission, the university's Feinstein Center for American Jewish History and the synagogue have partnered for a new series called Broad Perspectives. It features public conversations with intellectuals, writers, experts and activists working to create a just and equal world.  
"I see this series as a different access point than the classroom," said Lila Corwin Berman, professor of history, Murray Friedman Chair of American Jewish History and director of the Feinstein Center. "We're going beyond our campus walls to engage with the larger community. We initiated the series to think of the most polarizing topics in American life and American Jewish life and to bring together people who are offering perspectives that we hope can help heal some of these divisions or at least get others to understand different views and talk to one another."
Broad Perspectives began in September on Selichot, the evening beginning the High Holy Day season, with an exploration of how diverse Jewish cultures and food signal Jewish time, led by chefs.
The next event on Nov. 2 invites the president of the Tenement Museum and a curator from the U.S. Holocaust Memorial Museum in conversation with Corwin Berman to examine the battlegrounds and common grounds of public history.
Two additional conversations are slated for the 2023–2024 academic year: one with a journalist about white supremacy on Feb. 21 and another with a scholar about free speech on college campuses on April 4, which will address polarizing topics affecting higher education institutions including the shockwaves of sadness, anger and conflict emanating from the massacre in Israel and the ongoing campaign in Gaza.
"Rodeph Shalom is a wonderful partner because it's a hub for people who are seeking both Jewish community and a spiritual experience and who are also open to intellectual challenges," said Corwin Berman.
"Our role at Rodeph Shalom is to be in conversation with the Jewish community and seekers in the city and region and to explore the issues that are important to us today and ways to apply Jewish values," added Rabbi Jill Maderer, senior rabbi of Congregation Rodeph Shalom. "This collaboration with Temple allows us to do both together as well as celebrate what it means to be in relationship with others in Philadelphia and help us be a creative and justice-driven city. It's always so energizing to collaborate with each other." 
Temple has partnered with the synagogue in the past as the Feinstein Center works with organizations across Philadelphia, supporting research and public programs to examine the history and experiences of American Jews. Broad Perspectives is the latest example.
"This series is one way to make good on Temple's mission of access to a larger community," said Corwin Berman. "We're providing our knowledge and becoming part of a community that has its own knowledge and vitality. And we're ensuring people in Greater Philadelphia know and appreciate Temple. We truly are the university of the city, and I see a series like this helping make that real."
Rodeph Shalom also recognizes the value of this series and partnership. "The fact that neither Temple nor Rodeph Shalom could exist anywhere else is a commitment and passion we share," said Maderer. "Being on that same leg of North Broad Street we see a lot of the same challenges, developments and potential. I sense there's even more potential in the relationship between our institutions."