Hero Temple University police officers reunite with West Philadelphia girl they helped deliver on North Broad Street 10 years ago
Ten years ago, two Temple Police Officers helped deliver a baby girl on North Broad Street. Now, she has a message for those officers.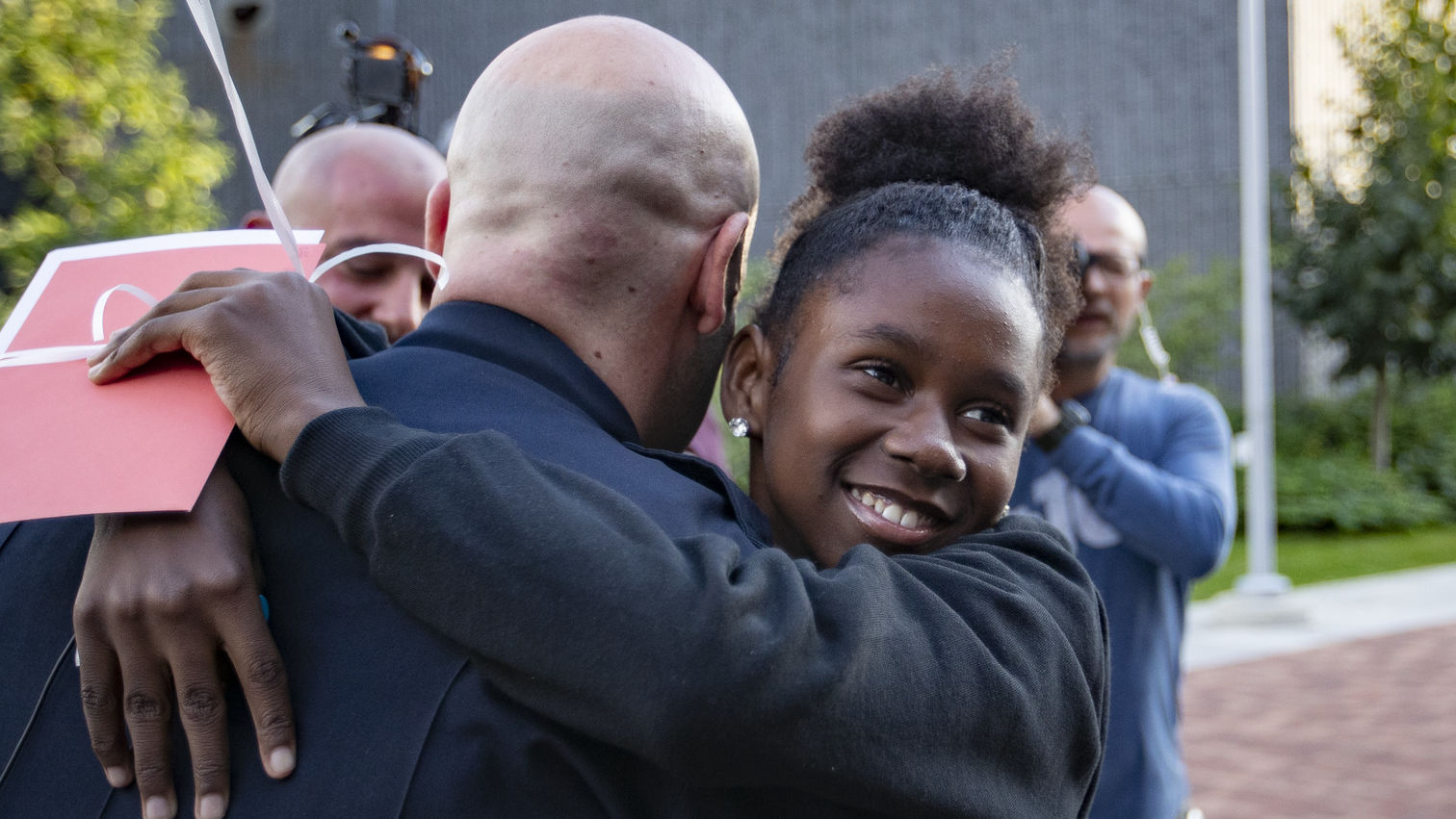 For the first time since two Temple police officers helped deliver baby Aamanee Young on North Broad Street a decade ago, the three reunited on a recently brisk Wednesday afternoon on Liacouras Walk.
"Helping to deliver Aamanee was the proudest moment in my years of policing," said Temple Police Officer Chris DeRose.
It was a dark and early morning in August 2013, when then 26-year-old Kamille Young of West Philadelphia was headed to the hospital while she was in labor two weeks early. Her soon-to-be daughter, Aamanee, couldn't wait another minute to meet her mother.
"Once I finally called my girlfriend to take me to the hospital, it was a little too late," Young said.
Former Temple Police Officer Justin Busam was working alongside Officer DeRose that night. Busam remembers seeing Derrick Reid, Aamanee's father, running in front of their parked patrol car and shouting, "My girlfriend is having a baby!"  
It happened at Broad and Oxford streets while they were on their way to the hospital. Busam was trained as a paramedic, and with DeRose, the two hero Temple police officers helped deliver Aamanee.
"She told us her baby was coming out, so we stepped in and did everything we could do to help," said DeRose. DeRose grabbed supplies while Busam went to work.  "God put you there for us," said Paulette Williamson, who had been driving the Young family to the hospital.
It was her car's backseat that became a makeshift hospital room.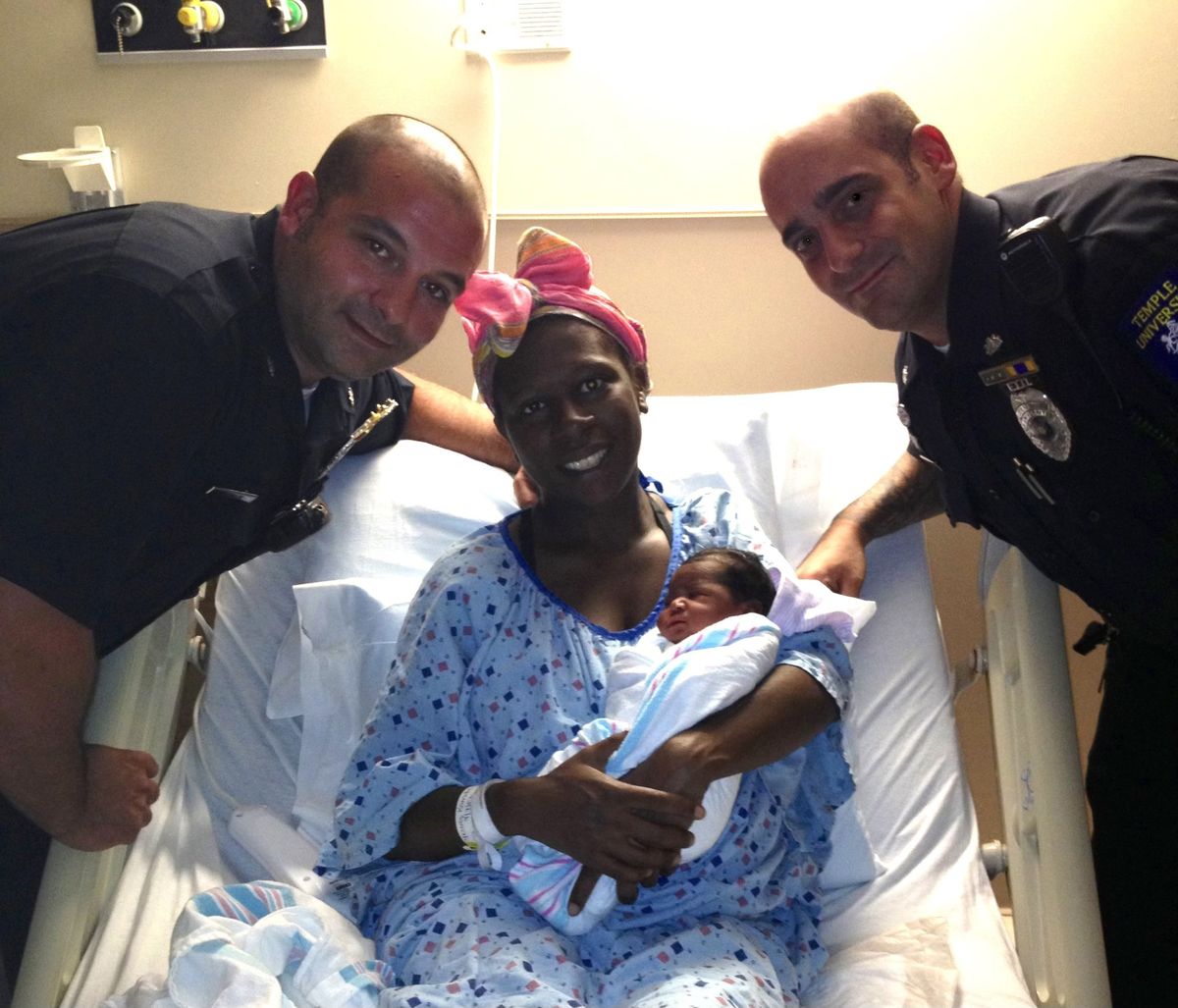 Temple Police Officer Christopher DeRose and former Temple Police Officer Justin Busam with Kamille Young and her daughter, Aamanee. (Contributed Photo)
"I still remember hearing the baby cry. It's so rewarding to see her today, 10 years later, happy and healthy," said Busam, who's now a police officer with the Southern Chester County Regional Police Department.  
"If you weren't there, I don't know what would have happened, but since you were there, it was a miracle," said Aamanee.
"More than half of all calls that Temple Police respond to do not involve Temple students or the Temple campus. This is just another example of Temple police officers serving our community," said Vice President for Public Safety Jennifer Griffin.
Aamanee was delivered weighing 6 pounds, 8 ounces, and full of joy. She and her mother were taken to Temple University Hospital, where, almost 24 hours later, Young was able to thank the hero police officers.  
Now, Aamanee is able to thank them, herself. The 10-year-old said she waited her whole life to do so.  
"Now, look at me!" Aamanee said. "Still special, got taller, and smarter!"
She gave each police officer a card to thank them, writing, "I will never forget this moment in my life."
Busam is an experienced law enforcement officer, but even he became emotional.  "To see her then and see her all grown up now, it's something. Me and Chris, when we do talk, we always reminisce about the times working on the street around here and the things that we've seen. This was, as partners, our biggest accomplishment. And it's a blessing that we were both able to come together and make this happen. I'm speechless about it," said Busam.