300 security cameras added in North Philadelphia following the launch of Temple University's security lights and camera grant program
More than 130 rental properties within the university's patrol zone have had security upgrades reimbursed by a Temple grant program launched a year ago.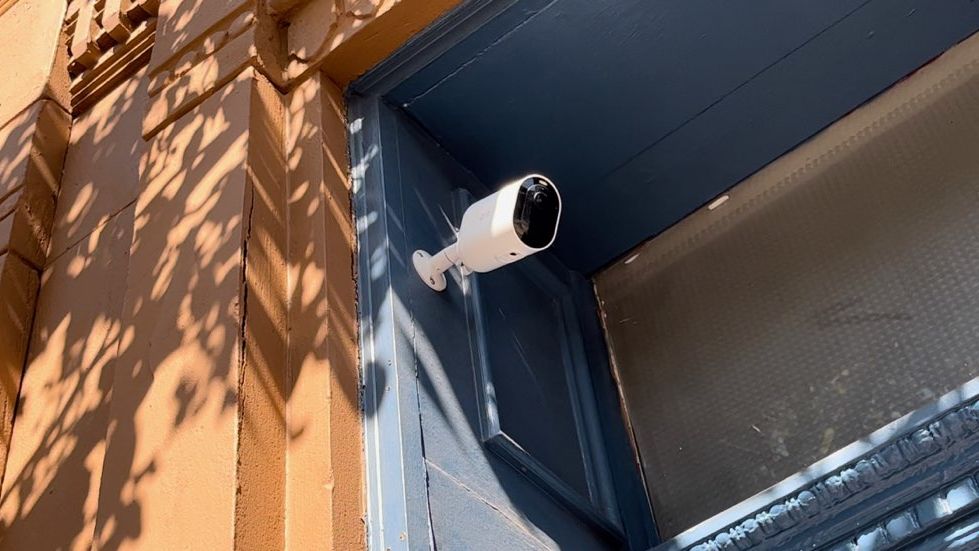 On a recent warm Wednesday afternoon, Bradford Jones walked around a rental property that he manages on the 1700 block of Diamond Street in North Philadelphia and pointed to one of several security cameras installed on the building's brown stone exterior. The property also has several flood lights to make the area brightly lit at night. 
"Those cameras and spotlights would not be here without the financial help of Temple University," Jones said. 
The cameras and security lights were purchased with the help of a grant program that was created by Temple University in March 2022. The grant program reimburses landlords for the cost of buying and installing security equipment at privately owned rental properties within the university's patrol zone. 
Since the program was launched, more than 130 properties have seen security upgrades, totaling about 300 additional security cameras and even more floodlights, according to Langston Huzzy, who oversees the program in his role as director of administration for the Office of the Senior Vice President (SVP) and Chief Operating Officer (COO).
"There are now hundreds of security cameras and flood lights placed in areas where students live off-campus that would not otherwise have these additional security measures," Huzzy said. "Because of Temple's grant program, many off-campus rental properties, especially on the west side of Broad Street, are safer."
Jones, the property manager, agreed with that sentiment. 
"I manage multiple properties that have been here for decades, but we never had security cameras because of the financial cost. When I heard about the program, I jumped on it as soon as it opened up," Jones said. 
He added that, through the program, he bought cameras for two buildings' front, side and rear. 
Temple's SVP and COO, Ken Kaiser, created the grant program following a Campus Safety Survey by Temple Student Government. The survey found that safety concerns increase the farther students get from the center of campus and campus buildings. While 81% of respondents living in university-owned residence halls reported feeling safe in their area of residence, 56% of respondents living in private housing on or near campus reported feeling safe. 
The concern for lights and cameras was also raised during a parent safety forum that Kaiser hosted with Public Safety officials, he said.
"We listened to the Temple community, stepped up and took immediate action. I'm pleased to see the success of the program," Kaiser said. 
Security lights and cameras add another layer of safety equipment on campus, said Vice President for Public Safety Jennifer Griffin. Increasing these resources in off-campus locations that house students shows the investment Temple is making in the community, Griffin added.
"Temple's intention behind this program is to make living off campus safer for students and the community," Griffin said. "The university has made significant investments into private residences, and we appreciate the opportunity to work with the North Philadelphia community."
Jones added that the grant program also connects Temple with the North Philadelphia community. 
"This program has been extremely helpful in terms of building a bridge with the community. It feels like Temple understands what property owners want and need," Jones said. 
Any landlord in the patrol zone can apply for a grant of up to $2,500 per property that can be used for installing lighting and cameras to improve security. To qualify, an applicant must provide  a current Philadelphia Rental License and receipt of purchase and installation of lights and cameras. Later, a Temple official will conduct a visual inspection.
Grants have been awarded ranging from $250 to $2,500, Huzzy said, adding that the program has been a success since it launched more than a year ago.
"Temple understands the importance of investing into North Philadelphia," Huzzy said. "And we'll continue doing that."
He added that this program is for the reimbursement of the one-time purchase and installation of cameras and lighting and is not intended for any form of recurring subscription services. Temple's patrol zone extends from 9th to 18th streets and Susquehanna to Jefferson streets. The email for the program is securitygrants@temple.edu.