Posted
September 27, 2023
Moving up: A security officer in the Department of Public Safety is now working to become a Temple police officer
Heru Shabazz joined the Department of Public Safety two years ago as a security officer. Now, he's working towards his dream of becoming a sworn police officer.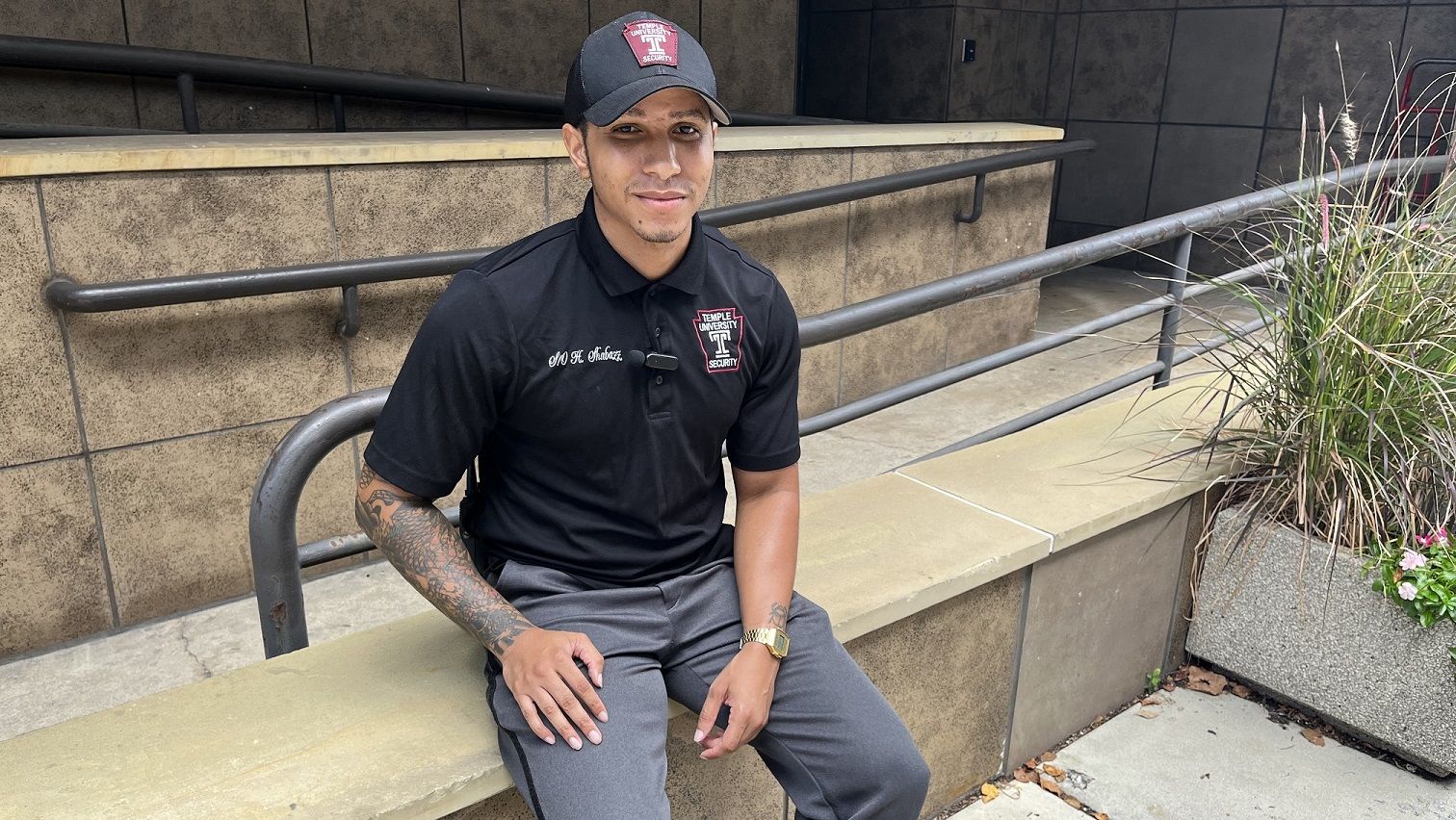 The Department of Public Safety's (DPS) Heru Shabazz is trading in his security officer shirt and hat for a Temple University police uniform. The 31-year-old started his training at the Philadelphia Police Academy earlier this month, after working as a Temple security officer for two years.
"I'm very excited to take this journey to becoming a Temple police officer," Shabazz said. "I want to become an officer to connect with the community—to build that relationship and build that trust so students know they have an officer they can run to in a time of need."
Shabazz said it's been his dream to become a police officer and that he was born with cherry and white pumping in his veins.
"Temple has played a big role in my family," he said. "Both of my parents met here as students and graduated from here. After I was born, they continued their journeys and made their way back to Temple to both work for the university, as well."
His parents' careers have inspired Shabazz to work for the university. He started in his role as a security officer two years ago and quickly became a supervisor. During that time, Shabazz said his co-workers have become his extended family.
"For two years, I've had my coworkers in my life and built relationships with them," he said. "I'll miss them. But I'm excited to come back as a police officer and continue working at this great university alongside them."
Shabazz will join a team that includes nearly 90 sworn law enforcement officers including sworn administrators, supervisors, detectives and police officers who have each received state-mandated training from an accredited police academy. 
"Heru has been an amazing security officer who truly enjoyed his job and could always be seen positively engaging with our students and community.  I'm thrilled that he wants to become a police officer and continue to serve the Temple community," said Vice President for Public Safety Jennifer Griffin.
DPS boasts a professional team including administrators, civilian staff, supervisors, police officers and detectives. DPS includes more than 20 dispatchers, 40 security officers and over 300 contracted Allied security officers that serve the Temple community. The department also has several specialized units including K-9, dignitary protection, honor guard and a criminal investigative unit. 
"Our Temple police officers, dispatchers and security officers work tirelessly to make the campus community safer, and we have an equally amazing team behind the scenes that are integral to public safety success and teamwork" said Griffin. "We're grateful for each and every one of them and want to see them grow, like Heru."
Currently, DPS has a total of four recruits who started at the Philadelphia Police Academy earlier this month. They are all expected to graduate in May. Two additional recruits are expected to graduate from the academy in December. 
"To stay competitive, DPS has recently increased the starting salary of our police officers to $70,969 following a probationary period. They also receive at least a $2,000 signing bonus after their first year. Laterals get a $2,500 signing bonus," Griffin said.
Griffin also said DPS is committed to excellence and creating a safer environment for students, staff and faculty.   
"I'm proud of the department that we're building and I look forward to working with soon-to-be Police Officer Shabazz. I hope others like him want to join our department."