Temple opens new Off-campus Living Office
The new office, which is located in Suite 202B in 1910 Liacouras Walk, is designed to help students navigate off-campus living.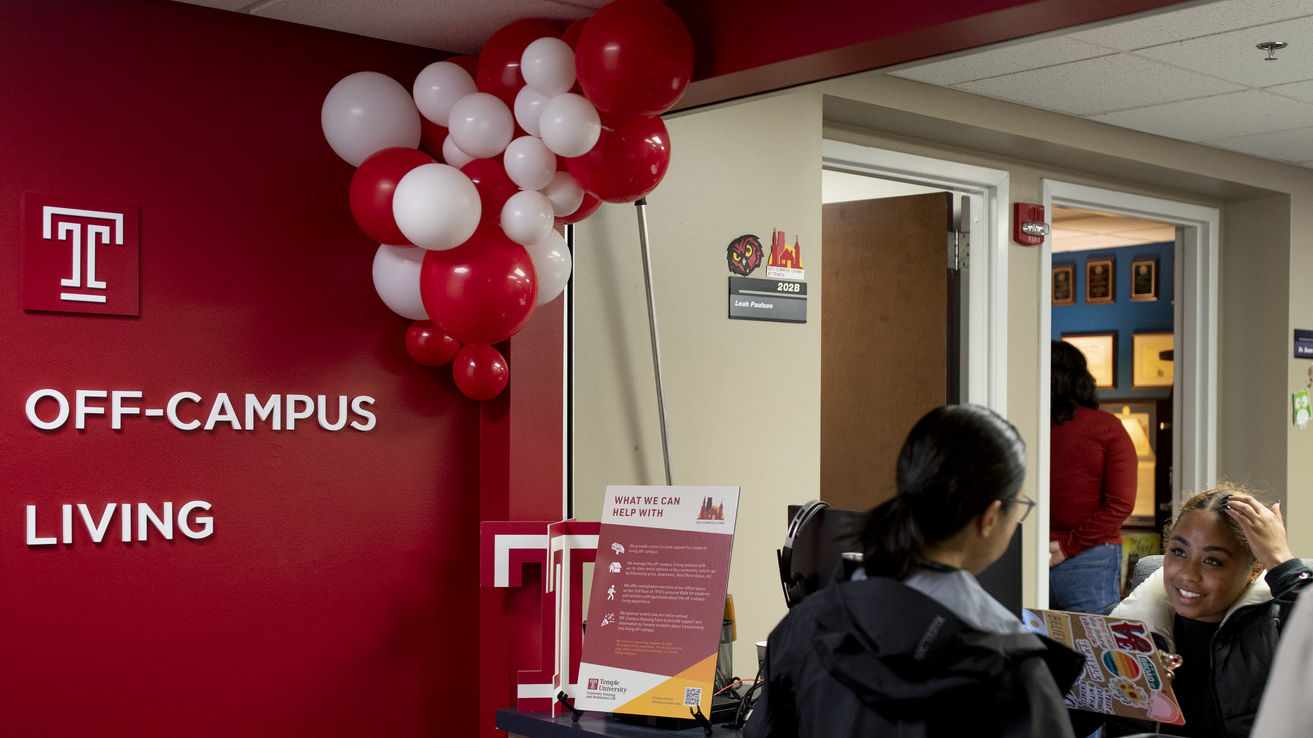 Hundreds of properties surround Temple University within the university's patrol map. Many of those properties are available for student rentals, but finding the right housing off campus is often easier said than done.  
That is where Temple's new Off-campus Living Office can help. 
The office officially opened this fall, and it is designed to help students navigate off-campus living within Temple's patrol map. 
"We really want to help educate students about the transition to living off campus and provide students with a holistic view of what their options are," said Leah Paulson, assistant director for off-campus living and customer service. "So you can live on campus or you can live off campus, but no matter where you choose to live, we are here to support you." 
The creation of the office also aligns with Temple's commitment to public safety. This past April, 21CP Solutions released its independent, in-depth assessment of Temple University's policies, technologies and training procedures related to the Department of Public Safety. One of the 68 recommendations noted that "Temple University should engage candidly around the best ways of providing information to students, parents and others about various types of off-campus housing locations." 
"The university has made safety its number one priority because if students don't feel safe and don't feel like the place that they're living is a safe place, they can't focus on their academics and they are not going to have a positive experience here at Temple," Paulson said. "So this office and the Best Nest Program we manage are some of the initiatives that support Temple's commitment to public safety." 
The office is also key in that it provides students with the type of university support that is often common in the residence halls but not as common when students move off campus. 
"When you are living on campus, you regularly have contact with your resident assistant, and there is a different level of support. Being off campus is a different experience, but we still need to be able to support students," Paulson said. "So, for instance, if students do not know what a lease is or what a co-signer is, we can help there. We're hoping to provide education so that students can go into this knowing exactly what is ahead of them." 
The office will also be charged with maintaining the Best Nest Program and Temple's off-campus housing website. The Best Nest Program, which launched in November 2022, is a collection of resources that can be used to help students and their families make informed off-campus housing decisions.   
To be included as a Best Nest property, a residence must be located within Temple's patrol zone and meet certain safety, security and good neighbor criteria. Landlords who self-certify that they meet these criteria are then included in the rental listing section of the Best Nest website and receive either a cherry or a diamond badge depending on which criteria they meet. Since its launch, 57 properties have been approved for the program, including 55 at the diamond level and two at the cherry level. Just over 5,600 students live across all these Best Nest-certified properties. 
The Off-campus Living Office, which is located in Suite 202B in 1910 Liacouras Walk, held its grand opening on Oct. 30. Several students, faculty and staff attended the event, and since then, many students have stopped in to chat with Paulson. 
"Since the opening, I think we had a dozen in-person visitors in the week that followed, so I think the word is getting out there that we're here," Paulson said. "I'm hoping that students now know that they have someone and an office here to support them. We're trying to put together as many resources as possible, and also be a physical place that students can come to. We have 5,000 students who live on campus, but there are more than 30,000 students that go to Temple, and a lot of those students live off campus. That is why it's so important that we are there for them."