Academy helps educators enhance the global mindset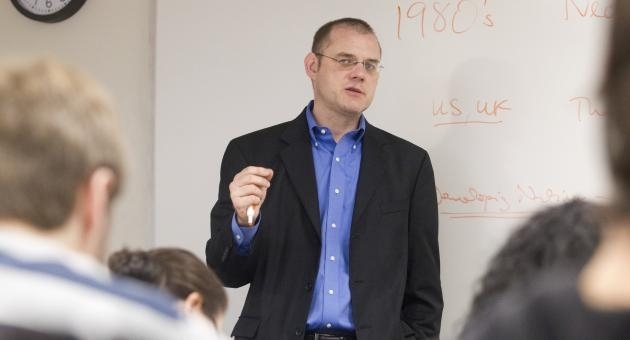 Ryan S. Brandenberg / Temple University
For a university, going global can be like peeling the layers of an onion. The top layers are sending students out to study abroad and bringing international students in to study here. There are also the transnational collaborations among researchers. Deeper down and harder to reach are internationalization at the classroom level and fostering a global perspective among students, faculty and staff.
Given Temple's commitment to globalization, a group led by Human Resources sought to find a way to achieve this deeper level of engagement. Last year they created the International Educator's Academy (IEA), a university-wide professional development program for faculty and staff that promotes international education, research, cultural competence and entrepreneurial efforts at Temple. This year's 38 participants, about half of whom are faculty and half administrators, are meeting for three and a half days over the course of the fall semester.  
It's part of a larger effort to advance Temple as a global leader. Over the next 10 years, Temple aims to double the number of international students studying here and the number of Temple students studying abroad. Setting a goal is not enough, however, university leaders say. The universtiy also needs to increasingly internationalize its mindset and environment.
According to Senior Vice Provost for International Affairs Hai-Lung Dai, the IEA is important because internationalization can be a difficult concept to operationalize and measure. "The academy will help us turn the concept of internationalization into actionable steps," he said.
For Political Science Professor Alistair Howard, international is a natural state of being. A dual citizen with a British mother and American father, Howard grew up in England and has spent a great deal of his adulthood in the U.S. All of his classes, even those not focused on international issues, have an international flavor. He participated in last year's IEA and is running workshops on curricular internationalization in this year's session.
"You want to bring an awareness that there's a big world out there into the classroom," said Howard.
In one of his courses, the U.S.-focused Business and Public Policy, Howard reinforces relevant international elements.
"When I'm talking about the American political system, I consciously talk about it comparatively," said Howard. "There's gridlock in Washington. Are there other countries where we see this problem? If not, why?"
In his IEA workshop, Howard offered other suggestions on adapting a class or curriculum:
When using video or audio, use international examples.
Talk about foreign scholars and their work.
Highlight foreign news coverage of an issue or event.
Invite foreign guest speakers.
Connect virtually with foreign students and teachers.
Engage with a business that operates transnationally.
Kim Cahill, director of the Institute for Global Management at Fox and a member of the IEA organizing committee, suggests doing something as simple as using a foreign case study. She has also worked with others to create certificates, concentrations and minors with an international focus.
At the October session, participants offered their own suggestions and experiences, which is what the majority want out of the IEA — the opportunity to hear what others are doing and network.
"One of the advantages of the academy is that it brings together people with similar interests, ideas, expertise and passion so that maybe what they couldn't pull off alone, they can accomplish by leveraging the collective experiences of colleagues," said Cahill.
 
"The student is the ultimate beneficiary here," said Marie Amey-Taylor, assistant vice president of Human Resources and a member of the IEA Advisory Committee. "We want to ensure that all students, both at home and abroad have an international experience so they can be competitive in the global workplace."
"With globalization, learning about other cultures and the way other nations solve problems is no longer optional," said Dai. "Ideally, every Temple student would study abroad. But if we can't bring all our students to the world, we have to bring the world to our students."
Members of the IEA organizing committee:

Denise Connerty, assistant vice president, Education Abroad and Overseas Campuses
Brooke Walker, assistant vice president, Global Programs and International Student and Scholar Services
Marie Amey-Taylor, assistant vice president, Human Resources
Rebecca Beeman, senior associate director, Fox Executive MBA Program
Kimberly Cahill, director, Institute for Global Management at Fox
Larry Krafft, professor, College of Education
Emily Moerer, assistant vice provost, Undergraduate Studies
Jaime Molyneux, associate director, Education Abroad and Overseas Campuses
Dominique Kliger, assistant vice provost, director, Distance and Summer Programs
John Smagula, director of Asian programs, Beasley School of Law