Computer recycling center models good behavior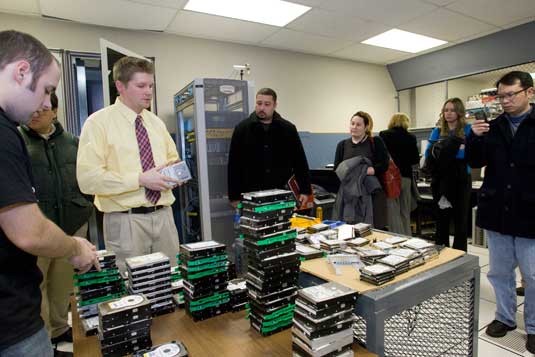 Joseph V. Labolito / Temple University
On Wednesday, Feb. 17, representatives from a number of universities visited Temple's Computer Recycling Center to learn about the program's electronics recycling system. In the picture above, CRC assistant director Jonathan Latko is shown explaining how the center reuses and recycles computer hard drives.
Bob Greaves, associate director of the Environmental Protection Agency's Land and Chemicals Division, was also on hand to present with Latko on the center's recycling process. Temple CRC employees collect computers and other electronics from around the university and refurbish the equipment for reuse. When computers are rendered unusable, the materials are broken down and recycled.
Since its creation in 2003, the CRC system has diverted more than 400 tons of e-waste from landfills, an achievement recognized last semester with an Environmental Achievement Award from the EPA. After the presentation, Latko gave the visiting college representatives a tour of the facility, located on the third floor of the TECH Center.
Andrew Wolf, a risk and asset administrator at the Catholic University of America, came to the CRC for ideas on how to implement a similar program at his institution. "My office receives about 23 tons of material a year," Wolf said, as compared to about 100 tons that Temple receives annually. "So I'm here to see what I can adapt for a smaller operation."
Representatives from local universities, such as Drexel and the Community College of Philadelphia, also attended to find out more about the center's operations. Of particular interest were local recycling centers and agencies that collect equipment too obsolete or worn down to be reused.
—Kyle Bagenstose