Eagles GM describes journey from intern to NFL leader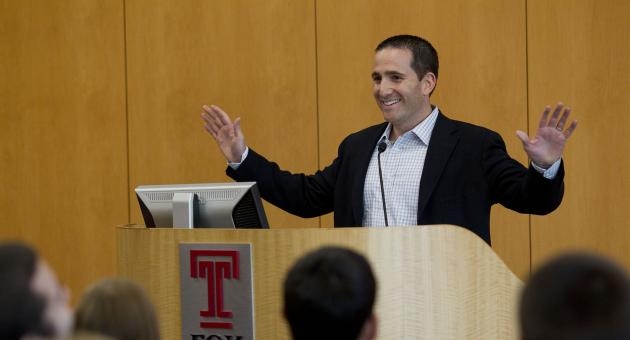 Joseph V. Labolito/Temple University
Howie Roseman's relentless hunt for a general manager position in the NFL, his singular focus on attaining that position since age 9, his years of letters and calls to team front offices are the stuff of legend.
Mike Tannenbaum was the first to crack, giving Roseman five minutes for an interview in player personnel with the New York Jets in 1999. Although Tannenbaum didn't give Roseman the job, he did recommend him to Philadelphia Eagles President Joe Banner, who initially hired Roseman as a temporary, unpaid intern with little more than the side of another employee's desk to call his office space. But, at age 24, he made it.
Roseman – now general manager of the Eagles and the youngest person in the NFL to hold that position – visited Temple's School of Tourism and Hospitality Management on Nov. 9 to tell some 150 students how he became one of the Eagles' top decision makers.
But first, he gave the audience a disclaimer: "I can't really explain why we're 3-5."
Roseman's path to the NFL is, in a word, untraditional. He didn't play college or pro ball, but his strengths fit those of a GM. The Fordham Law School graduate intimately understands the salary cap and player contract negotiations, assesses and valuates talent, and constantly researches and scouts for college and professional players.
He also knows he can't do everything and that "you're only as strong as the people around you." In the Eagles front office, those people include Banner, head coach Andy Reid and team owner Jeffrey Lurie.
"It's important for great organizations to have debate," Roseman said, adding, "and then coming out on the same page and in the same direction." In addition to healthy debate, Roseman said taking risks is part of the job. In recent years, those have included signing controversial wide receiver Terrell Owens and quarterback Michael Vick, and trading quarterbacks Donovan McNabb and Kevin Kolb.
"I don't think it gets more controversial than trading two guys we think can be franchise quarterbacks back-to-back," Roseman said. But, he continued, "If you don't take big risks, there's no way to achieve any sort of greatness."
His other key messages to students included the importance of self-confidence, persistence and choosing a career that's a labor of love.
"I may be the youngest general manager, but I'm trying to be the oldest general manager," Roseman said. "That's the goal."
Roseman's visit was the latest in a series of Executive in Residence presentations at Temple's School of Tourism by members of the Eagles front office. Pamela Browner White, the team's former senior vice president of public affairs and government relations, spoke to students in fall 2009. Chief Operating Officer Don Smolenski visited in spring 2010, followed by Banner, the team president, earlier this year.