Employer insights give Temple students a competitive edge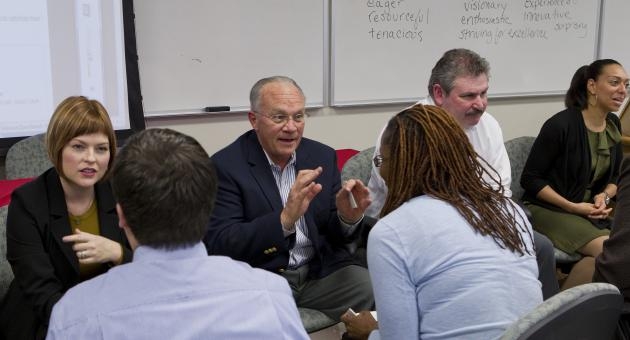 Eager. Tenacious. Smart. Resilient. These were the words scrawled across the whiteboard at the front of the Temple conference room.
Not mere platitudes, they were a sampling of the words employers and faculty had used to describe Temple students during a recent meeting of the Career Center's Employer Partner meeting.
Temple's Employer Partners are part of the Career Center's Advisory Board and supply critical information on the qualities, skills and experience they are seeking in students applying for internships and employment.
On this day, Rachel Brown, director of the Career Center, wanted to find out how the core competencies (see sidebar) that students build through the GenEd program translate to the workplace.
"I asked employers, 'How do you know these skills when you see them, especially during the application and hiring process?'" said Brown.
Allison Rehmann of Enterprise Rent-a-Car explained that prospective employees undergo three interviews designed to elicit behavioral characteristics, and that three sets of managers are looking at each candidate's core competencies. In particular, they look for students who got out and engaged beyond the classroom.
"Once they're with us, we continue to evaluate an employee, always looking at and helping them take ownership of their development so they can get to the next level," she said.
Several participants emphasized the value of group projects in helping students build strong teamwork and presentation skills.
I look for students' ability to shake hands, look you in the eye and sell themselves," said Rose McGinnis, director of career services in Temple's College of Science and Technology.
Fay Marie Dunbar, from Prudential, said it's really the interview more than anything that allows a student to demonstrate the skills they can offer.
"We look for professionalism — how they present themselves — which they should be working on throughout college, not just during their senior year," she said.
The meeting ended with a speed networking session that gave employers a chance to meet key individuals in many of the schools and colleges across campus.
"Our employer partners recruit students from all majors, so bringing everyone together is a win-win and sets the tone for the university-wide Spring Career Week that includes the Dress4Success Fashion Show, Resumania and Career Fair," said Brown.