Hard work pays giant dividends for horticulture student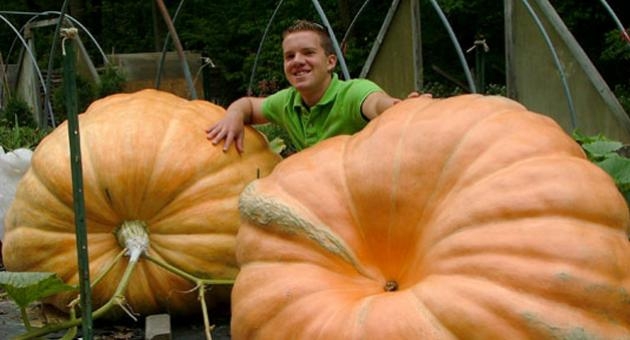 James Duffy / Temple University
Visit Temple University Ambler student Brandon Huber's home during Halloween this season and you might be left a little dumbfounded. Seeing a 600-pound jack-o-lantern would do that to anyone.
Huber, who is majoring in horticulture in Temple's School of Environmental Design at Ambler, has spent his spring and summer diligently working to grow not one, but two mammoth pumpkins, each weighing in at a staggering 600 pounds. The monster gourds are now a star attraction at the Pennsylvania Horticultural Society's Meadowbrook Farms in Abington Township.
"I started the pumpkins from seed in starter pots on April 25 and they went into the ground on May 5," said Huber, 21, a Northeast Philadelphia resident. "They are now both over 600 pounds, and one is still growing."
Huber said the pumpkin seeds used to grow the two pumpkins were of excellent genetic stock, which helped them get so large. Once one of the pumpkins had grown to more than 300 pounds, he said, he knew that they had potential to become something truly special.
"They grow so fast. At their peak, they were growing 15 to 20 pounds a day — some can actually grow as much as 40 to 50 pounds a day," said Huber, who has worked in outdoor sales, spring production and the greenhouse at Meadowbrook since 2009.
"I actually started the vines on the opposite ends of the garden — it was almost a race to see which one would reach the middle first and which would grow the largest," he said. "Now they are sitting right next to each other."
Both pumpkins were recently picked up and loaded using special equipment specifically designed to move large pumpkins for transport to the "Pumpkin Madness Festival" at Delaware Valley College in Doylestown, where they will be judged against other giant pumpkins from the region.
"It's definitely been a lot of fun watching them grow," said Huber. "It's also been a lot of work — a lot of fine detail maintenance and watering."
Huber is no stranger to unusual and exotic plants. His parents have always had a garden, and his grandparents owned farmland. He began collecting cacti and succulents at age 6. A career in horticulture seemed like a foregone conclusion.
"I knew I'd come to Temple since my junior year in high school. After looking at other programs and speaking to a lot of people, I felt the Department of Landscape Architecture and Horticulture had the best program for where the field is heading," he said. "I think what I'd like to do is explore plant hybridizing and plant genetics and breeding. After watching these pumpkins grow so big, I want to explore how to grow them even larger."
Huber said he's ready for his next challenge.
"I definitely want to try again. There are soil amendments and more preparation to the patch I could have done that I think would have gotten better results," he said. "This year, I was shooting for 500 pounds. Next year, I'm going for 1,000."