Temple creates new scholarship program for North Philadelphia students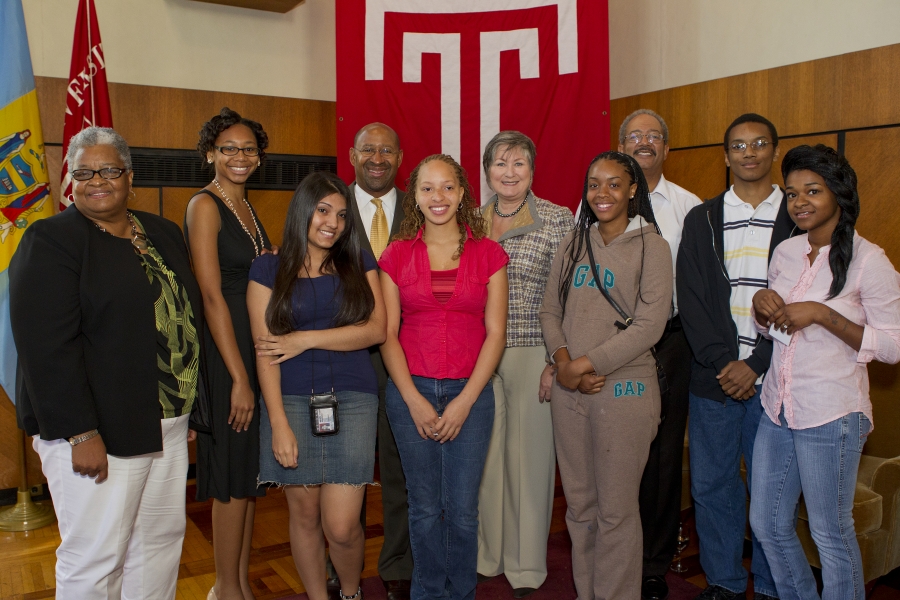 Joseph V. Labolito / Temple University
To help increase the number of Philadelphians with college degrees and to give back to its community, Temple University has created 250 four-year scholarships to be awarded over 10 years to students in the North Philadelphia neighborhoods surrounding its main campus. The new program will boost the amount of scholarships awarded to Philadelphia students by Temple to nearly $12 million annually. Temple president Ann Weaver Hart and Mayor Michael Nutter announced the program today at a celebration for the 2011 recipients of the scholarship in Sullivan Hall.
The Temple 20/20 scholarship program takes its name from the university's Temple 20/20 framework for campus development. The goal is to re-orient Temple toward North Broad Street and create a vibrant urban center that features residential space, retail attractions and recreational opportunities.
"The Temple 20/20 framework is designed to position our entire community for success in the future, and scholarships for our neighbors are a critical component for that success," said President Ann Weaver Hart. "This program affirms Temple's long-standing commitment to educate Philadelphians and provide access to all."
"Supporting and creating educational opportunities for Philadelphians has been a major priority for my Administration," said Mayor Nutter. "I want to thank Temple University for being a strong partner by providing 250 four-year scholarships to residents of North Philadelphia over the next ten years. With more efforts like theirs, Philadelphia will be 21st century ready."
The scholarships will be awarded starting with the incoming fall 2011freshman class and will be available to students who live in Temple's north Philadelphia community — within the 19121, 19122, 19132 and 19133 zip codes — at the time of application for admission. The $5,000 per year scholarships will help meet need not covered by financial aid, which includes other scholarships, student loans and institutional aid.
Verishia Coaxum will bring her love of writing to Temple this fall as an English major thanks to the 20/20 scholarship.
"I love to write, everything from poetry to scripts. It can take you anywhere and I learn about so many things through writing," said the Philadelphia Mennonite High School graduate.
Also interested in law, Coaxum is not yet sure whether she will be an English professor or a lawyer. She's most looking forward to "different networking opportunities and all of the different people and cultures" she'll be exposed to at Temple.
"It will be a whole new world to explore," she said.
Over the summer Coaxum got a taste of college life as she spent time on Temple's campus getting to know the students she'll be living with in a Living and Learning community in the White Hall student residence. She was thrilled to learn she had been awarded the 20/20 scholarship to attend Temple, which she said has been her first choice college since she was in the third grade.
Javon Johnson is another 20/20 scholarship recipient. She'll join her two older sisters as a Temple student, and wants to pursue nursing like her father Jerome who is a nurse at Temple University Hospital. "I like helping people and volunteering at a nearby nursing home," said Johnson. "Not too many of (the nursing home patients) have family members who visit. It makes me happy."
The Math Civics Sciences Charter School graduate is looking forward to the challenges and the pace of college life.
"I always knew I was going to go to college, she said. "I know it will be hard but I like being challenged and busy."
True to form, Johnson plans to stay busy outside the classroom too.
"I want to join the St. Jude's crew to raise money for children and the step team because I like dancing," she said. "I just want to get really involved."
"It is very important for us to give the students in our community the opportunity to do something they might have thought was beyond their reach," said Kenneth E. Lawrence Jr., Temple's senior vice president of government, community and public affairs.
Since its founding, Temple has been dedicated to providing higher education for Philadelphians. The university has educated more Philadelphia residents than any other university in Southeast Pennsylvania — and possibly any in Pennsylvania. Last year, one-quarter (9,381) of Temple's students were from Philadelphia. Among college-educated individuals, one out of every eight in the Greater Philadelphia area has at least one degree from Temple.
Temple works closely with the School District of Philadelphia, the city of Philadelphia and many other partners to prepare, recruit, enroll and graduate city students through efforts ranging from middle school early intervention to full scholarships. Programs include early college courses, college preparation, a dual admission partnership with the Community College of Philadelphia, financial aid, direct mail, personal outreach and more than 100 community fairs and information sessions. The university also offers GED instruction, community education and seminars for North Philadelphia youth and young adults on how to get into college.
"Temple does so much to connect to its community," said Congressman Chaka Fattah. "I thank the university for taking a leadership role as an urban institution making a long-term commitment to our city's students."
For more information on the Temple 20/20 scholarships, contact the Office of Undergraduate Admissions at Temple at 215-204-7200.